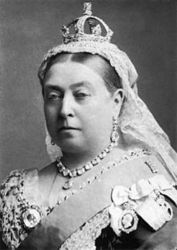 Cool Cuts
Thursday May 15th, 2014 with Chris Sharp
Victoria Day/Royalty
Victoria Day,a Canadian federal public holiday,will be observed on May 19.Tonight's show focuses on royalty in honour of Queen Victoria(b.May 24,1819) whose reign over the Commonwealth ran from June 20,1837 until her death Jan 22,1901.
We start off with various types of "Queens",though they may not all be considered royalty.
Victoria
The Kinks - Arthur(Or The Decline and Fall Of The British Empire)(1969)
Glitter Queen
Hydra - Hydra(1974)
Rock and Roll Queen
Mott The Hoople - Rock and Roll Queen(1974)
Butter Queen
Three Man Army - One Third of a Lifetime(1971)
Hay Queen
Barefoot Jerry - Watchin' TV(1974)
Next up:a Wyndham inspired track,some comedy inspired by "royalty"(a Hitler allegory?),stereotypes and last but not least, tradition(what good is a Monarchy without it?).
Crown of Creation
Jefferson Airplane - Crown of Creation(1968)
Prince Germany The First
Skip Bifferty - Skip Bifferty(1968)
Jewish Princess
Frank Zappa - Sheik Yerbouti(1979)
The Royal Family
Joan Rivers - What Becomes A Semi-Legend Most(1983)
Tradition
Catfish - Get Down(1971)
An epic track by Renaissance and some comedy by Monty Python.
Pearly Queen
Tramline - Moves Of Vegetable Centuries(1969)
Kings & Queens
Renaissance - Renaissance(1969)
King Arthur and The Old Woman-a lesson in anarchy
Monty Python - Monty Python and The Holy Grail Soundtrack(1975)
In The Kingdom
Hot Tuna - The Phosphorescent Rat(1975)
A couple of epic prog tracks involving Kings.
The King Will Come
Wishbone Ash - Argus(1972)
The Court of The Crimson King
King Crimson - In The Court of The Crimson King:An Observation By King Crimson(1969)
Next:A Knight's quest and the end of a King's reign.
Dancing With The Moonlit Knight
Genesis - Selling England By The Pound(1973)
The Knights Who Say Ni!
Monty Python - Monty Python and The Holy Grail Soundtrack(1975)
The Castle Has Fallen
The Ghost - VA:The Rubble Collection(2003)
The King Is Dead
New York Rock Ensemble - Roll Over(1972)
We finish with a "Goodbye" to Victoria and the holiday she left behind for all Canadians to enjoy.
Little Queenie
Chuck Berry - The Great Twenty-Eight(1984)
Goodbye Victoria
Chubby Checker - Chequered(1971)
God Save The Queen
Queen - A Night At The Opera(1976)
Thank you for listening and enjoy the long weekend.Next show broadcasts May 29.