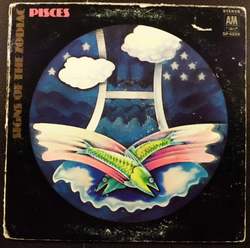 Cool Cuts
Thursday February 20th, 2014 with Chris Sharp
Sochi Winter Olympic Games/family birthdays and parties
Tonight's show includes sets dedicated to the Sochi Winter Game competitors and sets on parties and family(especially my grandson William who turns 1 year old this month)
We start with a set dedicated to the athletes participating in the Sochi Winter Games.Go Canada!
Games
Redeye - VA:Super Hits Of The 70's Vol 5(1990)
You Cannot Win If You Do Not Play
Steve Forbert - Alive On Arrival(1978)
Good As Gold
Cups - VA:Piccadilly Sunshine Vol 1(2009)
Tell The Coach
Bus Boys - Minimum Wage Rock & Roll(1980)
Skatin'
Poco - Seven(1974)
Walter Becker(Steely Dan),Randy California and John Geils(leader/guitarist of J. Geils) all have birthdays on Feb the 20th.Hey-that's today.
Birthday
The Beatles - The Beatles(1968)
I Know You Pisces
Mort Garson - Signs of The Zodiac(1969)

Don't Take Me Alive
Steely Dan - The Royal Scam(1976)
Rainbow
Randy California - Kapt. Kopter And the Twirly Birds(1972)
First I Look At The Purse
J Geils - "Live":Full House(1972)
There are several birthdays coming up in my family in Feb/March including the first birthday of my grandson.So I've got parties on my mind
Let's Have A Party
Wanda Jackson - 16 Rock and Roll Hits(1995)
Too Bad On Your Birthday
Joan Jett - Bad Reputation(1981)
Pisces At Work
Mort Garson - Signs Of The Zodiac(1969)

I Feel So Good(I Wanna Boogie)
Magic Sam Blues Band - South Side Soul(1969)
Granny Wontcha Smoke Some Marijuana
John Hartford - Nobody Knows What You Do(1980)
Enjoy Yourself
Dragonfly - Dragonfly(1968)
Have A Good Time
Wet Willie - Wet Willie(1972)
Next set continues the party,maybe one day the boy's father will face this question.
Having A Party
Sam Cooke - The Man And His Music(1986)
When Grandma Plays The Banjo
Roy Wood & Wizzard - The Best Of Roy Wood and Wizzard(1996)
Hey Grandma
Moby Grape - Moby Grape(1967)
Grannie's Intentions
The Purple Gang - VA:Acid Dust,Space Dust and Flying Saucers(2001)
Mama's Boy
Biff Rose - The Thorn In Mrs. Roses's Side(1968)
Daddy Where Did I Come From
The Nice - Ars Longa Vita Brevis(1968)
As my grandson is one year old he will be walking and talking shortly-and the boy's father,he would be the "Baby Driver"
I"m Talking About You
Rick Nelson and The Stone Canyon Band - Garden Party(1972)
The Way I Walk
Robert Gordon - Too Fast To Live,Too Young To Die(1982)
Talk To Me
Little Willie John - Fever:The Best of Little Willie John(1993)
The Walk
The Inmates - First Offence(1979)
Talk To Me
49th Parallel - The Best of 49th Parallel(1995)

Baby Driver
Simon & Garfunkel - Bridge Over Troubled Water(1970)
We finish off tonight's show with a final set dedicated to the Winter Olympic competitors-even the"chokin' kind" need our support(more so)
Skatin' On Thin Ice
Tower of Power - Bump City(1972)
The Chokin' Kind
Joe Simon - Lookin' Back(1988)
Everyone Loves A Winner
William Bell - The Soul Of A Bell(1967)
Silver
Trevor McNamara - Yeah Captain(1969)
Thank you for listening.Happy Birthday William!