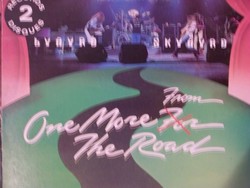 Cool Cuts
Thursday February 6th, 2014 with Chris Sharp
Bands and musicians that are native to or based themselves in Florida
In the dead of another brutal Ottawa winter Cool Cuts heads to Florida for a musical tour of the state.
We start our tour of Florida in the extreme south.These two Florida immigrants settled in the Keys in the early 70's.Buffett's career soared and Neil soon retired from the music business.
Other Side to This Life
Fred Neil - Bleeker & MacDougal(1965)
Presents To Send You
Jimmy Buffett - A1A(1974)
Everybody's Talkin'
Fred Neil - Everybody's Talkin'(1970)
Come Monday
Jimmy Buffett - Living and Dying In 3/4 Time(1974)
As we travel north we come to Miami where these two bands were formed.Manassas was recorded at Miami's Criteria studios and the Dixie Dregs were formed at the University of Miami by guitarist Steve Morse.
The Treasure
Manassas - Manassas(1972)
Gina Lola Breakdown
Dixie Dregs - What If(1978)
Song Of Love
Manassas - Manassas(1972)
As we head up the Gulf side of Florida our next stop is Tampa where these two bands got their start.Blues Image turned out to be one hit wonders and the Outlaws couldn't decide if they were the Eagles,Allman Bros. or Lynyrd Skynyrd so they decided to be all three.
Ride Captain Ride
Blues Image - Open(1970)
Freeborn Man
Outlaws - Lady In Waiting(1976)
Pay My Dues
Blues Image - Open(1970)
Stick Around For Rock & Roll
Outlaws - Lady In Waiting(1976)
Now we head inland and make a quick stop on the Atlantic side of the state.Orlando:Tin House was lead by Floyd Radford who would soon accept an offer to back up Edgar Winter,Gainesville:Boasts native Tom Petty,Daytona:Every garage band worth it's salt had to be able to play "Little Black Egg" in 66/67.
Be Good And Be Kind
Tin House - Tin House(1971)
Something Big
Tom Petty And The Heartbreakers - Hard Promises(1981)
Little Black Egg
The Nightcrawlers - Nuggets:Original Artifacts From The First Psycedelic Era(1998)
Endamus Finallamus
Tin House - Tin House(1971)
Next we head north to Jacksonville,the official base of The Allman Brothers Band,home to under-appreciated Blackfoot.After Lynyrd Skynyrd's unfortunate plane crash in '77 the excellent Rossington-Collins Band was formed.
Don't Mess Up A Good Thing
Gregg Allman - Laid Back(1973)
Junkies Dream
Blackfoot - Feelin' Good(1976)
T For Texas
Lynyrd Skynyrd - One More From The Road(1976)
Don't Misunderstand Me
Rossington Collins Band - Anytime,Anyplace,Anywhere(1980)
We end tonight's show with a grab bag of Florida soul.You just know Pat Boone's got a whole lotta soul!All these musicians were born or resided in Florida.
Speedy Gonzales
Pat Boone - Golden Hits(1966)
Your Love Is So Doggone Good
Ray Charles - Love Country Style(1969)
Quarter To Three
Gary U.S. Bonds - Chubby Checker Vs. Gary U.S. Bonds(1979)
Treat Her Like A Lady
Cornelius Brothers & Sister Rose - Greatest Hits(1976)
Clean Up Women
Betty Wright - VA:Soul Hits of The 70's(1991)
Precious,Precious
Jackie Moore - VA:Soul Hits of The 70's(1991)
Rockin' Chair
Gwen McCrae - VA:Disco Hits(1992)
Thank you for listening.Next show broadcasts Feb. 20.