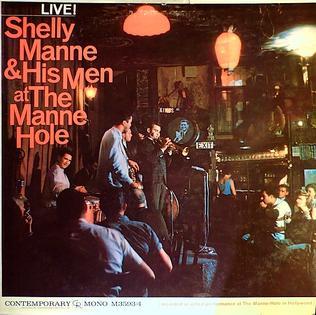 Swing Is In The Air
Sunday March 3rd, 2019 with Ron Steeds
Swinging West Coast jazz recorded March 3-5, 1961, and 1957, and 1955.
Today we turn back time - 58 years to be exact - to listen to a swinging quintet led by drummer Shelly Manne. The material we will hear - on glorious vinyl! - come from a Contemporary Records two-LP set that documents a three day stint that Shelly Manne & His Men had at The Manne Hole in Hollywood, California. Along with Manne on the drums, Conte Candoli is on trumpet, Richie Kamuca in on tenor sax, Russ Freeman in on piano, and Chuck Berghofer is on bass. We then head to Chicago for a session recorded March 3, 1957 led by Clifford Jordan and John Gilmore. And we end the show back on the west coast for a tune recorded by trumpeter Shorty Rogers on March 3, 1955.
Set One
Love For Sale
Shelly Manne & His Men - Live! Shelly Manne & His Men At The Manne Hole - Contemporary
How Could It Happen To A Dream
Shelly Manne & His Men - Live! Shelly Manne & His Men At The Manne Hole - Contemporary
Set Two
On Green Dolphin Street
Shelly Manne & His Men - Live! Shelly Manne & His Men At The Manne Hole - Contemporary
What's New
Shelly Manne & His Men - Live! Shelly Manne & His Men At The Manne Hole - Contemporary
Set Three
Softly, As In A Morning Sunrise
Shelly Manne & His Men - Live! Shelly Manne & His Men At The Manne Hole - Contemporary
The Champ
Shelly Manne & His Men - Live! Shelly Manne & His Men At The Manne Hole - Contemporary
Set Four
If I Were A Bell
Shelly Manne & His Men - Live! Shelly Manne & His Men At The Manne Hole - Contemporary
Ev'ry Time We Say Goodbye
Shelly Manne & His Men - Live! Shelly Manne & His Men At The Manne Hole - Contemporary
A Gem From Tiffany
Shelly Manne & His Men - Live! Shelly Manne & His Men At The Manne Hole - Contemporary
Set Five: We go on to tunes from a session recorded four years earlier (March 3, 1957) for the Blue Note label
Status Quo
Clifford Jordan & John Gilmore - Blowing In From Chicago - Blue Note
Bo-Till
Clifford Jordan & John Gilmore - Blowing In From Chicago - Blue Note
Blue Lights
Clifford Jordan & John Gilmore - Blowing In From Chicago - Blue Note
Set Six: We end the show with a piece by Shorty Rogers recorded March 3, 1955
That's What I'm Talking About
Shorty Rogers - West Coast Jazz - Atlantic Records