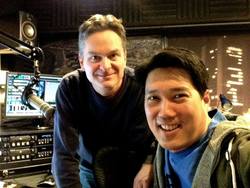 Swing Is In The Air
Sunday January 10th, 2016 with Peter Liu & Scott Poll
Nothin' but Big Band!
Integrating our usual blend of vocal and instrumental jazz, we focus this program on some of our favourite selections of big band music, and we feature a few tracks by Natalie Cole, who sadly recently passed away. Long live the big band!
Avalon
Natalie Cole - Unforgettable With Love
Orange Colored Sky
Natalie Cole - Unforgettable With Love
Four Brothers
Art Pepper Plus Eleven - Modern Jazz Classics
Vibe Boogie
Lionel Hampton - Flyin' Home
Have You Met Sir Jones
Anita O'Day - Anita O'Day Swings Rogers & Hart
I Love You
Anita O'Day - Night and Day: The Cole Porter Songbook
Copenhagen
Artie Shaw - Artie Shaw
King and Me
Benny Goodman & His Orchestra - Happy Session
Don't You Worry 'Bout a Thing
New York Voices - A Day Like This
Sing, Sing, Sing
New York Voices - Sing, Sing, Sing
Harbours
Phil Nimmons - Atlantic Suite

The Dorian Way
Phil Nimmons - Atlantic Suite

Too Close for Comfort
Mel Tormé - Verve Story 1944-1994
Hello Young Lovers
Mel Tormé - Jazz 'Round Midnight
U.M.M.G.
Duke Ellington featuring Dizzy Gillespie - Jazz Party
Three More Foxes
Maynard Ferguson - Dues

Tenderly
Sarah Vaughan - Blue Moon
All the Things You Are
Sarah Vaughan - Count Basie & His Orchestra
Thou Swell
Natalie Cole - Unforgettable With Love