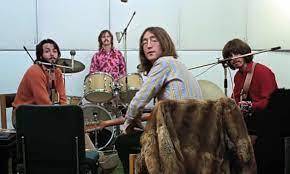 The Wavelength
Monday March 28th, 2022 with Joe Reilly
Mick Kern of Sirius XM's NHL Radio Network (and CKCU alumnus) drops in to tell us why we should check out the Beatles documentary "Get Back" and we spin a lot of great pop-rock gems tonight.
Well we needed some fun after last week's all nuclear war songs dystopian feature... so we check in with our old friend Mick Kern. Mick is a CKCU alumnus who currently works for Sirius XM's NHL Radio Network, and records albums as the Ring Shepherds. Tonight he returns to the airwaves at 93.1 FM to talk about the amazing Beatles documentary "Get Back." Mick knows the Beatles inside out, so he provides some great observations and opinions about this doc. Whether you've seen Get Back or not, Mick provides some interesting insights about the documentary and the Beatles during our conversation in the first hour of the show tonight. Then we spin some great pop-rock gems and some folky numbers, including songs by three Canadian acts coming to Ottawa in the coming weeks. William Prince - Wednesday, March 30th at the National Arts Centre
https://nac-cna.ca/en/event/29368
Hear William Prince on CKCU's The Guest list here:
https://cod.ckcufm.com/programs/107/55677.html
Suzie Ungerleider (formerly Oh Susanna) - Thursday, April 7 at the National Arts Centre
https://nac-cna.ca/en/event/30359
Blue Rodeo - Friday, April 8 at the Canadian Tire Centre
https://www.ticketmaster.ca/event/31005B77E6B84513
(Be wary of overpriced resale tickets on the TicketMaster site. Really these reseller tickets should be on a different site... but they are not.) Get out and see some live music if you can afford to do so and support independent music in any way that you can.
War Chant
XTC - Nonsuch
Get Back
The Beatles - Let It Be
I Me Mine
The Beatles - Let It Be
I've Got A Feeling
The Beatles - Let It Be
Two Of Us
The Beatles - Let It Be
All The Roads
The Ring Shepherds - Habitual Orbits

Finding You
The Go Betweens - Oceans Apart
She Walks The Night
Matthew Sweet - Modern Art
When You Were Wild
Blue Rodeo - Many A Mile


That's All I'll Ever Become
William Prince - Reliever

Blue As The Moon
Caroline Marie Brooks - Everything At The Same Time

Summerbaby
Suzie Ungerleider - My Name Is Suzie Ungerleider

Flash Lights
Oh Susanna - A Girl In Teen City

I Love The Night
The Blue Oyster Cult - Spectres
Bring On The Night
The Police - Regatta De Blanc
Ride Your Bike
Blue Rodeo - Many A Mile


On and On (Lodestar)
Crash Vegas - Aurora

Lone Wolf
Kathleen Edwards - Failer

The Wolves
Ben Howard - Every Kingdom
You're A Wolf
Sea Wolf - Get To The River Before It Runs Too Low
From Above
Raphael Weinroth-Browne - Worlds Within

Shireg Shireg
The Hu - The Gereg (Deluxe Edition)
Nakshatra
Ruby Singh - Vox.Infold


Horizon
Ruby Singh - Vox.Infold