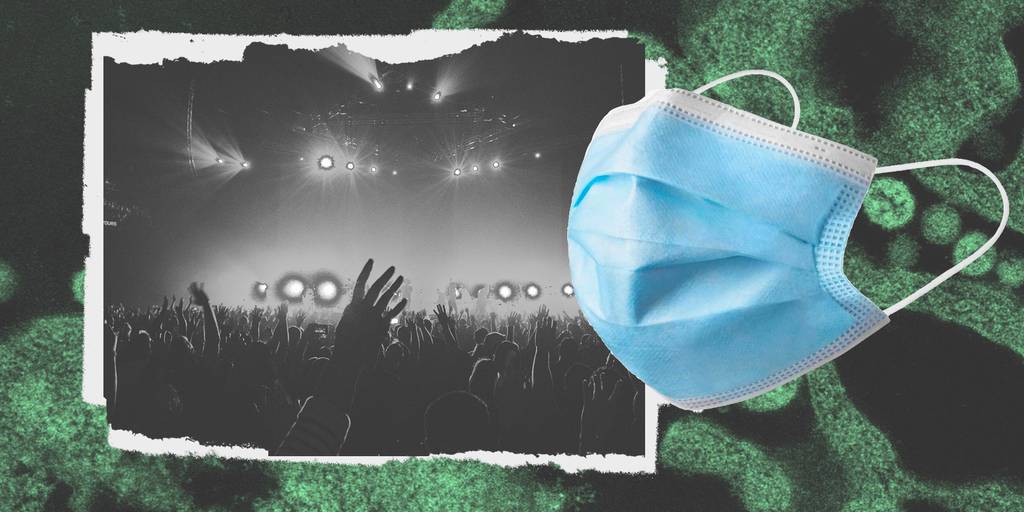 The Wavelength
Monday April 4th, 2022 with Joe Reilly
WEAR MASKS AT CONCERTS! Some new releases and music from artists coming to Ottawa to perform including Olafur Arnalds, Royal Canoe, Suzie Ungerleider and the Pack A.D.
NOTE: During the show tonight I talk about how angry I felt during a performance at the NAC last week, where quite a few people in attendance took off their masks when the lights dimmed and the show began. I was particularly angry at people in the front row who were breathing right at William Prince and his bandmates only a few metres away. These artists are working their lungs and cardio systems to sing and perform for us and therefore taking lots of deep breaths... breaths that may include COVID if people in the audience are infected. Keep your masks on at performances people - for the safety of those around you and the artists on stage. Here is an excellent piece in Pitchfork about how artists are begging audience members to keep masks on at their concerts, no matter what the protocols may be in the community.
https://pitchfork.com/features/article/musicians-are-begging-fans-to-mask-up-at-concerts-heres-why/
We open tonight with a beautiful, contemplative piece by Polish pianist and composer Hania Rani. She has issued the piece on Bandcamp and all proceeds from sales will go towards relief efforts in the Ukraine. Here is where you can purchase Hania Rani's beautiful piece Kyiv.
https://haniarani.bandcamp.com/album/kyiv
Olafur Arnalds is in Ottawa on May 30th at the Algonquin Commons Theatre. Here is where you can get tickets for that concert.
https://www.eventbrite.ca/e/olafur-arnalds-some-kind-of-peace-tour-tickets-163089219245
We also spin new tunes from Royal Canoe (in Ottawa at Club SAW on April 8th), loscil and Rival Consoles. Here is where you can find more information about Royal Canoe's concert on Friday, April 8th at Club SAW.
https://www.ticketweb.ca/event/royal-canoe-sidelining-club-saw-tickets/11361485?pl=spectrasonic
Here is where you can purchase the new recording by loscil.
https://loscil.bandcamp.com/album/the-sails-p-1
We also play music by Suzie Ungerleider who is at the NAC this Thursday, April 7th and the Pack A.D., appearing at Club SAW on Saturday, April 9th. Here is where you can find more information and buy tickets to see Suzie Ungerleider on April 7th.
https://nac-cna.ca/en/event/30359
And here is where you can find ticket information about the Pack A.D. concert at Club SAW on Saturday, April 9th.
https://www.ticketweb.ca/event/the-pack-ad-strange-breed-club-saw-tickets/11444695?pl=spectrasonic
Get out and see some live music and support independent music in any way that you can. And if you go to a concert... keep your mask on to protect the artists who are performing and everyone around you. It's really not that difficult!
Kyiv
Hania Rani - Kyiv (single)

Happiness Does Not Wait (2021 Version)
Ólafur Arnalds - Single
HAL
Royal Canoe - Sidelining

When I Wake Up Next To You
Royal Canoe - Vault (2011-2021)


Closer
Royal Canoe - Vault (2011-2021)


Trap
loscil - The Sails pt. 1


Twenty-One
loscil - The Sails pt. 1


I Don't Wanna Grow Up
Holly Cole - Temptation

Disappear
Suzie Ungerleider - I Am Suzie Ungerleider

Flash Lights
Oh Susanna - A Girl In Teen City

Earthly Days
William Prince - Earthly Days

Coriolis
Penguin Cafe - A Matter of Life ... 2021

In The Meanwhile
Hania Rani - Kyiv (single)

Vichnaya Pamyat
Hildur Guðnadóttir - Chernobyl
Ekki Múkk
Sigur Ros - Valtari
Loops 95
Scanner - Loops 95

Monster
Rival Consoles - Overflow

Does It Feel Good
The Pack A.D. - Dollhouse

The Regulator
The Dream Syndicate - The Universe Inside