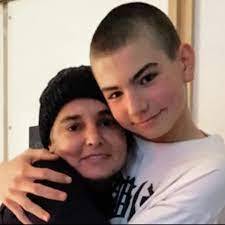 The Wavelength
Monday January 24th, 2022 with Joe Reilly
Sinead O'Connor on Motherhood, Children and Grieving in hour 1, and other songs about children and parenting in hour 2.
On January 7th, Sinead O'Connor's 17 year old son, Shane O'Connor was found dead after being missing for 2 days. Sinead O'Connor has checked into a special centre to help her with her mental health challenges following her son's suicide. This news sent me off exploring Sinead's great body of work and the many songs she has written about motherhood and children - some of them being very personal songs about her own children as she is the Mother of four children. These are beautiful songs made all the more poignant when you listen to them and ponder the recent tragedy around the loss of her son. Sinead O'Connor has faced many challenges in her life and dealt with many mental health issues that she openly explores in her memoir, "Rememberings." If you'd like to read the book it is currently available at the Ottawa Public Library.
https://ottawa.bibliocommons.com/v2/record/S26C1284367
Here are some reviews of the book.
https://www.goodreads.com/en/book/show/55609892-rememberings
In the second hour we play songs by other artists about children and parenthood and I hope you enjoy the mix tonight. If you listened to the FM broadcast you did not get to hear the entire piece "Age" by R Grunwald, but you can hear all of it here as part of the On Demand version of the show. Here is where you can get more information about R. Grunwald.
https://rgrunwald.com/about/
https://rgrunwald.bandcamp.com
If you found anything triggering during the show tonight as we talked about the suicide of Shane O'Connor, or if you are experiencing grief, anxiety or overwhelming sorrow in any way during these difficult times, please reach out to the Ottawa Distress Centre. Their phone lines are staffed 24 hours each day and you can reach them at: 613-238-1111 1-866-996-0991
https://www.dcottawa.on.ca
Thanks for listening tonight. Take care of yourselves and take care of those around you.
Out Of The Depths
Sinead O'Connor - Theology
I Had A Baby
Sinead O'Connor - How About I Be Me (And You Be You)
This Is To Mother You
Sinead O'Connor - Gospel Oak
My Special Child
Sinead O'Connor - Single
My Darling Child
Sinead O'Connor - Universal Mother
Scorn Not His Simplicity
Sinead O'Connor - Universal Mother
All Babies
Sinead O'Connor - Universal Mother
Emma's Song
Sinead O'Connor - Faith and Courage
Three Babies
Sinead O'Connor - I Do Not Want What I Haven't Got
Tiny Grief Song
Sinead O'Connor - Universal Mother
I Do No Want What I Haven't Got
Sinead O'Connor - I Do Not Want What I Haven't Got
Eight Good Reasons
Sinead O'Connor - I'm Not Bossy, I'm The Boss
In This Heart
Sinead O'Connor - Universal Mother
A Prayer For England
Massive Attack - 100th Window
Thank You For Hearing Me
Sinead O'Connor - Universal Mother
I Can't Always Be There
Caroline Marie Brooks - Everything At The Same Time


The Way Of The Dodo (The Living Record)
Christa Couture - The Living Record

Warrior
Rachel Beck - Stronger Than You Know

Bring Me A Rose
Jenn Grant - Compostella

No Happy Birthday
Hayden - Hey Love

Little Boy
The Ring Shepherds - Habitual Orbits

The Early Days
Old Man Luedecke - Domestic Eccentric

Little One
Peter Katz - Still Mind Still

Still Fighting It
Ben Folds - Rockin' The Suburbs
You're A Grown Up Now
Lori McKenna - Massachusetts
Age
R Grunwald - Oma