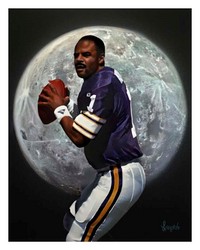 Vintage Love
Saturday September 26th, 2015 with O'shea Adagio
Total Eclipse Of The...
"Shadows of the evening..Steal across the sky" On the eve of the Blood Moon, Vintage Love soothes the soul with a sweet instrumental rendition of "He Ain't Heavy, He's My Brother", followed by the Reggae version by the one and only Sanchez. As has been the main course of the Vintage Love show, we then move into the 60's and 60's with some Rock Steady to put some pep in your step. From there, the journey takes us to artists such as Mikey Spice, Dean Fraser, Ghost and for the weather break two great songs by Luther Vandross and John Legend. Birthday greetings going out tonight to Joan C. and to Lord Ralston Cole and to you if you are celebrating. Wishing you the best day and year yet! SOTW - Ammoye "Radio" I do thank you for tuning into VL live and On Demand and hope you enjoyed the show. It is approaching that time of year again... the ever so tense time of the Annual Funding Drive. I hope you will, as you so generously have in the past, support the show and the station. So just an early reminder so that hopefully you will be planning to do what you can to keep CKCU and Vintage Love on air. A big year for CKCU; as we celebrate 40 years of giving to our community what commercial radio stations never could. Thank you, :-) O'shea Adagio Vintage Love International "Playing With Those Memories Again"
He Ain't Heavy, He's My Brother (@ 10:09)
Sax and Ivory - -
He Ain't Heavy, He's My Brother (@ 14:20)
Sanchez - -
Have You Seen Her (@ 22:04)
Derrick Harriott - -
Crying Over You (@ 25:17)
Ken Boothe - -
I Am Going To Tell (Medley) (@ 28:56)
The Paragons - -
Engine 54 (@ 32:16)
The Ethiopians - -
Kingston Town (@ 35:36)
Lord Creator - -
Bongo Gal (@ 38:40)
Desmond Dekker and the Aces - -
I Will Get Along Without You (@ 41:19)
The Melodians - -
I've Got Love. Remix. (@ 44:19)
Bitty McLean and the Supersonics - -
Baby Please (@ 51:43)
Peter Hunnigale - -
Radio (@ 55:47)
Ammoye - -

Big ups to Bingio Barker who called in requesting some Mikey Spice following that great Ammoye tune. So Bingie this is Born Again by Mikey Spice for you.
Born Again (@ 61:53)
Mikey Spice - -
I'm In Love (@ 64:54)
Nadine Sutherland - -
Got To Get Away (@ 69:19)
Chevaughn - -
All Coming Back (@ 74:11)
Ghost - -
A House Is Not A Home (@ 79:42)
Luther Vandross - -
This Time (@ 87:15)
John Legend - -
Someone Like You (@ 91:44)
Wayne Daniel - -
Greatest Love Of All (@ 96:37)
Eddie Lovette - -
Time for the411. You are welcome to send in information on your coming events to: the411@vintagelove.net
Tonight we let you know about a JOCA event coming up on Oct. 17th.
Love Is Overdue (@ 101:00)
Dean Fraser - -
Birthday greetings going out to Joan and to Lord Cole who will be celebrating in a few days. Wishing you a great birthday this year.
For birthday greetings on air please send your requests to: celebrations@vintagelove.net
God Bless You (@ 105:44)
Osmond Collins - -
Bobby Sox To Stockings (@ 109:34)
Boris Gardiner - -
My Only Lover (@ 113:30)
Etana - -
The final track tonight, requested by 'O'. This is Maxi Priest with a big chune taking us out tonight. Thanks for your request and safe travels to you. Good night everybody and thanks for tuning in.
I Could Be The One (@ 118:31)
Maxi Priest - -