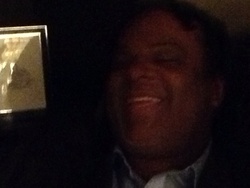 Vintage Love
Saturday April 11th, 2015 with O'shea Adagio
The Richest Guy
Vintage Love tonight going back to some classic Reggae tunes of yesteryear. Featuring, Ambelique, Beres, Marcia, Glen Washington, Ghost and many more.. including your requests. Vintage Love, brought to you by Busters Sports Bar and Restaurant in Ogdensburg, New York. Also, brought to you in part by Fades International.. the Fade Specialists. I hope you enjoyed Vintage Love tonight. If you enjoy the show why not follow VL on Twitter and on Facebook: vintageloveckcu Go Canadian NHL teams go!! Bring the Cup back to north of the border. :-) Congratulations to the Ottawa Senators.. what a run. Whatever happens now.. you have earned respect no doubt. Good luck boys! Happy Birthday to Jonathon and to Renee. Wishing you blessings of long life and many years to celebrate it. Congrats Sophie "I dont know what to say" H. and Jermaine "Dagio.. mek da gals bawl fi ya" P. Enjoy the turn to warmer weather ya'll. SOTW = Etana - "The Prayer" @ 17:00 mins into the show. Nite nite. O'shea Adagio Vintage Love International vintageloveckcu info@vintagelove.net "Playing With Those Memories Again" :-)
Snacking (@ 07:10)
Dean Fraser - -
Hearts Across The World (@ 13:07)
Maxi Priest - -
The Prayer (@ 17:00)
Etana - -
Doctor's Orders (@ 23:28)
Beres Hammond - -
Fire Burning (@ 26:39)
Marcia Griffiths - -
One Last Cry (@ 30:30)
Ambelique - -
I Care For You (@ 34:22)
Sanchez - -
Kindness For Weakness (@ 38:15)
Glen Washington - -
Believe (@ 45:40)
Ghost - -
Say What (@ 49:35)
Singing Melody - -
Rockaway (@ 53:05)
Beres Hammond - -
Majestic Love (@ 57:05)
Gyptian Feat. Estelle - -
Let's Get It On (@ 61:01)
Morgan Heritage - -
Let Her Go (@ 67:38)
D-Major - -
I Remember (@ 72:40)
Toria - -
Feel Like Making Love (@ 76:45)
Nana Mclean - -
A request came in over the week for this song so... I hope you're listenin'. Thank you for your request.
One Sweet Day (@ 80:45)
Mariah Carey Featuring Boys II Men - -
Well since I mixed up the Keyshia Cole and Heather Headley request.. I better play some HH now. So.. "I Wish", for you.. sort of by request. :-)
I Wish (@ 85:30)
Heather Headley - -
Shake You Down (@ 90:56)
Gregory Abbott - -
Games (@ 94:56)
Bitty McLean - -
I Wanna Wake Up With You (@ 101:51)
Stevie Face - -
To the special Birthday girl, Renee. Wishing you many happy returns to this special anniversary of your birth. Hoping you have a great day and this next year in your life is the most incredible so far. :-) Happy Birthday Renee.. on your 16th birthday, this is Nato singing a song that fits very well, "Sweet Sixteen".
Sweet Sixteen (@ 107:15)
Nato - -
Jeremy called in to request a song he hadnt heard in a long time but loved and still loves. This is Tami Chynn with "Over And OVer" going out to Jeremy and everyone listening in Stittsville tonight. Big up!
Over And Over (@ 111:08)
Tami Chynn - -
Everytime You Go Away (@ 114:28)
Eddie Lovette - -
Resistance (@ 118:46)
Da'Ville - -