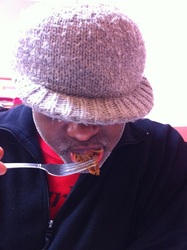 Vintage Love
Saturday July 19th, 2014 with O'shea Adagio
Full Plate
For the love of music.... Vintage Love brought to you tonight by Tropical Heat Restaurant who will also be catering the "Picnic In The Park" next Sunday, July 27th at 2pm. A fun night being with you tonight.... some oldies, some requests and some classics. But the Song of the Night tonight is: Derrick Harriotts, "What Can I Do" - Ya just cant sing a song like this and talk as Derrick does here without going through it. So this weeks song of the week is from Derrick (The Chariot) Harriott also known as "The Wedding Song". You can check out this tune at the 64th minute of the show tonight. Remember next week Vintage Love will be on air starting at 8pm on Saturday night. 4 hours of VL for you next Saturday evening-night, on the eve of what I hope to be a nice day in the park with as many of you Vintage Lovers as possible. Have a good week until then and you will hear me next Sat. night from 8-12(midnight) and see me and the Brothers Adagio, on Sunday from 2 - 4pm at Bate Island just off the Champlain Bridge. If you will be coming to the picnic, please please please RSVP by emailing info@vintagelove.net and providing information on how many people will be coming with you... we would appreciate that very much so that we can as accurately as possible prepare. :-) Thank you and see you next week! :-) O'shea Adagio Vintage Love (2004 - 2014...) Facebook: vintagelove info@vintagelove.net
Happy Sax (@ 08:11)
Tony Greene - -
Let True Love Be (@ 12:30)
Ernest Wilson - -
I Do Love You (@ 18:05)
Jackie Edwards - -
There's No Me Without You (@ 21:03)
Marcia Griffiths - -
6 Six Street (@ 24:17)
Jack Wilson - -
Save The Last Dance @ 27:38)
Bobby Floyd - -
They Don't Know (@ 34:15)
Jimmy London - -
Have You Seen Her (@37:44)
Derrick Harriott - -
Baby Don't Get Hooked On Me (@ 41:26)
Hopeton Lewis - -
I Really Love You (@ 44:50)
Junior Soul - -
Sail On (@ 49:35)
Eddie Lovette - -
Let's Make A Baby (@ 60:00)
Funky Brown - -
And now for the Song Of The Week, this is Derrick Harriott with a heart-break tune called "What Can I Do" only the way that Derrick can deliver it.
What Can I Do (The Wedding Song) (@ 64:20)
Derrick Harriott - -
A request tonight for Lorna Ann who wanted to hear some Etta James. So Lorna.. this is Etta for you with one of my favorite of her tracks, "Fool That I Am". I am so glad I saw her in concert here in Ottawa a few years back... the voice, the voice, the voice. The incomparable Etta James for you.
Fool That I Am (@ 68:20)
Etta James - -
Little Green Apples (@ 71:23)
Boris Gardiner - -
Penny Lover (@ 76:45)
Lionel Richie - -
Blue Eyes (@ 80:32)
Elton John - -
Some Foreigner for Julie (in a reggae style of course). A huge hit for Foreigner back in 1984 and continues to be a staple in the world of ballads. I love this song and Tessanne presents it to us in this cover version. This is Tessanne for Julie here on 93.1
I Want To Know What Love Is (@ 85:25)
Tessanne - -
Jeremy requested some Tami Chynn tonight and it wouldnt fit better in the playlist than following Tessanne.
Over And Over Again (@ 90:33)
Tami Chynn - -
Burn (@ 93:58)
Nato - -
No Candle Light (@ 98:00)
Beres Hammond - -
New Lover (@ 101:45)
Gregory Isaacs - -
Come Down Father (@ 104:05)
Beres Hammond - -
To a disbelieving listener who did not think there was a reggae version of Alicia Keys track called, "You Don't Know My Name", so... what could I do...had to pull it up! :-) Believe me now???????
You Don't Know My Name (Will You Ever Know It) Reggae Mix (@ 105:32)
Alicia Keys - -
I'm Never Gonna Fall In Love (@ 112:05)
Sanchez - -
Die Without You (@ 119:30)
Wayne Wonder - -