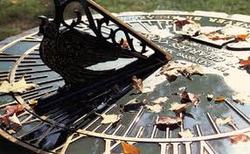 Vintage Love
Saturday October 19th, 2013 with O'shea Adagio
Until Then
Well....the last show before the Funding Drive 2013. Without fail, it is a good time enjoying music with you. Although the Funding Drive is much more hectic and stressful for us hosts than other weeks in the year, I do hope that you will donate over the next 3 weeks so that I wont have to talk as much and so the music can continue to play. :-) Seriously though, if you do enjoy Vintage Love, I hope you will donate what you can, to in part, help keep Vintage Love alive for at least one more year. I love bringing this show to you and I hope you enjoy it as much as I do. If you do, the smallest to largest donations will help to keep Vintage Love on the air. If we do well and bring in lots of donations for the station, then Vintage Love will be secure in this time slot and celebrate its 10th anniversary in February 2014... now wouldnt that be amazing...wow! :-) I hope we reach this anniversary and I hope you will help if you can. Greetings going out to Monica-Happy Birthday to you. As well as to Karena-we will all be thinking of and praying and/or sending out positive vibes for a safe arrival as the big day draws near. To Bridget for being a true friend and to YOU, for supporting this little show that started 10yrs ago and will hopefully continue (with your help) to infect this city and the world with more love. Until then, have a safe and a blessed week. To all the Vintage Lovers.... I thank you and I love you all, :-) O'shea Adagio Vintage Love International CKCU 93.1FM
Tribute To King Scratch (@ 7:20)
Lester Sterling - -
We A De Rasta (@ 13:45)
Israel Vibration - -
Zion In A Vision (@ 17:44)
Garnet Silk - -
Memories By The Score (@ 22:52)
John Holt - -
Ain't That Loving You (@ 26:15)
Ken Boothe - -
A request came in for some Alton Ellis. The Late Great Mr. Ellis also known as The Godfather of Rocksteady passed away in 2008 but his voice lives on here. From the LP, 25th Silver Jubilee (yes, vinyl) :-) this is "You Make Me Happy" by request for Joy.
You Make Me Happy (@ 30:08)
Alton Ellis - -
Truly (@ 33:17)
Marcia Griffiths - -
Keep It Like It Is (@ 35:52)
Louisa Mark - -
Silly Games (@ 38:47)
Janet Kay - -
To the gentleman who called and requested some Lorna Bennett. I am sorry that I missed your name. This is "Breakfast In Bed" released in 1972 for you. Truly befitting of Vintage Love, this is certainly a, "Playing With Those Memories Again" tune! I hope you enjoy. Also, to you my friend. Thank you for already letting me know that you will be donating to Vintage Love when the 2013 CKCU Funding Drive begins on October 25th. I am hopefull that others will follow your lead and support this show and this station over the coming weeks. Thank you sir and as you requested, this is Lorna for you. Enjoy!
Breakfast In Bed (@ 42:45)
Lorna Bennett - -
When I Was A Little Girl (@ 48:43)
T.T. Rose - -
Shine Eye Girl (@ 52:40)
Barrington Levy - -
Jamming (@ 55:50)
Bob Marley & The Wailers - -
Friendship withstanding the test of time. The next song is dedicated to Bridget from DeAnn. Bridget, DeAnn wanted me to play something special for you to help express her gratitude for standing with her especially in this past week. So Bridget, the next song which I thought was perfectly appropriate is for you from DeAnn. "Like Old Friends Do" by Carlene Davis next on Vintage Love.
Like Old Friends Do (@ 62:10)
Carlene Davis - -
So Sick (@ 67:10)
Sadiki - -
Shining Star (@ 71:18)
Steele - -

Groovy Little Thing (@ 74:30)
Beres Hammond - -
My Girl Dis (@ 78:05)
Maxi Priest/Richie Stephens - -
Automatic Riddim (@ 81:20)
Penthouse All-Stars - -
Love Doctor (@ 83:44)
Romain Virgo - -
Turn Your Lights Down Low (@88:29)
Bob Marley & The Wailers - -
The next song is dedicated to Karena. Karena you shared with us on the Interactive Menu about the issues you are facing so bravely right now and so I wanted to play this song for you. Although things are tenuous and stressful in this moment, we are all sending positive thoughts and prayers your way so that this time will pass and all will be well again. I hope to meet the little fella or baby girl one day soon. Until then, this is Lauryn Hill and Tanya Blount singing a truly amazing verion of "His Eye Is On The Sparrow". This song is specially picked for you two, Karena and soon to be big sister, Kaya.
His Eye Is On The Sparrow (@ 92:50)
Lauryn Hill and Tanya Blount - -
The voice of Luther Vandross who left us too soon in July 2005 but also left us with many songs to find love and to lose love by; songs like "So Amazing", "Here And Now", "If Only For One Night", "Dance With My Father", "If This World Were Mine" and one of my all time favorite (and I think most underrated) Luther songs, "The Second Time Around" from the album "Any Love" released in 1988... This is Luther Vandross covering Dionne Warwick's "A House Is Not A Home" by request for Monique.
A House Is Not A Home (@ 97:10)
Luther Vandross - -
Right Here Waiting (@ 104:20)
Sanchez - -
To a very special friend to the Vintage Love show and a long time listener and supporter. Wishing you the best birthday ever... Monica, here is to hoping that this year brings you all of the things you need and some extras in terms of the things you want. May health, wealth and happiness be yours for the coming year. Happy Birthday to you. This is Delroy Wilson singing "Happy Birthday" to help celebrate your special day. :-)
Happy Birthday (@ 110:53)
Delroy Wilson - -
You And Me (@ 115:21)
Busy Signal - -
Color Of Love (@ 118:30)
Richie Stephens - -
Walk Away From Love (@ 120.00)
Bitty Mclean And The Supersonics - -