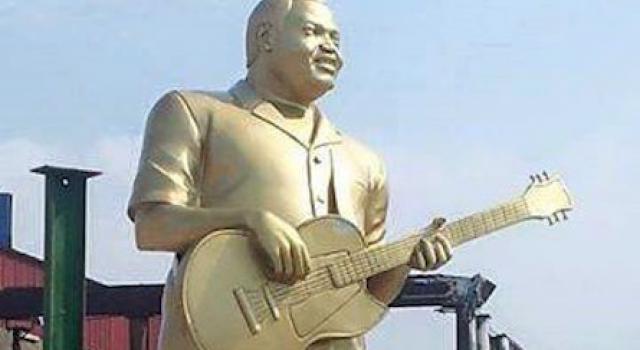 The Groove
Saturday February 16th, 2019 with Elorious Cain
'AFRIKA RETRO VIBRATIONZ' 3
Photograph is of a special statue: Twenty six years after the passing of FRANCO LUAMBO MAKIADI, that statue was unveiled in his honour. It was inaugurated by Congolese Prime Minister Augustin Matata Ponyo. The bronze statue is 2.97 metres in height and weighs 400 kilograms. It stands in the heart of Matonge district in Kinshasa: known as the heartbeat of the Congolese music scene. To understand why is was so important for the Prime Minister of the Democratic Republic of Congo to inaugurate such a statue we must start by taking you back to the early 1950's when FRANCO LUAMBO MAKIADI; or just FRANCO, was just a 15 year old studio musician working for the Congolese Rumba record label called Loningisa. He would help establish and eventually lead O.K. JAZZ - a group initially under the patronage of Oscar Kashama's O.K. club in 1956 that was the beginning of musical historic magic that would last right into the 21st Century, even though FRANCO himself would tragically pass away in 1989. His influence on African music is immeasurable. Regardless of how wealthy he would become, FRANCO continued to help and influence other musicians and singers right up to the end. Over and hundred successful albums and countless singles brought FRANCO and O.K. JAZZ massive financial gains and international influence. O.K. JAZZ would eventually morph into two different versions of "son TOUT PUISSANT O.K. JAZZ" or T.P.O.K. JAZZ. Franco's music had little to do with the various styles and genres connected to the 'disco boom' that dominated the 1970's. He one of a short list of musical geniuses that forged the Congolese Rumba variations into a major consistent force that was far superior to most of the superficial discotheque musics. His songs had a profoundly positive and meaningful impact on the lives of millions. Compositions like "Mario" were more than just 'pop music'. They became int-regale parts of peoples daily existence. The death of FRANCO took so much joy out of people's lives. Although his music survives and plenty of other artists throughout the African diaspora continue to emulate his quality, his passing still ended a rich and vital chapter. We strongly recommend the book "Congo Colossus: The Life and Legacy of Franco & OK Jazz" by Graeme Ewens. Find it!! And remember that this show only offers a small sample of FRANCO's music. Again some of these records were 78rpm discs and we had to get someone with a Lenco B52 turntable to record them on a digital format. All the same the quality of these recordings is still a little rough.
TUBA MBOTE
Dewayon & Groupe Watam With Lwambo François - 10" [78rpm] - LONINGISA
NABOYI YO TE
FRANCO - 10" [78rpm] - LONINGISA
MICORASON
O.K. JAZZ - 10" [78rpm] - LONINGISA
SILUWANGI WAPI ACCORDEON
FRANCO & O.K. JAZZ & CAMILLE FERUZI - GOLDEN AFRIQUE VOL 2 (2CD) - NETWORK MEDIEN
OZALI SE WA NGAI
O.K. JAZZ - 10" [78rpm] - LONINGISA
TCHA TCHA TCHA DE MI AMOR
FRANCO & O.K. JAZZ - GOLDEN AFRIQUE VOL 2 (2CD) - NETWORK MEDIEN
ILAMO MARIE
O.K. JAZZ - 7" - LONINGISA
LA RUMBA O.K.
Luambo François ‎Accompagné Par L' ORECHESTRE O.K. JAZZ - 10" [78rpm] - LONINGISA
MASUMBUKU
O.K. JAZZ - RUMBA AVEC O.K. JAZZ N°5 (7"EP) - La Voix De Son Maître
YIMBI
O.K. JAZZ - 10" [78rpm] - LONINGISA
NAKOBALA MIMI
O.K. JAZZ - O.K. JAZZ (7"EP) - La Voix De Son Maître
LINA
FRANCO & O.K. JAZZ - GOLDEN AFRIQUE VOL 2 (2CD) - NETWORK MEDIEN
OSILI-OBEBI
DESSION Accompagné Par L' ORECHESTRE O.K. JAZZ - 10" [78rpm] - LONINGISA
BANA O.K. JAZZ
O.K. JAZZ - THE LONINGISA YEARS 1956-1961 (2LP) - PLANET ILUNGA
LIWA YA CHAMPAGNE
O.K. JAZZ - SURBOUM AFRICAN JAZZ N°3 (7"EP) - DECCA 1
BULUNDUE NA ZONGWE
ORCHESTRE OK JAZZ - SURBOUM OK JAZZ Nº15 (7"EP) - DECCA
TANGO NGAI NAZALAKI SOMELE
FRANCO Et L'ORCHESTRE O.K. JAZZ - 7" - Pathé
LOKOLO
FRANCO Et L'ORCHESTRE O.K. JAZZ - 7" - Pathé
TATA NA BEBE
ORCH O.K. JAZZ - 7" - EDITIONS POPULAIRES
COOPERATION
FRANCO & SAM MANGWANA - GOLDEN AFRIQUE VOL 2 (2CD) - NETWORK MEDIEN
AZIZA
FRANCO & SAM MANGWANA - FRANCO JOUE AVEC SAM MANGWANA (LP) - EDIPOP PRODUCTION
Désespoir P.1
FRANCO LUAMBO MAKIADI - SOKI ODEFI ZONGISA (LP) - ASL
Désespoir P.2
ORCH: T.P. O.K. JAZZ - 7" - AFRICAN
MARIO
LE GRAND MAITRE FRANCO ET SON TOUT PUISSANT O.K. JAZZ - MARIO (LP) - CHOC
ATTENTION NA SIDA
LE GRAND MAITRE FRANCO ET SON TOUT PUISSANT O.K. JAZZ - ATTENTION NA SIDA (LP) - AFRICAN SUN MUSIC