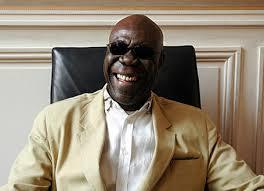 The Groove
Saturday February 23rd, 2019 with Elorious Cain
'AFRIKA RETRO VIBRATIONZ' 4
When JOSEPH "LE GRANDE KALLE" KABASELE welcomed the Cameroonian multi-instrumentalist MANU DIBANGO into the legendary band AFRICAN JAZZ he sensed that this talented and well trained musician would become important. He encouraged MANU DIBANGO's ambitions to experiment with combining Congolese music with Funk and Soul just as almost everybody else was doing the same with Latin and French Caribbean musical styles. MANU DIBANGO opened his own club that was called The TAM TAM. His productions during the 1960's and early 1970's proceeded to change the course of popular music. His impact on the development of different genres of discotheque music has been monumental. No other single artist has provided a direct connection between the richly musical passions of the Congolese Rumba "belle epoque" and the explosive "disco boom" that dominated the 1970's. The very impact of his experiments in the 1960's and 1970's are still being felt today! We've attempted to give you as many examples we can fit in: First and foremost there was his early "Hallelouia" 7" single combining Rumba with the wildly popular (in the discotheques at the time) Twist first introduced by American R&B singer CHUBBY CHECKER. Beyond its controversy it is demanding and endearing. DJs are still spinning in; if they're fortunate enough to find it! Italian dj Luis Soulful Torino wrote "Whenever I play it, in Italian clubs, around Europe and even at wedding parties, the crowd goes crazy. What a record!" Numerous funky MANU DIBANGO records in the 1960's and early 1970's became popular in discos in France and Italy like "Dikalo", "Afro-Soul" and "Soul Machine". His early albums like 'Saxy-Party' from 1969 and 'Africadelic' from 1973 were vital parts of the collections of thousands of European and Nigerian discotheques. The impact of DIBANGO'S 1972 song "Soul Makossa" is also still being felt around the planet. The fact of the matter is that no other recording has had so much influence on the development of discotheque music. It radically altered the atmosphere of the industry in the early 1970's while it slowly became one of the most popular discotheque standards. As early as 1974 other artists began to record cover versions and by the early 1990's there were countless samples and musical allusions: tributes to a gem that has entered the consciousness of billions! The most popular and notable of which is by the late MICHAEL JACKSON with "Wanna Be Startin' Somethin" from the 'Thriller' album. To celebrate the importance and brilliance of "Soul Makossa" we have included four alternate versions that are either by MANU DIBANGO, recorded with him, or formally including his recorded voice. They include a Reggae version MANU DIBANGO released in 1980, a Nu Soul version MANU DIBANGO recorded with the French duo LES NUBIANS in 2011 and current variation of the song recorded by the legendary "Roi de Disco" CERRONE called "FUNK MAKOSSA". We are ending the show with contemporary Rumba from Cuba with a strange take on that song: "Rumba Makossa" that MANU DIBANGO recorded with EL CUARTETO PATRIA. We began with Congolese Rumba and we end with contemporary Cuban Rumba! This show only offers a small sample of the music of MANU DIBANGO. He has other 50 albums and countless singles. His collaborations with Pop and Jazz artists are numerous! Not included on this show also is his work with the late FELA KUTI and the late CHARLOTTE MBANGO.
NASENGINA
LE GRAND KALLE, DON GONZALO, MANU DIBANGO ET L'AFRICAN-TEAM - VOLUME 3 (LP) - PRODUCTIONS SOUK
SAXO MERENGUE
AFRICAN JAZZ - 7" - SURBOUM AFRICAN JAZZ
NALONGOLI MOTEMA
LE GRAND KALLE, DON GONZALO, MANU DIBANGO ET L'AFRICAN-TEAM - VOLUME 3 (LP) - PRODUCTIONS SOUK
OSALI E GOMBE
AFRICAN JAZZ - 7" - SURBOUM AFRICAN JAZZ
EKEDY
MANU DIBANGO - GOLDEN AFRIQUE VOL 2 (2CD) - NETWORK MEDIEN
HALLELOUIA
MANU DIBANGO ET SON ORCHESTRE - 7" - SURBOUM AFRICAN JAZZ
AFRICAN POP SESSION
MANU DIBANGO - AFRICAN VOODOO (LP) - PSI
AFRO-SOUL
MANU DIBANGO - AFRICADELIC (LP) - AMI
SOUL MACHINE
MANU DIBANGO - 7" - PHILIPS
FROM CONGO
MANU DIBANGO - SAXY-PARTY (LP) - MERCLURY
WOURI
MANU DIBANGO - MOJO CLUB PRESENTS DANCEFLOOR JAZZ VOLUME 7 (GIVE ME YOUR LOVE) (2LP) - MOTOR MUSIC
SUPER KUMBA
MANU DIBANGO - SUPER KUMBA (LP) - LONDON
DIKALO
MANU DIBANGO - 7" - PHILIPS
THE PANTHER
MANU DIBANGO - AFRICADELIC (LP) - AMI
O BOSO
MANU DIBANGO - SOUL MAKOSSA (LP) - ATLANTIC
THE SOUKOUSS
MANU DIBANGO AND HAL SINGER - 7" - DECCA
AFRICAN BATTLE
MANU DIBANGO - AFRICADELIC (LP) - AMI
PONDA MALOKO
MANU DIBANGO - AFRICAN WOODOO (CD) - Frémeaux & Associés
SUN EXPLOSION
MANU DIBANGO - SUN EXPLOSION (LP) - LONDON
NEW BELL
MANU DIBANGO - SOUL MAKOSSA (LP) - ATLANTIC
HOT CHICKEN
MANU DIBANGO - MANU DIBANGO (3CD) - MERCURY
WEYA
MANU DIBANGO - MAKOSSA MAN (LP) - ATLANTIC
BIG BLOW
MANU DIBANGO - 12" - FIESTA
ELECTRIC AFRICA
MANU DIBANGO - ELECTRIC AFRICA (LP) - PHILIPS
SOUL MAKOSSA
MANU DIBANGO - SOUL MAKOSSA (LP) - ATLANTIC
REGGAE MAKOSSA
MANU DIBANGO - 12" - MANGO
NU SOUL MAKOSSA
LES NUBIANS (featuring MANU DIBANGO) - Nü Revolution (CD) - SHANACHIE
FUNK MAKOSSA (MAWIMBI REMIX)
CERRONE (featuring MANU DIBANGO) - mp3 - MALLIGATOR
RUMBA MAKOSSA
EL CUARTETO PATRIA & MANU DIBANGO - CUBAFRICA (CD) - COEUR DE LION