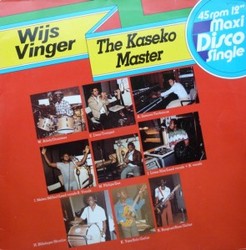 The Groove
Saturday August 16th, 2014 with ELORIOUS CAIN
CHARLOTTE CAIN'S TOUCH VOLUME 3: Kaseko
This is the third and last in a series of shows where CHARLOTTE is asked to close her eyes in front of my record collection, stretch out her hand, and choose whatever record she touches. I set out to do a show featuring whatever genre of disco that record is. She touched The Kaseko Master 12" "Wijsvinger" (pictured here). I prepared a KASEKO show; for the very first time on THE GROOVE! KASEKO hails from Suriname, although some KASEKO is recorded and remixed in Aruba and The Netherlands. The show includes a DJ CHUCKIE remix of a LA ROUGE song. DJ CHUCKIE is currently known for his Dirty House or "Dirty Dutch" mixes!
SABAKOE MELODY
SABAKOE - youtube
KANTASIE
THE KASEKO MASTER - youtube
UN NE PRATI (REMIX)
NAKS KASEKO LOCO - youtube
DWENGI LIBI - FRANKIE
YAKKI FAMIRIE 2/20 - youtube
RITSEN
LA ROUGE - youtube
WIJSVINGER
THE KASEKO MASTER - 12" - UNICE
SEXY WAKA (REMIX)
NAKS KASEKO LOCO - youtube
SEKE SEKE (REMIX)
NAKS KASEKO LOCO - youtube
WIE ZIJNE WIJ (DJ PAC REMIX)
LA ROUGE - youtube
WIE ZIJNE WIJ (DJ CHUCKIE REMIX)
LA ROUGE - youtube
ALARM (DJ PAC REMIX)
HALVE - youtube
HOSSE! (DJ PAC REMIX)
LA ROUGE - youtube
IN THE MIX (PART 1)
THE FLIPDANCERS featuring CIRIEL EN NORMA - youtube
ALEKE ROOTS REMIX (NONSTOP VIDEO RIDDIM)
(various) - youtube
LOKO LOBI YU (REMIX)
NAKS KASEKO LOCO - youtube
"W' E GO WAI ANISA" (THE X-MASTERS KASEKO MEDLEY)
THE X-MASTERS - youtube
TU LEMTJI (KASEKO MEDLEY)
SABAKOE - youtube