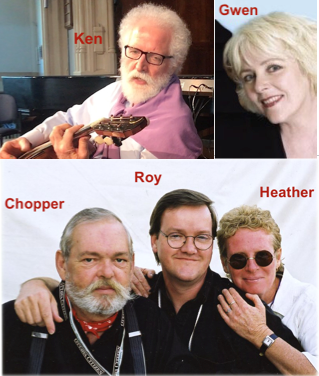 Canadian Spaces
Saturday April 23rd, 2022 with Chris White
Ken Whiteley, Gwen Swick, Susan Crowe, Roy Forbes, Heather Bishop
Ken Whiteley, Gwen Swick, Susan Crowe, Roy Forbes, Heather Bishop
Hour 1: '40 minutes of uninterrupted folk'
Boulevard Of Broken Dreams
Bill Bourne - Songs From A Gypsy Caravan

Love A Forest
Heather Adeney and Ken Kanwisher - .

Man of Constant Sorrow
Ken Whiteley - Long Time Travelling

Pacing The Cage
Bruce Cockburn -

Fare Thee Well
Tara MacLean - Atlantic Blue

L'alphabet
Kristine St-Pierre - La promesse

The Times They Are A-Changin'
Finest Kind -

Lullaby
Laurelle K - .

Red Winged Blackbird
David Francey - .

500 Years
Ol' Savannah - .

Roll River Roll
Bill Bourne - Boon Tang

Ken Whiteley talks about producing Vince Halfhide's album
Cobalt Miner's Daughter
Vince Halfhide - Vince Halfhide

Ken Whiteley talks about the group of neighbours on his street in Toronto who played and sang outdoors for 550 evenings in a row during the pandemic!
Ode To the Road
Ken Whiteley, Ceilidh Wood and the Roxton Rambles - .

Hour 2: Heather Bishop talks about the songs of Roy Forbes.
Old New Borrowed Blue
Heather Bishop -

Waitin' For You, Mama
Heather Bishop - Daydream Me Home

I Want to Be a Cowgirl Sweetheart
Heather Bishop -

A short excerpt from Christophe Elie's 'Songs For The Revolution' radio show, heard on CKCU on Tuesday mornings at 8:05 am.
Solar Powered
Rick Fines - live at 'Tree Songs 2'

Singer-songwriter Susan Crowe interviews singer-songwriter Gwen Swick.
All I Know Is I Want You
Gwen Swick - Love And Gold

I Don't Care To Love Again
Gwen Swick - Love And Gold