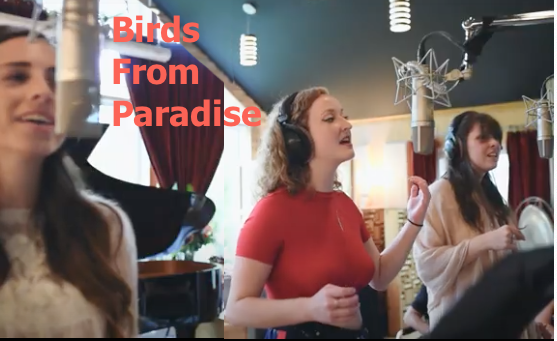 Canadian Spaces
Saturday June 6th, 2020 with Chris White
Birds From Paradise, Nolan Hubbard, Ron Moores
Birds From Paradise are a Montreal-based trio who just released their debut album entitled 'Birds'. Nolan Hubbard is based in Kingston andrecorded his debut album in Toronto and Nashville. Ron Moores who has been hosting 'The Back 40' on CKCU for 27 years, and also has a podcast called 'Sounds Atlantic'. He brings in some of his favourite songs and talks about his lifelong involvement with music and music events. We also hear new songs from Ian Tamblyn, Lynne Hanson, David Mayerovitch and Jennifer Noxon.
Not If But When
Jennifer Noxon and Brendan Gawn - .

Carvoeiro
Jenina MacGillivray - Marion

Crickets
Salton Sea - This Boat Ain't Big Enough for the Two of Us

Room for Less
Alise Marlane - Room for Less

Meth Lab
Ian Tamblyn - .

Lifting My Heart
Hart Rouge - Beaupré's Home

Two-Handed Tango
David Mayerovitch - .

Banks of Newfoundland
Matthew Byrne - Ballads

Dark River
Ron Hynes - The Sandcastle Sessions

Just to Hear the Whistle Blow
Tim Stafford - Just to Hear the Whistle Blow
Maitre musicien
Paul Hébert - Les pauvres riches

Let The Mystery Be
The Lucky Sisters - So Lucky

Sunny Day In June
Lynne Hanson - .

Interview with Birds From Paradise, website https://en.birdsfromparadisemusic.com
The World Is Your Oyster
Birds From Paradise - Birds

The Ride
Birds From Paradise - Birds

Interview with Nolan Hubbard, website https://www.nolanhubbard.com
Today
Nolan Hubbard - Luminosity

The Other Side
Nolan Hubbard - Luminosity

Interview with Ron Moores, host of "The Back 40" on CKCU and the "Atlantic Sounds" podcast, website http://ronmoores.com
Watchin' the Dandelions Grow
Meaghan Blanchard - She's Gonna Fly

Hard Workin' Hands
Dave Gunning with Ron Hynes - House for Sale