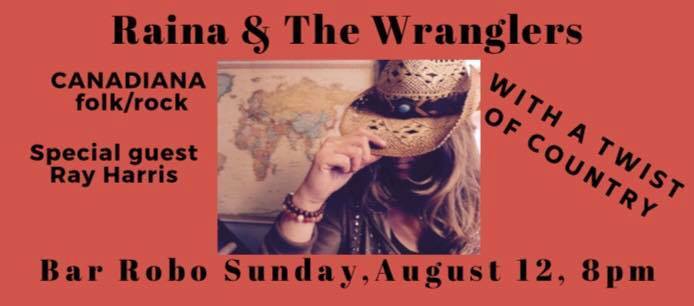 Canadian Spaces
Saturday August 11th, 2018 with Ray Harris and Chris White
Brian Cote, Ankit Peter, Fred Dell'Amico, Raina and The Wranglers, Ray Harris
Photographer and local music supporter Brian Cote drops by with some music news and a music pick. Ankit Peter performs a song, talks about his decision to pursue a career as a musician, and announces a concert coming up on Sat. Sept. 22 at Emmanuel United Church. Fred Dell'Amico (Arnprior) makes a return visit to the show to perform some of his unique and touching songs. Raina Krangle and Jason Dodge from her band, The Wranglers, drop by to chat and perform. They are in town from Toronto to perform at Bar Robo tomorrow evening on a bill with Ray Harris.
Doing What Comes Naturally
Mike Plume Band - Born By The Radio


Kings Road
Oh Susanna - Sleepy Little Sailor

This Lonesome Feeling
Blackie and the Rodeo Kings w/ Vince Gill - Kings and Kings

Love Like This
Mike Lynch - Reel To Reel

Beautiful Trainwreck
Lori Yates - The Book Of Minerva

Taking Care Of Business
Ian and Sylvia - Nashville

Blue Canadian Rockies
The Byrds - Sweetheart Of The Rodeo
Payday
The Flying Burrito Brothers - Honky Tonk Heaven

Rhumba Man
Jesse Winchester - Nothing But A Breeze

The Last Gunfighter Ballad
Murder Murder - From The Stillhouse

Manitoba Sunrise at Motel 6
Tami Neilson - Sassafras!


Always Hope
Greg Kelly - Ghosts

Note
Ankit Peter - live in the studio

Snappy Gal
Fred Dell'Amico - live in the studio

Cemetery Woods
Fred Dell'Amico - live in the studio

Jack's Song
Catherine MacLellan - The Raven's Sun

Shine
Raina Krangler and Jason Dodge - live in the studio

Holy Land
Raina Krangler and Jason Dodge - live in the studio

Rain on Your Thunder
Ray Harris and Rain Krangler - live in the studio

Whiskey Don't Love Me Back
Ray Harris - live in the studio