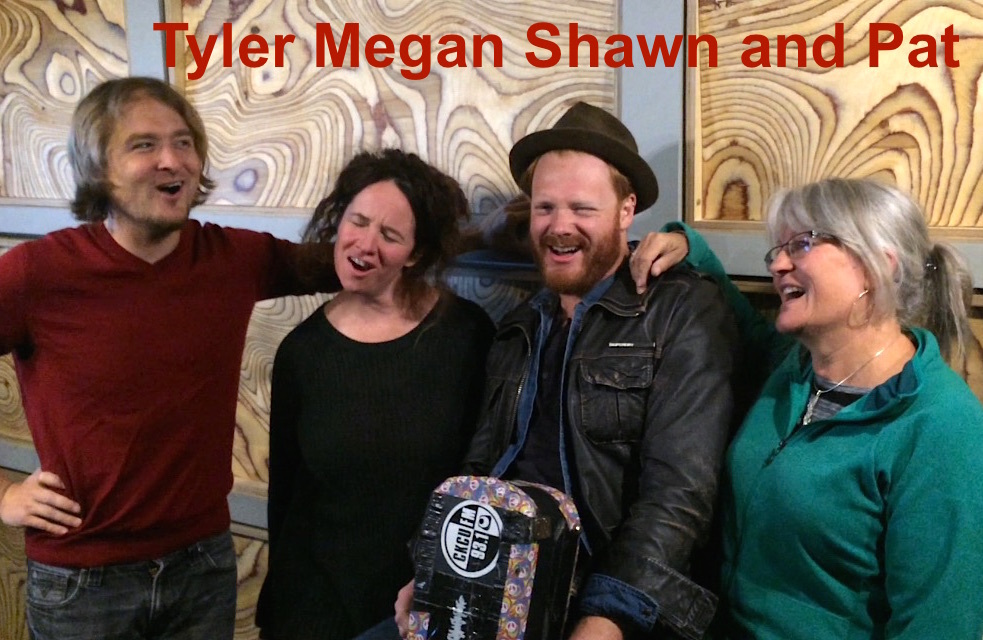 Canadian Spaces
Saturday March 31st, 2018 with Chris White
Pat Moore, Tyler Kealey, Megan Jerome, Chad Kirvan, Paul Weber
Pat Moore, Tyler Kealey and Megan Jerome drop by to sing and play. They're gearing up to perform their popular show called "A Great Night Out" (also featuring Shawn Tavernier and Pat McLaughlin) at the NAC Fourth Stage on Sunday evening, April 8. Thunder Bay-based singer-songwriter, photographer and videographer Chad Kirvan comes in to converse and perform. He's is in Ottawa to shoot some music videos for another guest on the show, Paul Weber. Paul is the former leader of world music groups Cheza and the Main Street Market Band. These days, he's immersed in writing, performing and recording songs about the people and events of Ottawa's past.
Old Friends
Frida's Brow - Old Friends

Tears Won't Dry
Greenbank - Money Machine

Butterflies and Sunflowers
Suzie Vinnick - Happy Here

The Last Song
Tyler Kealey - live in the studio

Take It To Heart
Pat Moore - live in the studio

The Way You Love Me Is As Big As The Moon
Megan Jerome - live in the studio

The Ozzie Ocean
Tyler Kealey - live in the studio

Her Soft Disguise
Greg Kelly - Slow Horses

Dreamland Motel
Brock Zeman - Rotten Tooth

Letting My Heart Out
Chad Kirvan - live in the studio

Amy
Chad Kirvan - live in the studio

Halong Bay
James Gordon - Sunny Jim

Three Years on the Rideau Canal
Paul Weber - live in the studio

Ottawa Song
Paul Weber - live in the studio

Ode to Jerry Barber
Paul Weber - live in the studio

Getting Ready
Oh Susanna - A Girl in Teen City