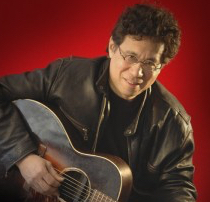 Canadian Spaces
Saturday June 6th, 2015 with Jennifer Noxon and Chris White
Musicians who paint; Vince Halfhide; Laura Smith
** CKCU is participating in Doors Open Ottawa until 4 pm today. Drop by the 5th floor of the Carleton University Centre to take a tour and say hi -- we'd love to see you! ** Today's co-host, Jennifer Noxon, performs a song and talks about musicians who paint pictures. Vince Halfhide drops by to perform live in the studio and talk about the Manotick concert he's participating in this evening. He's also at the at Atomic Rooster (303 Bank Street) with a hot band tomorrow from 6 to 9 pm. We talk with Laura Smith who will be in this area for concerts at Irene's Pub in Ottawa on Wed. June 10, the Neat Café in Burnstown on Thurs. June 11, and the Full Circle Theatre in Perth on Sat. June 13.
The Bottomless Cup
Jennifer Noxon - Watch As You Walk

A New Day
Mary Margaret O'Hara - Miss America

Jalopy
Joey Wright - Jalopy

Big Bird in a Small Cage
Patrick Watson - Wooden Arms

Song of Me and You
Adam Cohen - We Go Home

Jack McGraw
Annie Gallup - Steady Steady Yes
The Coo Coo
Michael Jerome Browne - Michael Jerome Browne & the Twin Rivers String Band

Real Beauty Aches
Gregory Hoskins - Alone in the Mayor's House

Key Principles of Success
Nathan - Key Principles

Rossignolet Sauvage
Frida's Brow - Room for Less

No Fool Moon
Christine Graves - Wreckless Daughter

Heartbeat
Jennifer Noxon - live in the studio

Universal Soldier
Buffy Sainte-Marie - It's My Way!

Candy Man
Vince Halfhide - live in the studio

Elisa
Vince Halfhide - Vince Halfhide

I'm a Beauty
Laura Smith - It's a Personal Thing

.
Jennifer Noxon - live in the studio

Safe Home, Sweet Light
The Lucky Sisters - So Lucky