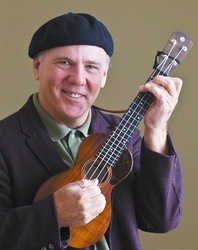 Canadian Spaces
Saturday June 21st, 2014 with Chris White
Jim D'Ville, Mike Hill, John MacDonald, Bob Bossin
Jim D'Ville is a ukulele virtuoso and educator who is giving workshops and performances at the Ottawa Folklore Centre and the Clocktower Pub this weekend. Mike Hill is the Artistic Director of the Mariposa Folk Festival taking place in Orillia from July 4 to 6. Local singer-songwriter and guitar builder John MacDonald plays at the Oak on the Canal this evening in a "Make Music Day" concert that also features John Allaire and Kristine St-Pierre. Bob Bossin is in town in from B.C. to perform his one-man show "Davy the Punk" at the Ottawa Fringe Festival.
Roses at the End of Time
Eliza Gilkyson - Roses at the End of Time
Love Is Red
Lynn Miles - Downpour

Walking Each Other Home
Mary Gauthier - Trouble and Love

Diamond Shine
Cris Cuddy - Diamond Shine

Just Waiting for a Train
Dave Clarke - Reunion

Nothing More
Jennifer Noxon - Sweet

Her Friend Is the Wind
Capital Grass & the No Men - Hunkerdownlow


Vichten (Mic Mac Song)
Hart Rouge - Beaupré's Home

Trekkie's Honeymoon
Tom Lips - Practical Man

45 Years
Stan Rogers - Fogarty's Cove

Thinking Out Loud
Ron Sexsmith - Other Songs

Waltz of the Sunflowers
Caravan Gogh - The 3 Faces of Steve
Lower Columbia River Blues
Caravan Gogh - The 3 Faces of Steve
Has Anybody Seen My Gal
Jim D'Ville - live in the studio
Ghost Parade
Ian Tamblyn - Superior: Spirit and Light

Black Spruce
Ian Tamblyn - Superior: Spirit and Light

Passed Down the Line
John MacDonald - live in the studio

O Canada
John MacDonald - live in the studio

Steamboat Whistle Blues
Bob Bossin - live in the studio

Camptown Races
Bob Bossin - live in the studio