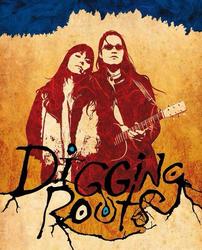 Canadian Spaces
Saturday June 14th, 2014 with Ann Downey and Chris White
Digging Roots, Eliza Gilkyson, Sue and Mark Rogers, Shannon Rose & Steve Matylewicz
We talk with Peterborough-based band, Digging Roots (Raven and ShoShona). They celebrate their new album, "For the Light", at the NAC Fourth Stage on Wed. June 18 at 7:30 pm. Eliza Gilkyson's new album is "The Nocturne Diaries". Based in Austin, Texas, she plays the Black Sheep on Thursday, June 19 at 8:30 pm. Sue and Mark Rogers, leaders of the 400-member Bytown Ukulele Group, perform live and talk about some cool workshops coming up next weekend with uke virtuoso Jim D'Ville. Shannon and Steve (Shannon Rose & the Thorns) drop by to perform a song and chat about their upcoming shows and their new album.
Let Yourself In
Chris MacLean - Feet Be Still

Once I was in Stockholm
Anne Lindsay - News From Up the Street

Ol' Cookin' Pot
The Duhks - Migrations

Charged
Cara Luft - Darlingford

Mandela Dancing
Cheza - Cheza

Something About a Sunday
Eve Goldberg - Crossing the Water

Butter Tarts
Shelley Posen - Roseberry Road


Betty Stomp
Grouyan Gombo - Betty Stomp

Sea Stars
Allison Lupton - Fly Like Swallows

Mrs. Turner Is a Sight
Rick Fines - Solar Powered

Spotted Pony
Ann Downey - live in the studio

Rooster
Ann Downey - live in the studio

Stay
Digging Roots - For the Light

All Night
Digging Roots - For the Light


When You Walk On
Eliza Gilkyson - Paradise Hotel
Bye Bye Love
Sue and Mark Rogers - live in the studio

Long Long Road
Sue and Mark Rogers - live in the studio

Turn Your Radio On
Bec & Rusty - Tea for Two

Open Water
Shannon Rose and Steve Matylewicz - live in the studio