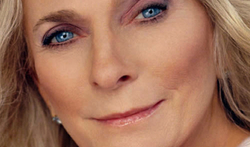 Canadian Spaces
Saturday May 31st, 2014 with Mike Regenstreif and Chris White
Judy Collins, Fred Eaglesmith, Shari Ulrich
Judy Collins performs at Southminster United Church on Saturday, June 7. Tickets at
www.folkzone.ca
, the Folklore Centre and Compact Music. Shari Ulrich and Julia Graff perform at the NAC Fourth Stage on Friday, June 6 to celebrate their excellent new CD, "Everywhere I Go". Fred Eaglesmith is at the Carleton Place Town Hall on Thursday, June 5, and at the Black Sheep on June 6th and 7th.
Papa's on the Housetop
Sneezy Waters - Sneezy Waters

I'm Going to Find My Joy
Hannah Shira Naiman - Tether My Heart

The Rocket
Mary Gauthier - Live at Blue Rock

Blue Wing
Colleen Rennison - See the Sky About to Rain


Mississippi River Running Backwards
Tom Russell & the Norwegian String Ensemble - Aztec Jazz
Eliza Jane
Eliza Gilkyson - The Nocturne Diaries

Halfway to Heaven
Max Layton - It's a Mystery to Me

Hey That's No Way to Say Goodbye
Tower of Song - In City and in Forest

Sailor's Rest
Garnet Rogers - Summer's End


Four Strong Winds
Dave van Ronk - Live in Monterey


18 Wheels
Fred Eaglesmith - Milly's Café

Interview with Fred Eaglesmith.
Pacing the Cage
Judy Collins - Portrait of an American Girl

Suzanne
Judy Collins - Judy Collins Sings Leonard Cohen: Democracy

Interview with Judy Collins.
The next three songs punctuated our studio visit with Shari Ulrich. Her
daughter and record producer, Julia Graff, joined us on the phone from Montreal.
Free Fall
Shari Ulrich - Everywhere I Go


This Life
Shari Ulrich - live in the studio

Making Friends with Gone
Shari Ulrich - Everywhere I Go