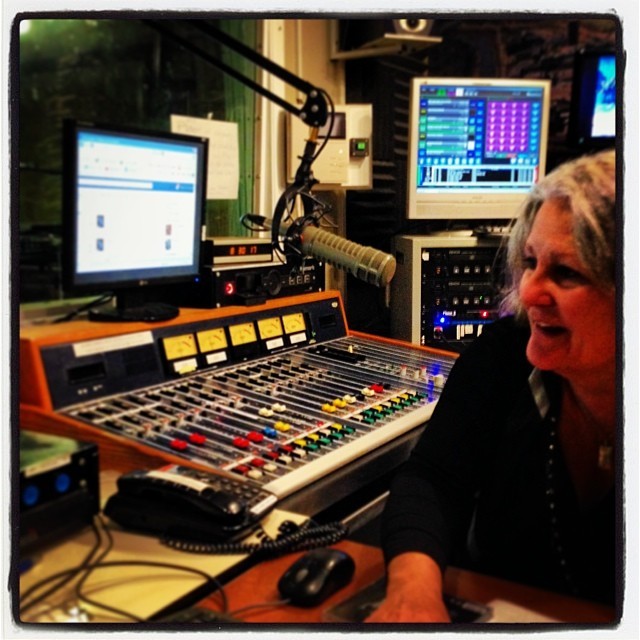 Saturday Morning
Saturday April 4th, 2020 with Pat Moore
Music to wake up to! As close to non-covid as I can get!
Good morning all - I'm really excited that my show is airing on FM airwaves today for the first time since 'the virus' came to town. I had a lot of fun putting this together in my basement (wow, it took me several days to get up to speed on how to do this at home, and then record. ) I think you'll love this show, from the Fats Waller Intro to a Bill Withers tribute, some local including (but not only) Silver Creek, Russell Levia, Anders Drerup...and more. I've also got a special hello from my good friend Shawn Tavenier closing out the show just before 10am.
The Spider and the Fly
Fats Waller - Happy Birthday Fats
If I Were a Bell
Blossom Dearie - Just Blossom Dearie
When the Red Red Robin comes Bob Bob Bobbin' Along
Julie London - The Ultimate Collection
Lullaby in Birdland
Ella Fitzgerald - CABU
The Way You Look Tonight
Sammy Davis Jr. - 100+ Jazz Essentials
Dancing on Daddy's Shoes
Leon Redbone - Whistline in the Wind
I'm Confessin'
Mose Scarlett, Jackie Washington, & Ken Whiteley - "We'll Meet Again"

I got Mine
Mose Scarlett, Jackie Washington, & Ken Whiteley - "We'll Meet Again"

Don't You Feel My Leg
Maria Muldaur - Louisiana Love Call
Eggs & Sausage (+ intro)
Tom Waits - Night Hawks at the Diner
The Great Compromise
John Prine - Anthology
In a Town this Size
John Prine - In Spite of Ourselves
From Here to Forever
Kris Kristofferson - Closer to the Bone
Put the Needle On
Little Miss Higgens - My Home My Heart
It Hurts
Pat Moore & the Vinyl Frontier - Take it to Heart

Ca't We Be Sweethearts
the Cleftones - Doo Wop: The Absolutely Essential Collection
A Teenager in Love
Dion and the Belmonts - Doo Wop: The Absolutely Essential Collection
Speedo
The Cadillacs - Doo Wop: The Absolutely Essential Collection
In the Still of the Night
The Five Satin's - Doo Wop: The Absolutely Essential Collection
One Mint Julep
The Clovers - Doo Wop: The Absolutely Essential Collection
Use Me
Bill Withers - The Best of Bill Withers: Lean on Me
Just the Two of Us
Bill Withers - The Best of Bill Withers: Lean on Me
Lean on Me
Bill Withers - The Best of Bill Withers: Lean on Me
Flesh and Blood
Johnny Cash - Unearthed - Who's Gonna Cry
Death of Sis Draper
Guy Clark - My Favourite Picture of You
From Here to Forever
Kris Kristofferson - Closer to the Bone
I'm Sittin' On Top of the World
Willie Nelson & Asleep at the Wheel - Willie & the Wheel
Poor Man's Roses
Patsy Cline - The Collection
The Three Bells
Russell Levia - The Wayward Wind

Mexico
Silver Creek - Princes and Kings

I Kept the Roses
Tenille Townes - Road to the Lemonade Stand

I Built a Boat
Laura Smith - Everything is Moving

La Fabrique
Josee Lajoie - Man Zou

Big Smoke
Del Barber - Prairieogaphy

One and Only
Ruth Moody - These Wilder Things

As My Heart Will Allow
Rob Lutes - The Bravest Birds

Origin of Species
Chris Smither - Leave the Light On
Alligator Bait
John Carroll - Everybody Smokes in Hell

the Moon Won't go Down
Durham County Poets - Hand Me Down Blues

With a Little Help From My Friends
Durham County Poets - Hand Me Down Blues

Dance
Megan Jerome - Megan Jerome

She Teases Me
Anders Drerup - Songs for the Common Man

Sweet Release
Chris MacLean - Procrastinator

We Shall Not be Moved
Penny Lang & Friends - Penny Lang & Friends

Good Stuff
Shawn Tavenier - The Silver Lining Sessions