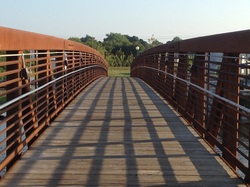 Saturday Morning
Saturday July 11th, 2015 with Guest Host: O'shea Adagio (for Stephen Neale)
Utopia (Water Under The Bridge)
A great pleasure to be with you this morning on The Saturday Morning show. Truly rare for me to be up at this time on a Saturday but well worth it to spend these hours with you. Thank you to Stephen Neale for approaching me about covering for him during his absence. It was great fun and I hope you enjoyed TSMS. Thank you to everyone who called in and who left messages on the Interactive Menu and for all of the kind comments as well. You are a very welcoming audience so thank you for welcoming me. Wishing Steve safe travels so that he can be back in the big chair when it comes to his turn again to entertain you. And wishing you a safe and enjoyable time until we meet again. I thank you for inviting TSMS into your homes on this Saturday morning. It was a pleasure to serve you. I will hopefully see you again sometime soon. Also, you may want to fast forward if you are listening on demand to the 27th minute when the show "actually" starts. A long story behind that one. ;-) O'shea Adagio (filling in for Stephen Neale) The Saturday Morning Show CKCU The Mighty 93.1FM 7am - 10am Saturday Mornings & Vintage Love "Playing With Those Memories Again" Saturdays, 10pm - 12 (midnight) Only on CKCU 93.1FM or around the world at:
CKCUFM.COM
Facebook: ckcuvintagelove Email: info@vintagelove.net Twitter: vintageloveckcu
Well this show didnt start as I had planned and hoped but that is life sometimes.. these things happen. Unfortunately, I was locked out of the station and had to think of alternate ways at 6 something AM to get in... and at these times on Saturdays, Sundays, statutory holidays or vacation days... not the best. Anyway... we made it, albeit approx. 30 mins after 7am. So without further adieu... Welcome to the Saturday Morning Show with Stephen Neale. Filling in for Mr. Neale this week is me, O'shea Adagio from the Vintage Love show here on 93.1FM. So sit back and relax and enjoy this lovely Saturday morning.
Buckshot Dub (@ 27: 50)
Rupie Edwards All Stars - -
I Feel Good (Instrumental) (@ 32:31)
Beres Hammond - -
Jah Bring I Joy In The Morning (@ 36:11)
Bobby Melody - -
Stand Firm (It A Go Dread) (@ 40:00)
Barry Brown - -
M16 (@ 45:36)
Sammy Dread - -
Never Knew (@ 49:27)
Nadine Sutherland - -
Believe In Love (@ 53:00)
Alva - -
Thinking Out Loud (@ 57:32)
Lukie D. - -
Majestic Love (@ 61:21)
Gyptian Feat. Estelle - -
I Could Be The One (@ 65:40)
Maxi Priest - -
The Look Of Love (Single Edit) (@ 69:58)
Isaac Hayes - -
Sack Full Of Dreams (Live) (@ 74:19)
Donny Hathaway - -
Sail On (@ 79:54)
Commodores - -
Playing Your Game, Baby (@ 83:48)
Barry White - -
Toby (@ 88:48)
The Chi-Lites - -
I Will Play A Rhapsody (@ 92:38)
Burton Cummings - -

A Song For You (@ 96:50)
Amy Winehouse - -
Ain't No Mountain High Enough (@ 104:03)
Marvin Gaye (Duet with Tammi Terrell - -
Where Did Our Love Go (@ 106:31)
Diana Ross And The Supremes - -
Feel Like Making Love (@ 109:11)
Gladys Knight & The Pips - -
Both Sides Now (@ 115:13)
Joni Mitchell - -

Lived And Died Alone (@ 123:07)
Lindi Ortega - -

If You Could Read My Mind (@ 127:29)
Gordon Lightfoot - -

Swing Low Sweet Chariot (@ 136:49)
Stevie Wonder - -
In The Beginning (@ 139:48)
Statler Brothers - -
How Great Thou Art (@ 142:08)
Joseph Niles And The Consolers - -
(I Can't Help You) I'm Falling Too (@ 145:45)
Skeeter Davis - -
Roses Are Red (My Love) (@ 145:35)
Bobby Vinton - -
Send Me The Pillow (@ 151:36)
Hank Locklin - -
Honey (I Miss You) (@ 154:13)
Tammy Wynette - -
Bad Timing (Live) (@ 159:00)
Blue Rodeo - -

Wicked Game (@ 164:14)
Chris Isaak - -
It's Too Late (@ 168:53)
Judy Boucher - -
Don't It Make My Brown Eyes Blue (@ 173:30)
Tessanne - -
Cool Party (@ 180:00)
Garnet Challenger - -