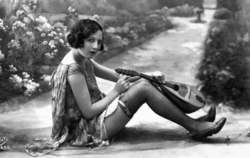 Saturday Morning
Saturday July 4th, 2015 with Pat Moore
Requests in Hour 2 :)
Good morning all! It's a beautiful July day out there. Belated Happy Canada Day !! and Happy 4th of July to our American friends and relatives. Today in hour 2 I'll be playing requests, so get yours in by visiting Interactive CKCU. :) I'll do my best to get yours on air.
Nobody Knows the Trouble I've Seen
Lena Horne - Stormy Weather
The Lady is a Tramp
Lena Horne - Stormy Weather
Lyin' Eyes
Vance Gilbert - Edgewise
When Jimmy Falls in Love
Vance Gilbert - Edgewise
Elevator Man
Saffire - Uppity Blues Women - Hot Flash
Two in The Bush is Better Than One In the Hand
Saffire - Uppity Blues Women - Hot Flash
I'm Your Late Night Evening Prostitute
Tom Waits - The Early Years Vol. ONE
Looks LIke I'm Up Shit Creek Again
Tom Waits - The Early Years Vol. ONE
To Leave What Should Have Been Left Alone
Matt Andersen - LIve from the Phoenix Theatre

Working Man Blues
Matt Andersen - LIve from the Phoenix Theatre

Older Than Me
Bobby Stagg - Mean Business

According to You
Bobby Stagg - Mean Business

I'm a Stranger Here (LP Version)
Five Man Electrical Band - Absolutely Right

Coming of Age
Five Man Electrical Band - Absolutely Right

OK, time for Requests. Thanks to all who sent in your requests...this is fun!
Emma-Lee requested by Bob LeDrew
Dolly Parton requested by Mike Mercer
Elliot Brood requested by Kathy Mitchell
Pokey Lafarge requested by John McDonald
Terry Tufts requested by Terry Brewer
The Ragged Flowers...requested by me. :)
Not Coming By
Emma-Lee - Backseat Heroine

I Could Live With Dying Tonight
Emma-Lee - Backseat Heroine

I Don't Believe You've Met My Baby
Dolly Parton - Little Sparrow
Little Sparrow
Dolly Parton - Little Sparrow
Oh Alberta
Elliot Brood - Tin Type

Jigsaw Heart
Elliot Brood - Work and Love


The Devil Ain't Lazy
Pokey Lafarge - LIve IN Holland

Can't Be Satisfied
Pokey Lafarge - LIve IN Holland

MaryLou in Burgundy
Terry Tufts - 2 Nights Solo

A Little Help From My Friends
Terry Tufts - 2 Nights Solo

Moonbeams
The Ragged Flowers - Love To Burn

Stolen Land
The Ragged Flowers - Love To Burn

Hold Your Lying Tongue
The Lonesome Ace Stringband - Old Time

Red Rockin' Chair
Ben Nesrallah - The River


Something to do With Fireflies
The Barrel Boys - EArly On


Early On
The Barrel Boys - EArly On


Good Morning Christine
The Barrel Boys - EArly On


Moon Over Memphis
Balsam Range - Five
Songs I've Sung
Balsam Range - Five
The Blues are Rollin' In
Ray Legere & Mike O'Reilly - Story Songs & Toe Tappin' Tunes - Acoustic Horizon

Footprints In the Snow
Ray Legere & Acoustic Horizons - Youtube

Flowers on the Wall
Daley and Vincent - Sng the Statler Brothers
Hello Marylou
Daley and Vincent - Sng the Statler Brothers
Circus Ferris Wheel
Bob Stark - Storefront Photographs