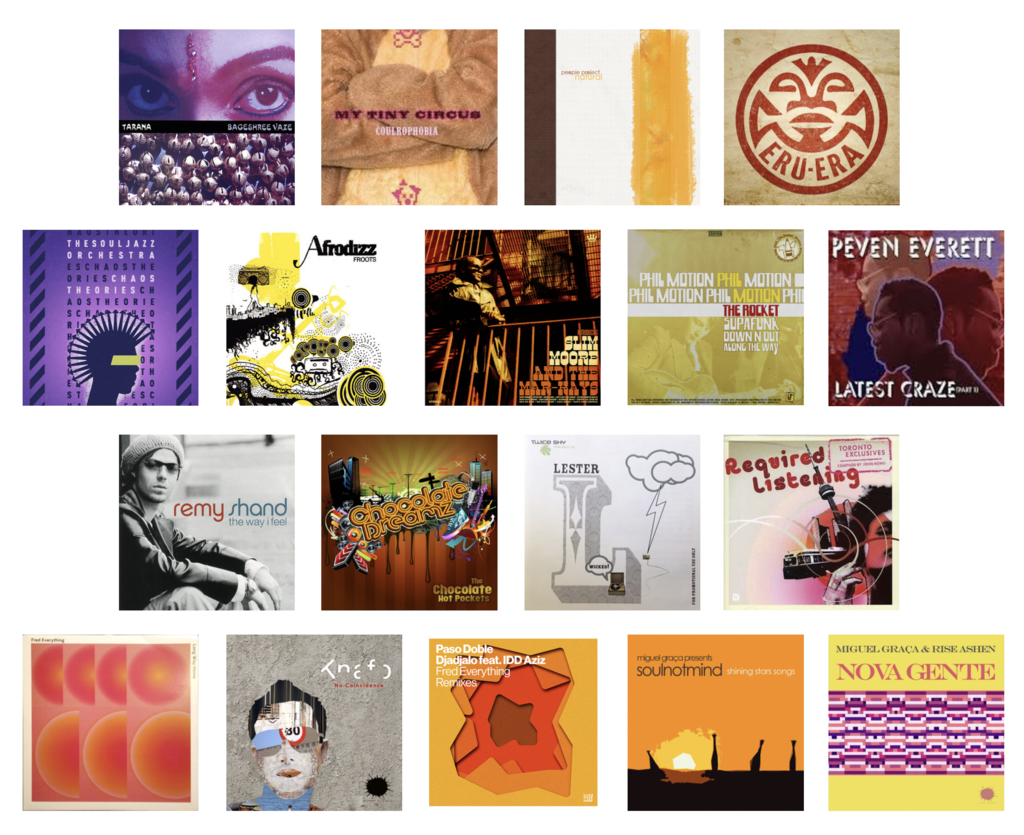 Friday Drive
Friday June 17th, 2022 with Trevor Walker
[ .caAllTheWay! ]
Happy Friday Drivers! This week is all about music mostly from within Canada and predominantly from Ottawa! Featuring music within the global Jazz Funk Soul vibe à la "Friday Drive"! Whenever a show like this comes about I'm always so proud of Canada's musical prowess. Definitely some very talented world class artists in the diaspora. Pulled too much music for two hours but hope I get through most of it . Expect an eclectic tour on today's journey into sound! Thank you for taking the time and please enjoy the ride! Mentioned events/ extra curriculars: Friday: (June 17) DJ Zattar @Parlour | 18h-23h EST 1319 Wellington St. W. Rainbow Bistro & First Crush Promotion pres. May Rio (NYC) and FIAMMA @The Rainbow | 20h EST 76 Murray St. 19+/ Licensed Tickets:
therainbow.ca/events
$13 adv/ $15 door (cash only) PWYC tickets, please contact: firstcrushpromotion@gmail.com Event:
https://fb.me/e/1Z1X5CuhG
May Rio (NYC)
https://mayrio.bandcamp.com/
FIAMMA (Ottawa)
https://soundcloud.com/fiammamusic?ref=clipboard&p=i&c=1
June 24 ByWard Battles by Moov Ottawa Byward Market | 18h-21h EST 55 Byward Market Sq Event:
https://fb.me/e/1qYUzXO13
Tickets:
www.eventbrite.ca/e/352060752187
• 1 vs 1 Hip Hop • 100$ cash prize + the pot* • Judge: @gfreezy_a.g.a (Ottawa) • MC: @bboy_effect (Ottawa, Montreal, Havana) • DJ: @iamafternoon (Montreal) • Guest Battler: @21swish (Ottawa,) ——————————————- • In front of the Beavertails stand TIME • 6-7PM | Dancer warm up & DJ spinning • 645PM | Last call for dancer check-in • 7PM | Battles begin • 9PM | Battles end PRICE DANCERS • Pre-registration MANDATORY online via Eventbrite - 10$ • Same-day Registration NOT ACCEPTED • Only accepting Top 32 • Buy your ticket & check-in with @aleadecastro at the event (Dancer list on Facebook event) AUDIENCE • Minimum 10$ suggested donation • RSVP online via Eventbrite Saturday: (June 18) DJ Magnificent @Parlour | 18h-23h 1319 Wellington St. W. White Rabbit: Paulo Cardoso, Tone A, Matt J Dub @City 222 Slater 20h-2h30 event:
https://fb.me/e/1PwmX2IlQ
tickets:
cityatnightjune1122.eventbrite.ca
Dance music DJs every Saturday from 8pm to 2am at White Rabbit inside City At Night, curated by Framework Music. Starting in May, we are launching #hoppyhour (Saturdays from 8pm to 10pm) with half price admission! - A limited quantity of tickets are available online (valid for admission before 12am) Hoppy Hour:
https://fb.me/e/3kccH6avk
FAQ:
www.cityatnight.ca/FAQ
VENUE:
www.cityatnight.ca
Tickets:
cityatnightjune1822.eventbrite.ca
Expeditions .05: Amber Long:
https://soundcloud.com/amberlong
Alain M.:
https://soundcloud.com/alainm2
Steve Finnie:
https://soundcloud.com/steve-finney-1
@The 27 Club | 22h-2h30 EST 27 York st Event:
https://fb.me/e/4Kncobkn9
Tickets: Advance (Until June 10) - $13.50 + fees General (June 11-18) - $16.50 + fees More at the door (if available)
www.eventbrite.ca/e/expeditions-amber-long-tickets-347415929397
June 25 | 12h-16h Vinyl Pop-Up New & Used Records @Queen St. Fare 170 Queen St. Free All Ages Event:
https://fb.me/e/6s1ZmYaVT
Multiple vendors, lots of crates to dig through, lots of craft beers and coffee, along with the famous Bar Robo sandwiches. June 25 | 12h EST Orléans Multicultural Festival Multiculturel d'Orléans 720 Vistapark Drive, Orleans Join us to celebrate Orléans cultural diversity, and enjoy multicultural music, dance, and crafts Event:
https://fb.me/e/eDH97IL7Q
JUNE 25 | 10 PM – 2 AM Sashay Summer Edition: DJ B'UGO (Montreal) Ashley Gauthier (Sashay, Throb) Featuring drag performers: △ Sunshine Glitterchild △ Xtravaganja Afrika @Club SAW 67 Nicholas st. Event:
https://fb.me/e/2yEON4wUo
Tickets: Sunday: JUNE 26 | 14h - 15h The Ottawa Latin Jazz Orchestra @Marion Dewar Plaza 110 Laurier Ave. W. Event:
https://fb.me/e/3W8WKXCwB
The Ottawa Latin Jazz Orchestra by Miguel de Armas is a tribute to the Afro-Cuban and Latin jazz genres, engaging audiences from diverse cultural backgrounds and enhancing the diversity of the Ottawa music scene. Monday: June 27 | 21h EST Dirty Dozen Brass Band | TD Ottawa Jazz Festival @Confederation Park (TD Main Stage) 100 Elgin St. Event:
https://fb.me/e/2jQeeJSDW
Tickets:
ottawajazzfestival.com/artists/dirty-dozen-brass-band
Thursday: Second Year of: Ooh - Music, Arts & Streetwear Festival June 30 - July 2 The BbqOoh pre Canada Day featuring: Ian Djillo Lloyd DJ Mace DJ Velvet Trevor Walker MOOV Ottawa 12PM-8PM | FREE ADMISSION | ALL AGES York St. - "Ottawa Sign" Byward Market 10PM - 2:30AM | After Party @livelifeott | LIFE | 110 York St. JUNE 30 | 20h – 22h EST (House Dance) JULY 2 | 14h - 16h EST (Fusion Workshop) Future (Bronx NY) dance workshops! @The Flava Factory 1076B Wellington st. W. Event:
https://fb.me/e/1Zf0ukkOg
Tickets:
https://www.eventbrite.com/e/future-house-dance-workshop-tickets-333681900547?fbclid=IwAR3QTJH3WQHgzZwSFzPzh_IngAqQ5P0O41iWobnDYS5Lw6IPBA9qGcTlbMs
https://www.eventbrite.com/e/future-fusion-dance-workshop-tickets-333692291627?fbclid=IwAR12WWfPiFTlyRoxKhfHiTwRnPHDbdlU2CZntHLseN3MrgNFyYNjTtq95V4
JULY 22-25 The 23rd Annual Shambhala Music Festival Break free from reality and journey to a special place in the mystical Kootenay region of British Columbia, Canada. Voted Best Festival in North America 2019 by the readers of DJ Mag, the 23rd annual Shambhala Music Festival will take place July 22-25, 2022. Six uniquely themed stages. Farmily-run. No corporate sponsorship. Event:
https://fb.me/e/1C5mtYaPf
Tickets:
tickets.shambhalamusicfestival.com
Website:
https://shambhalamusicfestival.com
If you feel you're not getting enough from the Friday Drive you can always check out the archive links going back at least three years. And if that's still not enough you can always join me most Tuesdays, Thursdays & Saturdays when possible.
twitch.tv/lifeboogie
20h | Tuesday/Thursday/Saturday
Tarana
Bageshree Vaze - Tarana - unknown

1-800-666-Hell
My Tiny Circus - Coulrophobia - unknown

Natural
People Project - Natural - unknown

Antigua
Eru Era - Eru Era Era-Lude - unknown

Police The Police
The Souljazz Orchestra - Chaos Theories - Do Right! Music / Strut

01 20 Million
Bank St Bonbons - Bank St Bonbons - unknown

Ines A Vela
Rommel Ribeiro - - unreleased

Minnie Ninn
Dmas & Moy Moy - - unknown

Just Can't Get Ahead
Slim Moore And The Mar-Kays - Introducing Slim Moore And The Mar-Kays - Marlowe Records

Freedom And Love
Three Little Birds - - unknown

end of first broadcast hour
Along The Way
Phil Motion - The Rocket - Up & Up Music/ Supafunk Records

Ghetto
Peven Everett - Latest Craze (Part1) - Traffic Entertainment

Liberate
Remy Shand - The Way I Feel - Motown Records

Sweetness
The Chocolate Hot Pockets - Chocolate Dreamz - unknown

Cabin Pressure
Wicked Lester - Wicked - Nettwerk

What Matters #2
Ivana Santilli - Required Listening - Do Right! Music

Same Old Sound
Fred Everything feat. Hot Toddy - Long Way Home - Lazy Days Recordings

I Like To Dance
Rise Ashen & Blissom - Something Wicked - Fossil Fuel

Djadjalo (Fred Everything Main Mix)
Paso Doble feat. IDD Aziz - - Lazy Days Recordings

Aware Of Love
Soulnotmind feat. Sandy Sandman - Shining Stars - Bombay Records

Nova Gente
Miguel Graça & Rise Ashen - - Pronto Musique