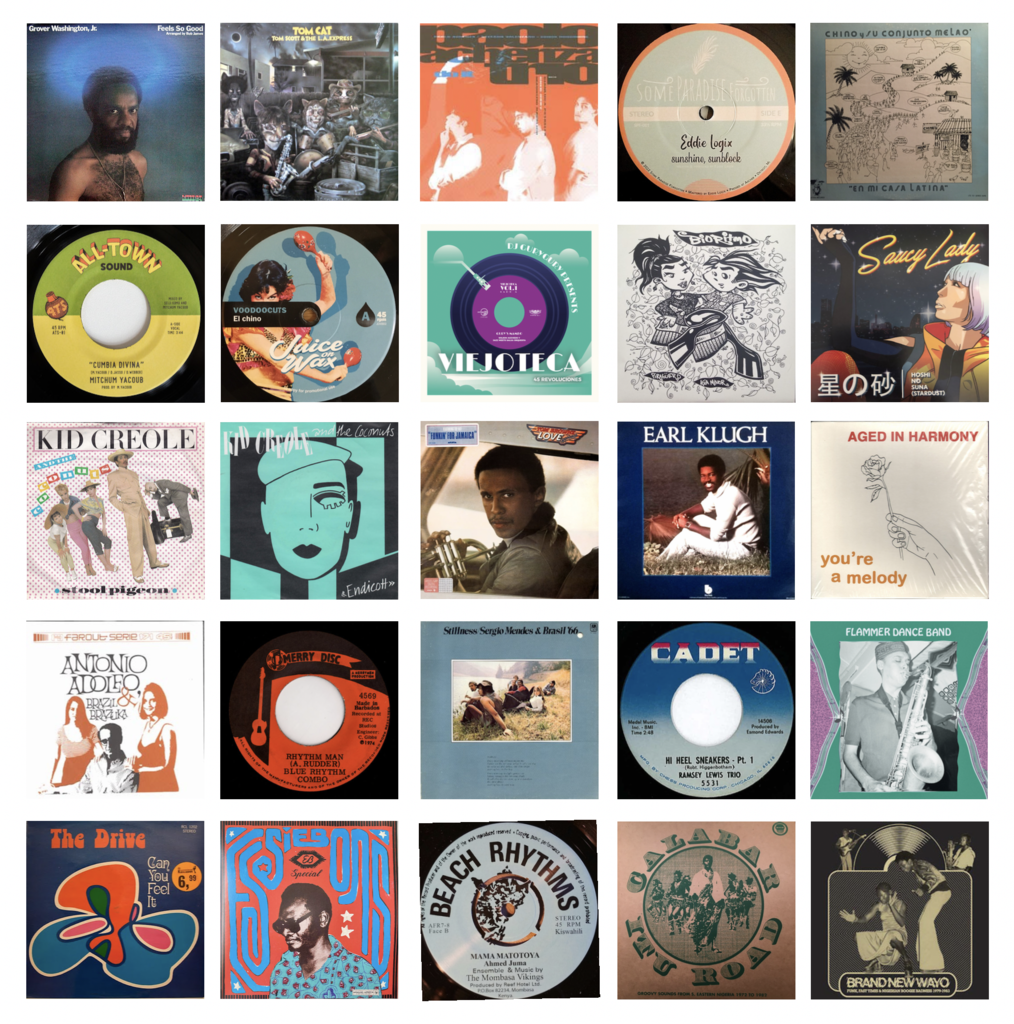 Friday Drive
Friday June 3rd, 2022 with Trevor Walker
[ Enter June....]
Happy Friday "Drivers" and welcome to this week's offering! Rolling out and digging in with jazz-funk-latin-caribbean-brazillian & African grooves this week! Kicking things of with some easy listening jazz funk fusion moving into some Latin grooves wrapping up the first hour with some boogie vibes. Taking it up in hour two with a mix of predominantly African, Brazilian with a little jazz funk and boogie soul holding it all together. Check the playlist for all the details, thank you for taking the time and enjoy the ride! Extra curriculars: Saturday: Birdman Record Popup @Dave's Drum Shop 270 Catherine St, | 10h-16h Multiple vendors killer wax! White Rabbit: Manüman, Rick Laplante, Hello @City 222 Slater 20h-2h30 event:
https://fb.me/e/1RGAB3uW0
tickets:
cityatnightjune422.eventbrite.ca
Dance music DJs every Saturday from 8pm to 2am at White Rabbit inside City At Night, curated by Framework Music. Starting in May, we are launching #hoppyhour (Saturdays from 8pm to 10pm) with half price admission! - A limited quantity of tickets are available online (valid for admission before 12am) Hoppy Hour:
https://fb.me/e/3kccH6avk
FAQ:
www.cityatnight.ca/FAQ
VENUE:
www.cityatnight.ca
Tickets: HoP In The Hood | Russell 2483 Walkley Rd 11h-14h Event:
https://fb.me/e/2qoSxUurP
Join House of PainT for a daytime HoP In The Hood mini-concert on Saturday June 4th from 11am to 2pm at the Russell basketball court, behind the Confederation Court Community House (2483 Walkley Rd, Ottawa), with: DJ Overflow Mandeep Yung Heat JAYEL Moov Ottawa HoP in The Hood is a mini concert series taking place May-June 2022 in various locations across the Ottawa area. HoP In The Hood | Caldwell 1520 Caldwell Ave 19h-21h Event:
https://fb.me/e/1Q4xsEysI
Join House of PainT for the final HoP In The Hood mini-concert on Saturday June 4th from 7pm to 9pm at the basketball courts at Carlington Recreation Centre (1520 Caldwell Avenue, Ottawa), with host J Morris and performances by: Aligo X Yardboy K M19 4TheWorld Habil Fareh HoP in The Hood is a mini-concert series taking place May 7th and 21st and June 4th at various locations across the Ottawa area. Performances will be filmed by professionals and hosted online by House of PainT. For more information about all House of PainT events, including HoP In The Hood, go to:
https://www.facebook.com/HouseofPainTFestival/events/
Little Big Man & The Huge Groove @The Rainbow Bistro 76 Murray St doors at 19h show at 20h30 Tickets: $20 advance $25 door M☉D NITE : 1960s Rock & Soul Dance Party with DJs Emmett w/ special guest JAS NASTY! @Club SAW 67 Nicholas St 23h-1h45 Event:
https://fb.me/e/nfxfioopz
Tickets:
www.ticketweb.ca/event/mod-nite-1960s-rock-club-saw-tickets/12124795
ltd. early bird $5
https://bit.ly/39tjJ8w
MOTOWN•SOUL•R&B•PSYCH•60s CLASSICS June 25 | 12h-16h Vinyl Pop-Up New & Used Records @Queen St. Fare 170 Queen St. Free All Ages Event:
https://fb.me/e/6s1ZmYaVT
Multiple vendors, lots of crates to dig through, lots of craft beers and coffee, along with the famous Bar Robo sandwiches. Sunday: June 5 | 14h-16h Capital Sessions at the NAC feat. music by Gene King & practice let by Alex Garcia with support from Tangent & Rise 53 Elgin St. Event:
https://fb.me/e/3E4YJFjDY
This month at Capital Sessions at the NAC, we are excited to bring you DJ Gene King, direct from Toronto with the deep soulful grooves. We also have Ottawa dancer Alex Garcia who will be teaching steps and sharing his vision of dance. It's completely free and family friendly! Bring a full bottle of water, some comfy dance shoes, and come enjoy some beautiful music and dance in the soaring public space of the NAC! There are lots of places to sit and watch, and lots of space to boogie!! Masks required in the NAC. AGA House of PainT AGM 2022 @Red Bird Live 1165 Bank St June 5 | 17h Event:
https://fb.me/e/1RVCs4bqn
We invite you to join us from 5:00 to 8:00 pm on Sunday, June 5th, for our Annual General Meeting at Redbird Live, 1165 Bank St where we will share a meal and announce our 2022 festival dates and theme. The AGM is our opportunity to thank all who have supported, participated, and spectated through the years. We also would like to welcome all those who want to get involved with HOP going forward. All ages event - children welcome Complimentary meal + cash bar Music by DJ Ducats Accessibility note: Regrettably, the venue is not wheelchair accessible. There are 6 deep and wide stairs with handrails at the entrance that are navigable for some types of mobility aids. There is one washroom with a wide door, however no automatic doors. The AGM will be live-streamed on the House of PainT Facebook page Thursday: Second Year of: Ooh - Music, Arts & Streetwear Festival June 30 - July 2 The BbqOoh pre Canada Day featuring: Ian Djillo Lloyd DJ Mace DJ Velvet Trevor Walker MOOV Ottawa 12PM-8PM | FREE ADMISSION | ALL AGES York St. - "Ottawa Sign" Byward Market 10PM - 2:30AM | After Party @livelifeott | LIFE | 110 York St. JULY 22-25 The 23rd Annual Shambhala Music Festival Break free from reality and journey to a special place in the mystical Kootenay region of British Columbia, Canada. Voted Best Festival in North America 2019 by the readers of DJ Mag, the 23rd annual Shambhala Music Festival will take place July 22-25, 2022. Six uniquely themed stages. Farmily-run. No corporate sponsorship. Event:
https://fb.me/e/1C5mtYaPf
Tickets:
tickets.shambhalamusicfestival.com
Website:
https://shambhalamusicfestival.com
If you feel you're not getting enough from the Friday Drive you can always check out the archive links going back at least three years. Also streaming Tuesdays, Thursdays & Saturdays when possible.
twitch.tv/lifeboogie
20h | Tuesday/Thursday/Saturday
Hydra
Grover Washington Jr. - Feels So Good Album - Kudu
Refried
Tom Scott & The L.A. Express - Tom Cat Album - ODE Recordings
Wah Up
Paolo Achenza Trio - Do It Album - Right Tempo
Sunshine, Sunblock
Eddie Logix - Single - Some Paradise Forgotten

Tiene La Salsa
Chino Y Su Conjunto Melao - En Mi Casa Latina Album - Grecha
Cumbia Divina
Mitchum Yacoub - Single - All-Town Sound
El Chino
Voodoocuts - Juice On Wax Vol. 02 - Juice On Wax
Gury's Mambo
DJ Gury Gury pres Wilson Acevedo Y Jazz Meets Salsa Orquesta - Single - Hyperopia Records, Peace & Rhythm

Asia Minor
Bio Ritmo - Single - Merge Records
Hoshi Na Suna (Stardust)
Saucy Lady - Single - Austin Boogie Crew Records

Stool Pigeon
Kid Creole And The Coconuts - Single - Z Records

Endicott
Kid Creole And The Coconuts - Single - Sire Records

Funkin' For Jamaica
Tom Browne - Love Approach Album - Arista GRP
end of first broadcast hour
Los Manos De Fuego
Earl Klugh - Earl Klugh Album - Liberty
You're A Melody
Aged In Harmony - You're A Melody EP - Melodies International
Luizao
Antonio Adolfo & Brazil Brazuka - Single - Far Out Recordings
Rhythm Man
Blue Rhythm Combo - Single - Island Series
Viramundo
Sergio Mendes - Stillness Album - A&M Records
Hi Heel Sneaker Part 1 & 2
Ramsey Lewis Trio - Single - Cadet Records
Mer
Flammer Dance Band - Single - Lykestrekk Records
Way Back Fifties
The Drive - Can You Feel It EP - RCA Victor
Wonnim A Bisa
Black Masters Band - Essiebons Special 1973 - 1982 v/a Album - Analog Africa
Mama Matotoya
Ahmed Juma - Single - Beach Rhythms
Akwa Idim
The Sea Lions - Calabar-Itu Road: Groovy Sounds From South Eastern Nigeria (1972-1982) v/a Album - Comb & Razor Sound
Listen To The Music
Bayo Damazio - Brand New Wayo - Funk, Fast Times & Nigerian Boogie Badness 1979-1983 v/a Album - Comb & Razor Sound