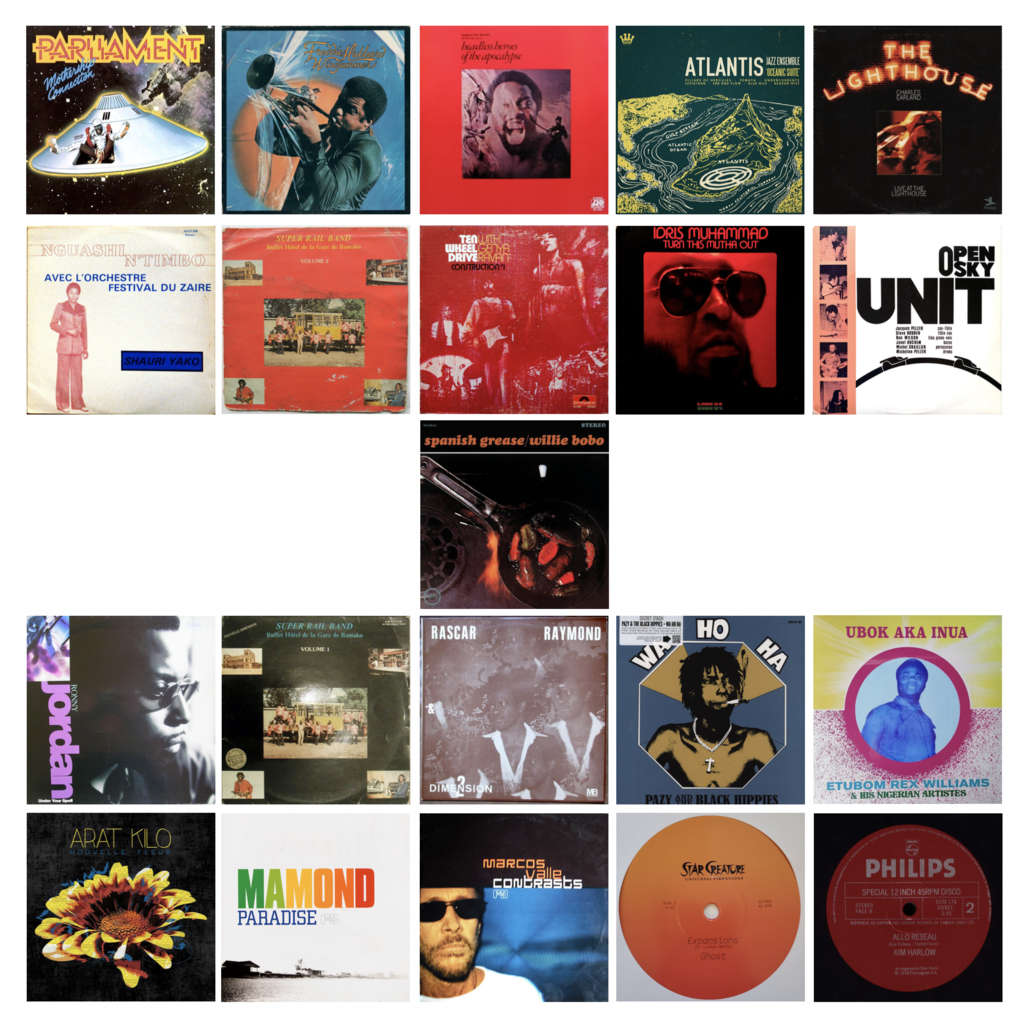 Friday Drive
Friday May 27th, 2022 with Trevor Walker
[SpiritUpVibes]
Happy Friday Drivers! Welcome to this week's Drive! Wanted to start out by giving a shout out to everyone affected by this past Saturday's storm my heart goes out to everyone affected and I hope things are getting back to normal. On today's show we'll be diving deep into some jazz-funk-afro-caribbean grooves taking the tempo up as we go and attempting to climax before the two hours are up. Thank you all for taking the time and hope you enjoy the ride! _______________________________________________ Some extracurriculars that might be of interest below: Friday: MAY 27 The Come Back Dance Battle @Bronson Centre 211 Bronson Centre 19h-22h30 Event:
https://fb.me/e/2Fmx6GJ31
Tickets:
WWW.MOOVOTTAWA.COM
Join Moov Ottawa Dance and some of the freshest Street Dancers compete for the cash prize on May 27th, 2022 for "The Come Back". Moov Ottawa has been well known for their hype dance dance battles in the ByWard Market, Chinatown and Ottawa City Hall and they're excited to bring back the vibe! Join them and support the vibrant Street Dance Scene in Ottawa, and beyond! Many folks from Toronto, Montreal and even the US come out to Moov's events and they never disappoint! Jackin Fridays @Life 110 York St Ottawa 21h30-2h After 2 long ass years of shut downs and restrictions POZATIV MUSIC GROUP are back !!! Curating a New Weekly FRIDAY Night Adventure in House & Underground Dance Music 110 York St Ottawa May 27 TECH HOUSIN' IT !! with Vancouvers SIVZ 12-2
https://soundcloud.app.goo.gl/ozMzdzW97mkG4a5A6
RETURN OF THE JADED 11-12 BALU 930-11 110 York St Ottawa 930-200 $10 b4 1030 $ More After Saturday: White Rabbit: FK Anyway, Rick Laplante, Ptrck D @City 222 Slater 20h-2h30 event:
https://fb.me/e/4UElQ0aKN
Dance music DJs every Saturday from 8pm to 2am at White Rabbit inside City At Night, curated by Framework Music. Starting in May, we are launching #hoppyhour (Saturdays from 8pm to 10pm) with half price admission! - A limited quantity of tickets are available online (valid for admission before 12am) Hoppy Hour:
https://fb.me/e/3kccH6avk
FAQ:
www.cityatnight.ca/FAQ
VENUE:
www.cityatnight.ca
Tickets:
cityatnightmay2822.eventbrite.ca
June 4 HoP In The Hood | Russell 2483 Walkley Rd 11h-14h Event:
https://fb.me/e/2qoSxUurP
Join House of PainT for a daytime HoP In The Hood mini-concert on Saturday June 4th from 11am to 2pm at the Russell basketball court, behind the Confederation Court Community House (2483 Walkley Rd, Ottawa), with: DJ Overflow Mandeep Yung Heat JAYEL Moov Ottawa HoP in The Hood is a mini concert series taking place May-June 2022 in various locations across the Ottawa area. HoP In The Hood | Caldwell 1520 Caldwell Ave 19h-21h Event:
https://fb.me/e/1Q4xsEysI
Join House of PainT for the final HoP In The Hood mini-concert on Saturday June 4th from 7pm to 9pm at the basketball courts at Carlington Recreation Centre (1520 Caldwell Avenue, Ottawa), with host J Morris and performances by: Aligo X Yardboy K M19 4TheWorld Habil Fareh HoP in The Hood is a mini-concert series taking place May 7th and 21st and June 4th at various locations across the Ottawa area. Performances will be filmed by professionals and hosted online by House of PainT. For more information about all House of PainT events, including HoP In The Hood, go to:
https://www.facebook.com/HouseofPainTFestival/events/
M☉D NITE : 1960s Rock & Soul Dance Party with DJs Emmett w/ special guest JAS NASTY! @Club SAW 67 Nicholas St 23h-1h45 Event:
https://fb.me/e/nfxfioopz
Tickets:
www.ticketweb.ca/event/mod-nite-1960s-rock-club-saw-tickets/12124795
ltd. early bird $5
https://bit.ly/39tjJ8w
MOTOWN•SOUL•R&B•PSYCH•60s CLASSICS Vinyl Pop-Up New & Used Records @Queen St. Fare 170 Queen St. June 25 | 12h-16h Free All Ages Event:
https://fb.me/e/6s1ZmYaVT
Multiple vendors, lots of crates to dig through, lots of craft beers and coffee, along with the famous Bar Robo sandwiches. Sunday: Fiesta Cubana @Horticulture Building, Landsdowne Park 1525 Princess Patricia Way 14h-22h30 May 29 will be a beautiful day filled with activities that highlight the best of Cuban culture. An artistic myriad of Cuban shows, including amazing salsa bands, Afro-Cuban displays, Cuban literature, and folkloric dancing. We will have food and cocktails for you to taste the best flavors of this Caribbean island. A special time for friends and family to enjoy the best of Cuba in the heart of Ottawa. Event:
https://fb.me/e/2zExKkHvF
Tickets:
www.eventbrite.ca/e/fiesta-cubana-fest-tickets-317892102837
AGA House of PainT AGM 2022 @Red Bird Live 1165 Bank St June 5 | 17h Event:
https://fb.me/e/1RVCs4bqn
We invite you to join us from 5:00 to 8:00 pm on Sunday, June 5th, for our Annual General Meeting at Redbird Live, 1165 Bank St where we will share a meal and announce our 2022 festival dates and theme. The AGM is our opportunity to thank all who have supported, participated, and spectated through the years. We also would like to welcome all those who want to get involved with HOP going forward. All ages event - children welcome Complimentary meal + cash bar Music by DJ Ducats Accessibility note: Regrettably, the venue is not wheelchair accessible. There are 6 deep and wide stairs with handrails at the entrance that are navigable for some types of mobility aids. There is one washroom with a wide door, however no automatic doors. The AGM will be live-streamed on the House of PainT Facebook page Thursday: (June 2) DJ Glory Hull et le projet d'Espace Forain l'Ours et le chasseur @Vieux-Hull - Rue Laval 17h30-19:30 Event:
https://fb.me/e/281NaPapp
DJ Candy Happy Hour @Queen St. Fare 170 Queen St 16h-19h Event:
https://fb.me/e/1xi7zdIPC
Join DJ Candy ( Candace, host of Candyshop on CKCU 93.1fm - Fridays 4-5pm ) for a chill happy hour. Special pricing on cocktails, draft, and wine! If you feel you're not getting enough from the Friday Drive you can always check out the archive links going back at least three years. And if that's still not enough you can always join me most Tuesdays, Thursdays & Saturdays when possible.
twitch.tv/lifeboogie
20h | Tuesday/Thursday/Saturday Twitch Raid Trains! (hosted on
twitch.tv/lifeboogie
) Sunday | Disco Nationale Disco, House & Indie Dance 15h EDT @vjowenb 15h @funkenicke 16h @bigawncanoe 17h @djspiltmilk 18h @lifeboogie 19h @willhempfree 20h Slo-Mo Monday 100% vinyl 45s played at 33 open format 18h EDT @bartykutz @DonChampSound @lifeboogie 21h
P-Funk Want's To Get Funked Up
Parliament - Mothership Connection Album - Casablanca
Dream Weaver
Freddie Hubbard - Windjammer Album - Columbia
Jagger The Dagger
Eugene McDaniels - Headless Heroes Of The Apocalypse Album RE - Atlantic
Blue Nile
Atlantis Jazz Ensemble - Oceanic Suite Album - Marlow Records

Freedom Jazz Dance
Charles Earland - Live at the Lighthouse Album - Prestige
Shauri Yako I & II
Nguashi N'Timbo avec L'Orchestre Festival Du Zaire - Shauri Yako Album - ASL
Bédianamogo
Super Rail Band - Buffet Hotel de la Gare de Bamako Vol.2 Album - RCAM
Tightrope
Ten Wheel Drive feat. Kenya Ravan - Construction #2 Album - Polydor
Crab Apple
Idris Muhammad - Turn This Mutha Out Album - Kudu
Sunshine Star
Open Sky Unit - Album RE - Whatmusic.com
end of first broadcast hour
Haitian Lady
Willie Bobo - Spanish Grease Album - Verve
In Full Swing
Ronny Jordan - Under Your Spell Single - Island Records
Foliba
Super Rail Band - Buffet Hotel de la Gare de Bamako Vol.1 Album - RCAM
Message
Raymond RASCAR - Dimension 2 Album - MB Records
Papa's Black Dog
Pazy & The Black Hippies - Wa Ho Ha Album RE - Secret Stash
Uwa Idem Mi Part Two
Etubom Rex Williams & His Nigerian Artistes - Ubok Aka Inua Album RE - We Are Busy Bodies

Ambush In Cairo
Arat Kilo - Nouvelle Fleur Album - Arat Kilo
Preguiciman
Mamond - Paradise Album - Far Out Recordings
Disfarça E Vem
Marcos Valle - Contrasts Album - Far Out Recordings
Expansions
Ghost - Single - Star Creature International Vibrations

Allo Réseau
Kim Harlow - Single - Philips