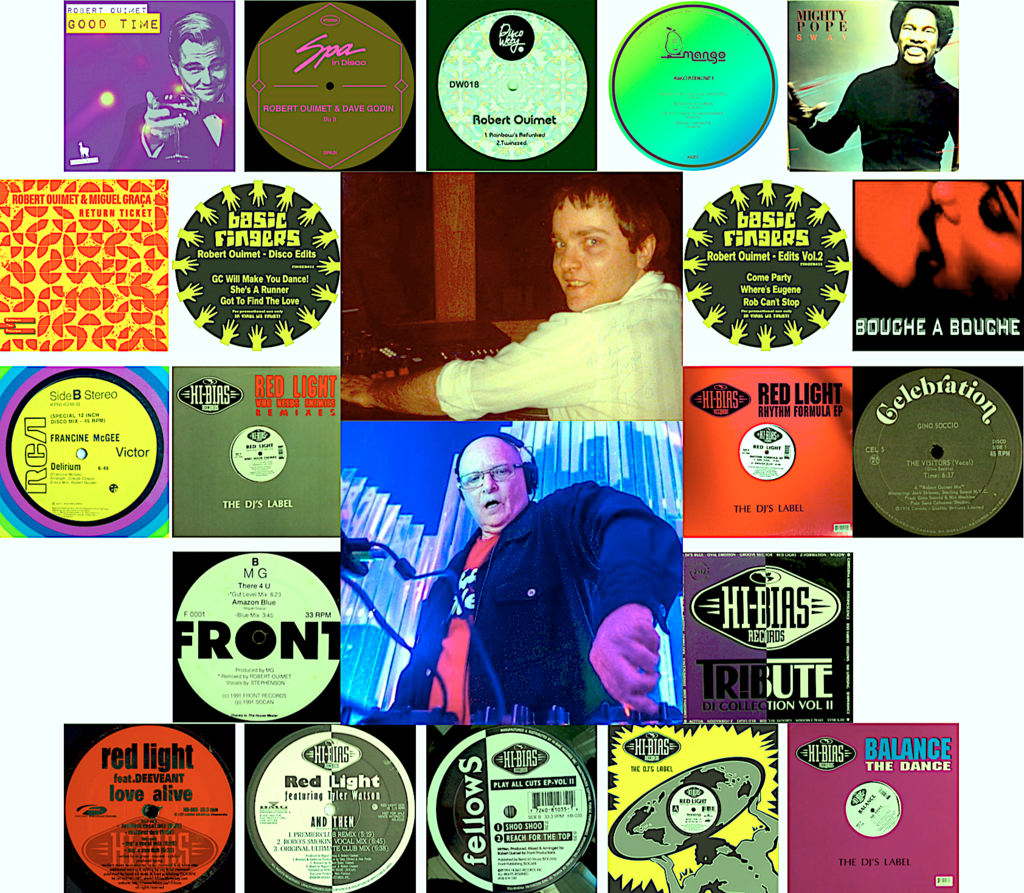 Friday Drive
Friday May 6th, 2022 with Trevor Walker
[ Robert Ouimet Tribute Mixtape ]
Happy Friday Drivers! Welcome to this week's Drive. This week I'll be paying respect to Montreal's DJ pioneer and godfather to the Disco and ensuing club scene Robert Ouimet with the limited discography at my disposal. Robert was a friend and an inspiration to me as he was to many DJs and dance music enthusiasts since the 1970's. Fellow DJ and broadcaster, Micheal Terzian wrote a truly heartfelt tribute to Robert April 29 on Facebook which I'm be quoting from below. Over the last 8 days, I have been emotionally paralysed and completely numbed by the fact that Montreal's legendary dj and Godfather of Montreal Disco, Robert Ouimet, has passed away. He left on the very same day that my Father died, and since then, I have been overwhelmed with funeral arrangements for my dad ; hence my (still) delayed reaction and disbelief. Aside from his vast musical knowledge, his production/remixing/re-editing skills, his dj-fierceness, his capacity to unearth hidden & obscure musical gems, as well as his undeniable overall musical impact on both Montreal and the rest of the world (spanning 6 decades), Robert was a simple, soft-spoken, & sweet soul ; a low-key, humble, yet musically industrious powerhouse who would let you know (big) things if you just asked (him). He influenced countless local deejays as well as an entire city's musical directions as it pertained to Black Dance Music in all its forms (Motown, Soul, R&B, Disco, Funk, House, Hip Hop, Reggae, Rock, New Wave, Punk, etc) ; and was widely known as the chief musical conductor of the famed Limelight Night Club, on Stanley Street, in the heart of downtown Montreal (1973 to 1981), where his influence resulted in guest appearances by the likes of Grace Jones, Gloria Gaynor, James Brown, The Trammps, etc. At the Limelight, he would place a stand next to the DJ booth in order to showcase the record sleeve/artwork, so that dancers would not only know what was playing, but go out and buy the records!!! He was also writing bi-monthly influential Dance Music columns in those years ("Dance Music Report" (NYC), "The Steede Report" (Canada)) which surely changed the musical course for hordes of people, not to mention the countless dj residencies over the decades (Red Light, Danceteria, Studio One, The Beat, etc). He kept influencing us (from behind the scenes) during his tenures at Numuzik as well as Nice Music Distribution. In 1993, he won a Canadian Juno Award for 'Best Dance Song', as one half of the "Red Light" house music duo along with Miguel Graça (also known as Effervescence, Fellows, Rhythm Formula), releasing the Classic house music anthem entitled "I'm Thankful", featuring the memorable vocal performance by David Gordon. He won a Billboard Award for Best Canadian DJ (in 1977), and received "Gold Records" for productions for Gino Soccio ("Dancer"), Musique ("Push Push In The Bush"), Donna Summer ("I Feel Love"), Boney M, etc. Robert was the definition of "Quiet storm". And in recent years, Robert was slamming us with a number of top notch Edit releases (both vinyl and digital) on various labels such as GAMM, Basic Fingers, Whiskey Disco, etc ; as well as his signature "Different Angle" radioshow, and regular dj sets for Crib Radio, as well as ACXIT web radio ("as-sez ex-ci-té", french for "rather excited"). Without forgetting his involvement with MUNDO DISKO, in recent years, an annual Music event held in the summer, which he deejayed alongside Christian Pronovost, B'Ugo, Sandy Duperval, etc. Just last year, he was holding court atop the Olympic Stadium on a warm summer night, amidst a majestic and unforgettable light show, broadcasted virtually to the world, while dancers went into a frenzy on the Olympic Stadium concourse, a thousand feet below. Here below is my 2011 full-length interview with him (for my old Salvation From Sin Radio show on CJLO), which was followed by a live dj set from the Maestro himself. I will truly miss you Robert. You left on the same day as my dad, who also took his last breath just a week ago ; so I can guarantee you that I will never ever forget you and will also think about you every April 21st. Rest in peace my brother. Let's keep his spirit and music alive, by joining this group: RobertOuimetMusicWorld Robert passed April 21 after 74 spin around the sun. check out the links on the show's interactive page for anyone interested in learning more. More music less talk! Thank you for being here and I hope you enjoy today's selections! Interview and guest mix from Robert Ouimet from May 13, 2011, taken from Micheal Terzian's "SALVATION FROM SIN" archived on SoundCloud here:
https://soundcloud.com/michaelterzian/salvation-from-sin-2011-05-13-feat-robert-ouimet?ref=clipboard&p=a&c=1&si=424afca2a2004f318365050511a16300&utm_campaign=social_sharing&utm_medium=text&utm_source=clipboard
Robert Ouimet and Pierre Gagnon on Montréal Disco | Red Bull Music Academy link:
https://youtu.be/wOPJ-F16n1Y
Check Robert Ouimet's MixCloud for a taste of his genius here:
https://www.mixcloud.com/robertouimet/stream/
Bio from Acxit Radio:
http://acxitradio.com/radio/index.php/the-djs/item/56-dj-robo
Article on the Lime Light:
https://daily.redbullmusicacademy.com/2016/10/nightclubbing-lime-light
LIVE From LIMELIGHT Oct 1978 On FM 96 (ft DJ Robert Ouimet) pt1:
https://www.youtube.com/watch?v=3Ptb-FyrHXQ
Discogs:
https://www.discogs.com/artist/138979-Robert-Ouimet?limit=250&type=Credits&filter_anv=0&page=1
CBC article (french):
https://ici.radio-canada.ca/nouvelle/1878759/robert-ouimet-dj-montreal-limelight-disco-chronique-deces-mort-musique-electro
_______________________________________________________________________ Extra curriculars: EVENTS: Friday: SAW Prize for New Works exhibition opening / Vernissage de l'exposition Prix SAW de création May 6 - July 16 | 19h-1h EDT SAW Prize for New Works Exhibition opening, concert and after party Prix SAW de création Vernissage, concert et après-fête May 6–July 16, 2022 Shahla Bahrami, Atticus Campbell Gordon, Craig Commanda, Kenneth Emig, Marisa Gallemit, Claudia Gutierrez, Rachel Kalpana James, Don Kwan, Sam Loewen, Troy Lovegates, Feza Lugoma, Mélanie Myers, Michèle Provost, Katherine Takpannie, Guillermo Trejo + Andi Vicente Curator / Commissaire : Jason St-Laurent Opening reception / Vernissage Friday, May 6, 7PM-1AM / Le vendredi 6 mai de 19 h à 1 h Performances by / par Adrianna Exposée, Dimitri Georgaras, or (Pierre-Luc Clément + collaborators / collaborateurs) + Linsey Wellman Music with DJs / Musique avec les DJ Yolande Laroche + Jas Nasty Vegan Haitian catering by / Mets haïtiens véganes par Mazépis Free admission / Entrée libre Cash bar / Bar payant Jackin Fridays @ Life May 6 - 20 | 21h After 2 long ass years of shut downs and restrictions POZATIV MUSIC GROUP are back !!! Curating a New Weekly FRIDAY Night Adventure in House & Underground Dance Music 110 York St Ottawa May 6th IT'S A HOUSE OFF !! We Kick things off with some of Ottawa's Elite Bringing Da HEAT MANOLI 930-11 DISKO DAVE 11-12 QUEEN AGA 12-1 BALU. 1-2 May 13th POZATIV MUSIC 003 RELEASE PARTY with Toronto Icon .. JASON HODGES 12-2 Robsoul, Pozativ Music
https://soundcloud.app.goo.gl/Vw2AMx2ib4L4gj3a6
DAN FIELD 930-11 BALU 11-12 May 20th LIFEBOOGIE TREVOR WALKER. 1230-2 ANDREW CARTER. 11-1230 BALU. 930-11 May 27 TECH HOUSIN' IT !! with Vancouvers SIVZ 12-2
https://soundcloud.app.goo.gl/ozMzdzW97mkG4a5A6
RETURN OF THE JADED 11-12 BALU 930-11 FRIDAYS LIFE 110 York St Ottawa 930-200 $10 b4 1030 $ More After Saturday: Vinyl Pop-UP May 7 @Queen St. Fare 170 Queen Street 12h - 16h EDT Event:
https://fb.me/e/1O99vgTdX
New and Used Records, along with some cassettes, CDs and band T-shirts! Presented by Bandits Heart Records. Free entry, multiple vendors. Bar Robo open for coffees and famous sandwiches. Q Bar will be slinging craft beers and cocktails. M☉D NITE : 1960s Rock & Soul Dance Party! @SAW Gallery 67 Nicholas st. | 23h - 1h45 Tickets:
www.ticketweb.ca/event/mod-nite-1960s-rock-club-saw-tickets/12033845
Event:
https://fb.me/e/4joVs4izs
tune up your scooters and head down to Club SAW LIMITED $5 EARLY BIRD TICKETS ON SALE NOW! proof of full vaccination and masks required when not actively drinking/eating ---- MOTOWN•SOUL•R&B•PSYCH•60's CLASSICS DJ Emmett + guests Spinning vinyl classics by: ✿ Aretha Franklin . Sam Cooke . Stevie Wonder . Etta James . Frankie Valli . Marvin Gaye . Otis Redding . Diana Ross & The Supremes . The Four Tops . The Marvelettes . The Ronettes . Little Richard . The Beatles . The Who . Ray Charles . Jackson 5 . The Rolling Stones . James Brown . David Bowie . Martha & The Vandellas and many many more ✿ PRIZES & GIVEAWAYS ! DRINK SPECIALS ! TWIST COMPETITON ! • FIRST SATURDAY OF EVERY MONTH @ Club Saw • White Rabbit: Return of the Jaded, Brink, Purple Rose @City 222 Slater Dance music DJs every Saturday from 8pm to 2am at White Rabbit inside City At Night, curated by Framework Music. Starting in May, we are launching #hoppyhour (Saturdays from 8pm to 10pm) with half price admission, half price beer, half price bar rail, featured cocktails, and featured DJs! - A limited quantity of tickets are available online (valid for admission before 12am) - Table reservations/packages are recommended for groups and available online - Walk-ins are available on a first-come, first-served basis. FAQ:
www.cityatnight.ca/FAQ
VENUE:
www.cityatnight.ca
Tickets:
cityatnightmay722.eventbrite.ca
Event page:
https://fb.me/e/1MUwvAHhJ
Sunday: Ottawa House Dance Community - Capital Sessions House Dance Practices @NAC main foyer entrance off Elgin. feat. Karina Cortez Saiguera leading the dance & House-of Wayne rocking the set. Sunday, May 8th from 2-4PM Free All Ages Event link:
https://fb.me/e/26ULkG0x5
Monday: MAY 9 AT 8 PM – MAY 23 AT 12 AM Breaking "Break Dance" and Waacking Workshops @Bronson Centre 211 Bronson Ave. 20h Tickets:
www.moovottawa.com
Event: MAY POP-UP WORKSHOPS Breaking "Break Dance" The Bronson Centre • Monday May 9, 2022 • 8-10PM (2 Hour Workshop) • Beginner Level (0-2 Years experience) • Teens & Adults • w/ @bboy_effect Waacking The Bronson Centre • Monday May 23, 2022 • 8-10PM (2 Hour Workshop) • Beginner Level (0-2 Years experience) • Teens & Adults • w/ @aleadecastro Limited spots! Register @
MOOVOTTAWA.COM
(link in bio) Registration closes the Friday before each date or when we sell out - what ever comes first! Tuesday: Herbie Hancock Jazz Nite! @Queen St. Fare 170 Queen St. TUESDAY, MAY 10, 2022 AT 7 PM – 10 PM Event:
https://fb.me/e/2sRlIDwsx
Tickets (Free):
www.eventbrite.ca/e/herbie-hancock-jazz-nite-tickets-322649000847
Jp Lapénsee returns with his crack band to play the deep Herbie Hancock catalog of funk and jazz. Wednesday: Still Tho Exhibition | Exposition Quand même, tsé @Âjagemô Exhibition Space 150 Elgin Street, Ottawa, Ontario WEDNESDAY, MAY 11, 2022 AT 7 AM – 9 PM Event:
https://fb.me/e/37FFd3NVt
Curated by DJ and scholar Mark V. Campbell, Still Tho is an ode to the visual artists in Canada who have shaped hip-hop culture and its aesthetics. It brings together works from artists in communities across Canada, including Corey Bulpitt, Mique Michelle, Kalkidan Assefa, Curly, MissMe, Mark Valino and several others. Video Tour:
https://youtu.be/hL_HGTRMPqI
To know more about the exhibition:
https://canadacouncil.ca/about/ajagemo/still-tho
MOOV Ottawa Dance pres. 4-Week Beginner Hip Hop & House Classes May 4 | 8:30 pm Bronson Centre 211 Bronson Ave. Moov Ottawa Dance's 4-Week Beginner Hip Hop @ House Dance Teens & Adults May 2022 only Registration open now but won't stay open too long! We sold out our Hip Hop last time. Full details, registration & payments @
www.moovottawa.com
Thursday: We Can Start Over Again - Solo Exhibition by Jose Palacios @Alliance Française Ottawa 232 rue Maclaren THURSDAY, MAY 12, 2022 AT 6 PM Jose Palacios We Can Start Over Again Solo Exhibition / Exposition solo Alliance Française Ottawa May 12 - June 23, 2022 / 12 mai - 23 juin 2022 Opening reception: May 12, 2022, 6pm Vernissage : 12 mai 2022, 18h00 Performances de DJ Magnificent et Osita Event:
https://fb.me/e/2l1XII9PI
If you feel you're not getting enough from the Friday Drive you can always check out the archive links going back at least three years. And if that's still not enough you can always join me most Tuesdays, Thursdays & Saturdays when possible.
twitch.tv/lifeboogie
20h | Tuesday/Thursday/Saturday
Good Time Crescendo
Robert Ouimet - Good Time EP - Alpaca Edits

Finger Lickin'
Robert Ouimet - Good Time EP - Alpaca Edits

Do It
Robert Ouimet & Dave Godin - Single - Spa In Disco

Rainbow's Refunked
Robert Ouimet - Single - Discoweey

Smash The Disco
Robert Ouimet & Dave Godin - Mango Pudding Part 1 EP - Mango Sounds

Sweet Blindness
Mighty Pope - Sway Album - Quality Records

Come Party
Robert Ouimet - Edits Vol.2 EP - Basic Fingers

GC Will Make You Dance!
Robert Ouimet - Edits - Basic Fingers

In-A-Gabba-Da-Vida
Mighty Pope - Sway Album - Quality Records

end of first broadcast hour
Who Needs Enemies (Submission Dub)
Red Light feat. Tyler Watson - Who Needs Enemies - Remixes Single - Hi-Bias Records

Who Needs Enemies (Cult Club Mix)
Red Light feat. Tyler Watson - Rhythm Formula EP - Hi-Bias Records

There 4 U (Gut Level Mix)
MG - There 4 U EP - Front Records

Let It Ride
Fellows - Tribute DJ Collection Vol. 2 v/a Album - Hi-Bias Records

Love Alive (Resident Vocal Mix)
Red Light feat. Deeveant - Single - Hi-Bias Records

And Then (Robo's Smokin' Club)
Red Light feat Tyler Watson - And Then / It's A Shame Single Promo - Hi-Bias Records

Shoo Shoo
Fellows - Fellows EP Vol. 2 EP - Hi-Bias Records

Thankful (Raw Club Mix)
Red Light feat. David Gordon - Single - Hi-Bias Records

The Dance (In A Dancing Mood Mix)
Balance feat. Flight - Single - HI-Bias Records

Return Ticket
Robert Ouimet & Miguel Graca - Single - Release The Pressure


Snappy
Robert Ouimet - Single - n/a

Delerium
Francine McGee - Single - RCA