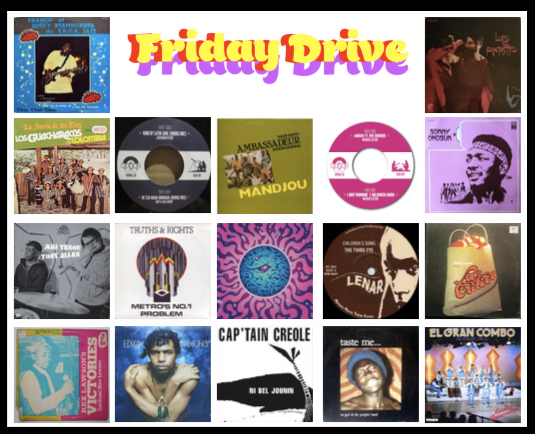 Friday Drive
Friday August 13th, 2021 with Trevor Walker
[West Coast Diggz Part 1]
Happy Friday "Drivers"! Last weekend I had the good fortune to visit the West Coast for a gig I've been looking forward to for more than 20 years and had met up with my brother from another mother Scott Arkwell aka Vinyl Ritchie. Super talented DJ based out west with impeccable taste and skills. He was kind enough to take me digging around the Vancouver vinyl shops. The digs we're deep and good enough to fill a few Friday Drives but I think we'll limit it to two. This will be part one. If you take a peek in the "Friday Drive" archive you can catch an episode where Vinyl Ritchie did a killer guest spot dropping some serious science, mos definitely worth a listen! link:
https://cod.ckcufm.com/programs/120/41580.html
Big love to all the people I met out west and hoping for cooler wetter weather to quell the fires. Thanks for taking the time to tune in and read this far! Extra curriculars: Saturday! Ottawa Tool Library Grand Reopening! 🚀 We invite our friends and neighbours to join us in our new space on August 14th! The Ottawa Tool Library (OTL) will be hosting a community celebration and open house on August 14th to showcase our new location and all the OTL has to offer. It will feature tours, activities, refreshments, and music by DJ Trevor Walker. There will also be discounts on annual memberships and merchandise and free knife sharpening for members! • What: OTL Grand Reopening! • When: Saturday, August 14, 2021, from 2pm to 5pm • Where: Ottawa Tool Library (877a Boyd Ave) Live streaming Thursdays + Saturdays 20h EST barring any real life gigs.
twitch.tv/lifeboogie
Playlisted audio archive of past streams, mixtapes and live gigs available on my MixCloud and SoundCloud pages.
https://www.mixcloud.com/trevor-walker4/
https://soundcloud.com/trevorlifeboogiewalker
Bere Na Akwa Na
Cardinal Rex Lawson & His Rivers Men - Rex Lawson's Victories Vol 2 Album - Akpola
Black Plight
Truths & Rights - Single - Rhythm Discs

Kamo Kamo
Fat Freddy's Drop - Special Edition Part 1 Album - The Drop
Bboy Trombone
Wicked Lester - Single - Bubbascope

Bat Beach Show
MC God & The People's Band - "Taste me…" Album - Popular African Music
Fire In Soweto
Sonny Okosun - Album - Oti
Selfish Gene
Jimi Tenor Tony Allen - Inspiration Information Album - Strut
Manju
Salif Keita Ambassadeur International - Manju Album - Celuloid
River Come Down
Count Owen - Rock Steady Calypso Album - Federal
King Of Latin Soul (Hubbz Mix)
Lospoboycitos - Single - Bubbascope

Goyito Sabater
El Gran Combo - Nuestro Aniversario Album - Combo Records
end of first broadcast hour
Untitled
Sun Ra - Sun Ra Centennial 1914-2014 - Prophetika Memorial Souvenir Single - Kicks Books
El Negrito
El Gran Combo - Nuestro Aniversario Album - Combo Records
No Quiero Problemas
Oscar D'Leon - Oscar D'Leon Presenta… La Critica Album - Top Hits
Lupo El Fantastico
El Lupo - Lupo El Fantastico - Cotique
Cumbia De Mi Tierra
Los Guacharacos de Columbia - La Novia de Los Kiss Album - Eco
Missile
Franco Et Josky Kiambukuta Du T.P.O.K. Jazz - Tout Feu Tout Flamme Album - Choc
Children's Song
The Third Eye - Single - Lemar
Osima Owuari
Cardinal Rex Lawson & His Rivers Men - Rex Lawson's Victories Vol 2 Album - Akpola
Strawberry Letter 23
The Brothers Johnson - Single - A&M
Ms Jackson
Outkast - Single - LaFace Records
Pretty Brown Skin
Edwin Birdsong - What It Is Album - Polydor
Tony
Al Allen & Co. - Single - Quantum Records
Fré Moin
Cap'tain Creole - Single RE - BeauMonde Records
Special How Ya Do
Central Groove - Single - Vanguard