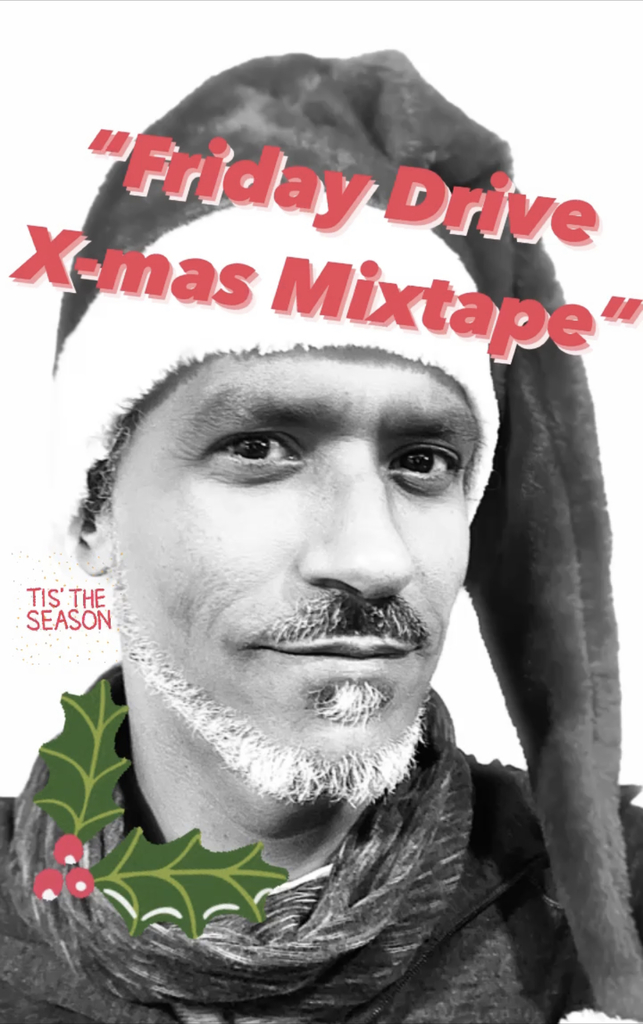 Friday Drive
Friday December 25th, 2020 with Trevor Walker
"Friday Drive X-mas Mixtape"
It's not very often the show falls on Christmas and normally I tend to shy away from holiday themed music but this year while preparing the show it felt like I was being personally "Scrooged". I've tended to collect the odd holiday themed music that moves me over the years and I don't mind the odd classic reimagined. Going through the music, song after song I found my spirits lifting. The music was really hitting me and all the signs pointed to a Christmas themed show. I know there are a lot of you that may recoil and humbug a show like today's and I don't blame you, this show may not be for you... I've tried to put together music that made me feel something and has some depth, musically, spiritually, with a positive message, a groove or just plain fun. I hope you enjoy the selections. A "Friday Drive" like this may never happen again. Happy listening and best of the season to you and yours!
Merry christmas baby
Charles Brown -
It's Christmas Time
The Qualities -
Jingle Bells
Slam Stewart -
Just Another Christmas Song
Sharon Jones & The Dap-Kings -
Drummer Boy
Jon Crespo Quartet -
Lets Get It Together This Christmas
Harvey Averne Band -
Black Christmas
Rose Graham -
Black Christmas
Don Smith -
Santas Got A Bag Of Soul
Soul Saints Orchestra -
Aint No Chimneys In The Projects
Sharon Jones & The Dap-Kings -
Big Bulbs
Sharon Jones & The Dap-Kings -
Christmas Tree
King Stitt -
Father Christmas
Mighty Spoiler -
Getting Down For Xmas
Milly & Silly -
8 Days Of Hanukkah
Sharon Jones & The Dap-Kings -
My Favorite Things
Shawn Lee -
Drummer Boy (Give the Drummer some - Mixx)
Robbie Cunningham -
end of first broadcast hour
Santa Claus is Coming To Town
Anomalie - on demand exclusively
start of second broadcast hour
Xmas Done Got Funky
Jimmy Jules & Nuclear Soul System -
Do You Hear What I Hear
Shawn Lee -
Merry Christmas, Baby
Vernon Garrett -
What The World Needs For Christmas
Meditation Singers -
The Twelve Sexy Days of Christmas
The Mackenzie Rhythm Section -

Give The World Light
The Fruition Experience -
Funky Funky Christmas
Electric Jungle -
Christmas Present Blues
Jimmy Reed -
Snowmans Stomp
Steve Gray -
Merry Christmas Baby
Short Stuff -
Jingle Bells
Rev. T.L. Barrett and the Youth For Christ Choir -
Xmas Commercial Blues
Nancy Lee -
We Three Kings (Strut)
The Souljazz Orchestra -

Sleigh Ride (Anomalie Flip)
Anomalie -
Dance of the Sugar Plum Fairy
Anomalie -
Have Yourself A Merry Little Christmas (Anomalie Flip)
Anomalie -
Skanker Claus Coming Home
Zentrale -
Christmas Time Is Here (Steppers Version)
Analog Players Society -
Linus & Lucy
Vince Guaraldi Trio -
end of on air broadcast
Have Yourself a Merry Little Christmas
Jon Crespo Quartet -