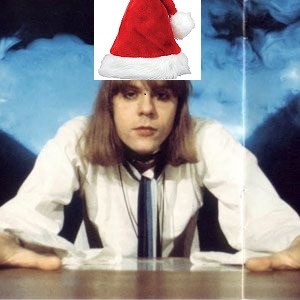 Infinite Ceiling
Thursday December 16th, 2021 with Sean
Santa Klaus 2021
Music by Klaus Schulze to celebrate the holiday season.
Infinite Ceiling Theme
David Murphy -

Past celebrations!
Santa Klaus 2020: https://cod.ckcufm.com/programs/112/50174.html
Santa Klaus 2019: https://cod.ckcufm.com/programs/112/46195.html
Santa Klaus 2017: https://cod.ckcufm.com/programs/462/35545.html
For Christ's Sake
IQ - Seven Stories Into '98 - Giant Electric Pea
The Poet dates from 1976 and is a Moondawn-era concert recording. It is one of my favorite pieces by Schulze so I've been looking forward to play it for a while. It totals 53 minutes and to me is as inspired as the studio recordings that came out in the period. The liner notes say: "it's another echo tape which means it has the trademark of KS concerts during that era: double mono with a short delay between left and right."
The Poet
Klaus Schulze - The Historic Edition - Manikin
I suppose I could be accused of discrimination in this series so far as I've stuck to 1970s recordings. Although I love the analog era best, there is plenty of good music after it. The Cello was recorded in studio in 1999 and is a collaboration with Wolfgang Tiepold, who contributed to albums like X, Dune, and others in the past. It was originally disc 49 in the Ultimate Edition and was reissued in La Vie Electronique Part 15. The full piece is three parts and totals near 80 minutes; this is the first.
The Cello: Cum cello spiritu
Klaus Schulze - The Ultimate Edition - Manikin