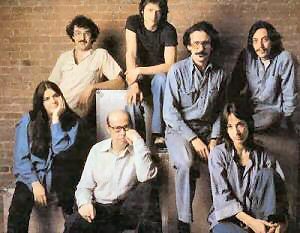 Infinite Ceiling
Thursday March 21st, 2019 with mark
Quebec pianists and keyboard players: Neil Chotem / Serge Locat / Pierre Nadeau / Pascal Languirand and more inc. Harmonium, The Band Whose Name Is A Symbol and the exploding meet
Neil Chotem (9 September 1920 – 21 February 2008) . Originally born in Saskatoon and played with Regina Symphony Orchestra at age 13. Settling in Montréal after World War II he became an accomplished teacher, conductor, accompanist, and composer. He also composed numerous pieces for radio, television, and popular musicians including Harmonium, which is the focus of tonight's first set.
Pterodactyl
Neil Chotem - Vers L'infini - Kébec Disc

Vers L'Infini
Neil Chotem - "Live" au el casino - CBS

Les Premières Lumières
Harmonium - L'heptade - CBS

Lumières De Vie
Harmonium - L'heptade - CBS

le crieur
Serge Locat - Transfert - CBS

Pierre Nadeau (1944-2004) : Was the pianist for Robert Charlebois as well as his own Pierre Nadeau Trio. In 1972 he joined The Ville Emard Blues Band untill their break-up. The LP ''Extra-Ordinaire'' was recorded live with members of both Contraction and The Ville Emard Blues Band and the name is a nod to a song he wrote for Robert Charlebois "Ordinaire".
Five Strokes
Pierre Nadeau - Extra-Ordinaire - RCA

God II (Eastern Bloc Version)
The Band Whose Name Is A Symbol - Basement Blowouts - Cardinal Fuzz

Lola Pallooza
the exploding meet - Mapping New Tangier - Birdman Sound

Omega
Pascal Languirand - Minos - Kébec Disc