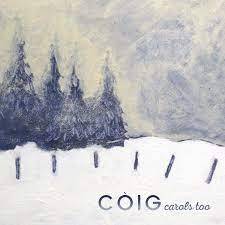 The Guest List
Thursday November 24th, 2022 with Joe Reilly
Interviews with Paul Weber, Lennie Gallant and Darren McMullen & Rachel Davis of Còig
Don't forget that CKCU's 2022 Funding Drive continues as we try to attain our goal of $190,000 to help pay the bills necessary to keep our volunteer radio station on the air for another year. Use the Donate buttons all over our website to make a donation... and we'll send you a tax receipt! Thanks We open the show talking to local musician Paul Weber about a special house concert he will be giving on Friday night (Nov. 25th) to support a local group that is working to sponsor an Afghan refugee family and bring them to Ottawa. For ticket information and more information about Paul Weber, visit his website:
https://www.paulweber.ca
Or send Paul and email at: info@paulweber.ca Next up we talk to Lennie Gallant about his new Christmas album entitled Christmas Day On Earth, and what to expect from his Christmas concert at the National Arts Centre on Saturday, December 3rd. He tells us the story behind the title track on the album and how he got work with Black Umfolosi on that song. He also explains the beautiful song The Gift (a nurse story) dedicated to frontline workers in the health care sector. For more information about Lennie Gallant use this link:
https://lenniegallant.com
For tickets to his performance of The Innkeepers Christmas at the National Arts Centre, use this link:
https://nac-cna.ca/en/event/31130
Finally, we meet Darren McMullen and Rachel Davis of the Nova Scotia roots music group Còig. The group is bringing its music to the Almonte Town Hall on Friday (Nov. 25th) and to the St. John's United Church in Brockville on Saturday (Nov. 26th) as part of the Festival of Small Halls. Darren and Rachel tell us about creating roots music on Canada's East Coast, how they recorded two Christmas albums, and how happy they are to be back on the road after a long hiatus due to the pandemic. For more information about Còig use this link:
https://www.coig.ca/home
And for tickets and more information about the Festival of Small Halls use this link:
https://ontariosmallhalls.com/2022holidayschedule/
Get out and see some live music this week if you can.
Ottawa Lament
Paul Weber - Ode To Gerry Barber

Sister Celeste
Cheza - Cheza

Christmas Day On Planet Earth
Lennie Gallant - Christmas Day On Planet Earth


The Gift (a nurse story)
Lennie Gallant - Christmas Day On Planet Earth


The Spree We Had At Christmas
Còig - Carols Too

Daddy's Beer
Còig - Carols Too