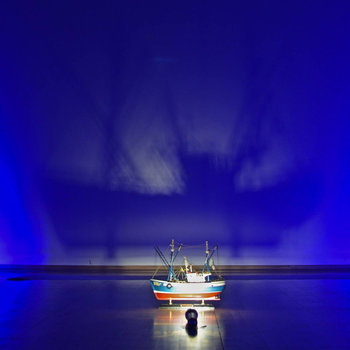 The Guest List
Thursday January 20th, 2022 with Joe Reilly
Today we talk to Robin Rimbaud who creates and records electronic music under the name Scanner
Today it is an absolute privilege to present my interview with Robin Rimbaud, a composer of electronic music from the UK who records and releases music under the name Scanner. Scanner has been recording since 1982 and he has been involved in the creation of a wide range of music over the past forty years. It is fascinating to consider the music he has created over the years: music for albums, for dance productions, for theatre productions, for installations, for film and all kinds of unbelievable special projects. On the show today we talk to Robin about the process of creating amazing music by focussing on four pieces. We start by going back to the first album I ever owned by Scanner - the 1999 album lauwarm instrumentals. Robin talks about the music on that album and how he took a negative review of his music and turned it into a playful title. Next up he talks to us about the process of creating GSTQ and where it was used as part of a very significant "installation." I mistakenly open the conversation by talking about a different project Robin had worked on but he takes us through how he created GSTQ. From creating a piece for the British government, we move to an amazing piece Robin created for a museum in a northern England community to pay homage to sailors who had been lost at sea. For this project, Robin worked with a fisherman and high school students in the community. NOTE: For the FM broadcast we played the studio version of Lost At Sea and we had to shorten the piece to fit into our 60 minute time slot. For the On Demand edition you will be listening to the version recorded live at Waid Academy and features Robin working with the high school musicians in a very special live presentation. Finally, Robin tells us about the project Night Jam and how he worked with street youth and recorded their thoughts and poems to create an incredible reflection of their street culture. If you want to fully experience the wide array of Scanner's music consider becoming a Scanner subscriber using the "fan club" option on this Bandcamp link. You can also find many recordings here to sample and purchase.
https://scanner.bandcamp.com
Here are links to the recordings we featured today: Lauwarm Instrumentals:
https://scanner.bandcamp.com/album/lauwarm-instrumentals
Lost At Sea
https://scanner.bandcamp.com/album/lost-at-sea
NightJam
https://scanner.bandcamp.com/album/nightjam
Currently GTSQ is only available to Scanner's subscribers. You can follow Scanner's various blogs and other releases he has that are not on his Bandcamp site through his website.
http://scannerdot.com/
Remember to support independent musicians in any way that you can - and if you can purchase any of their music it helps ensure they will keep making great music for us to enjoy.
Vertical Line
Scanner - lauwarm instrumentals - Beggars Banquet/Sulfur
GSTQ Slow
Scanner - GSTQ - Indie (on Bandcamp)

Lost At Sea
Scanner - Lost At Sea - Indie (on Bandcamp)
Sleepless City
Scanner - NightJam - Indie (on Bandcamp)