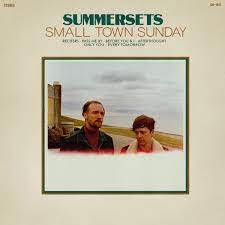 The Guest List
Thursday August 12th, 2021 with Joe Reilly
An interview with Kalle Mattson about his new e.p. with the group Summersets.
Today we reconnect with Kalle Mattson to talk about the second e.p. he has put out with his friend Andrew Sowka as the group Summersets. Kalle explains how this is the fastest he's put out new music ever and we talk about the narrative that runs through this e.p. and how it's a continuation from the first Summersets e.p. Small Town Saturday. He also talks about the contributions made by people like Jim Bryson (producer), Dan Ledwell (mixer), Kinley Dowling (strings), and Peter Von Althen and Joshua Van Tassel on drums/percussion. It's another lovely, folk-pop outing from Summersets and you can check it out here on Bandcamp.
https://summersets.bandcamp.com/album/small-town-sunday
http://www.killbeatmusic.com/summersets
We wrap up with another great song from the group we featured last week, The Ring Shepherds. Check out the Ring Shepherds album here:
https://theringshepherds.bandcamp.com/releases
Remember to support independent musicians by purchasing their music if you can. Spotify and Apple don't pay them enough for streaming the great music they create... and we need to support them if we want them to keep making great tunes for us to enjoy.
Reciters
Summersets - Small Town Sunday


Pass Me By
Summersets - Small Town Sunday


Before You & I
Summersets - Small Town Sunday


Afterthought
Summersets - Small Town Sunday


Only You
Summersets - Small Town Sunday


Every Tomorrow
Summersets - Small Town Sunday


One Day
The Ring Shepherds - Habitual Orbits