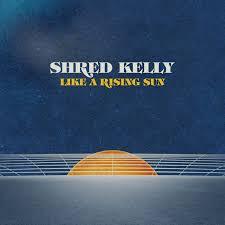 The Guest List
Thursday October 22nd, 2020 with Joe Reilly
An interview with Tim Newton of Shred Kelly as we talk about and listen to the group's new album "Like A Rising Sun"
Today on the show we check in with Tim Newton of the folk-rock band Shred Kelly. The band hails from Fernie, British Columbia and released a new album this past summer - it's called Like A Rising Sun. The band is doing an interesting virtual tour of Canada playing a variety of shows from their rehearsal space in Fernie, designed to support their favourite venues/music presenters across the country. Tomorrow night (Friday, October 23) they are doing a show for Ottawa's Spectrasonic. We talk to Tim about how this unique virtual tour came about and we talk a lot about some powerful themes explored in the songs on Like A Rising Sun - in particular songs about big life changes such as the birth of Tim's daughter (with his partner and co-vocalist Sage McBride) and the death of Tim's Father. Tim also talks about the mental health challenges he faced after his Father's death. This album is another big step for Shred Kelly as the group's sound just keeps getting bigger and better with each new release. Find out more about Shred Kelly right here:
http://www.shredkelly.com/
https://shredkelly.bandcamp.com/album/like-a-rising-sun
And at Spectrasonic's website you can find out more about this concert:
https://www.spectrasonic.com/e/shred-kelly-virtual-tour-livestream-show-123478584771/
Support independent music if you can by purchasing the music of artists that you love so they can keep making great music for us all to enjoy.
Roman Candle Eyes
Shred Kelly - Like A Rising Sun


Take Me Home
Shred Kelly - Like A Rising Sun


Long Way From Your Heart
Shred Kelly - Like A Rising Sun


The Hill
Shred Kelly - Like A Rising Sun


Looking For
Shred Kelly - Like A Rising Sun


Underground
Shred Kelly - Like A Rising Sun