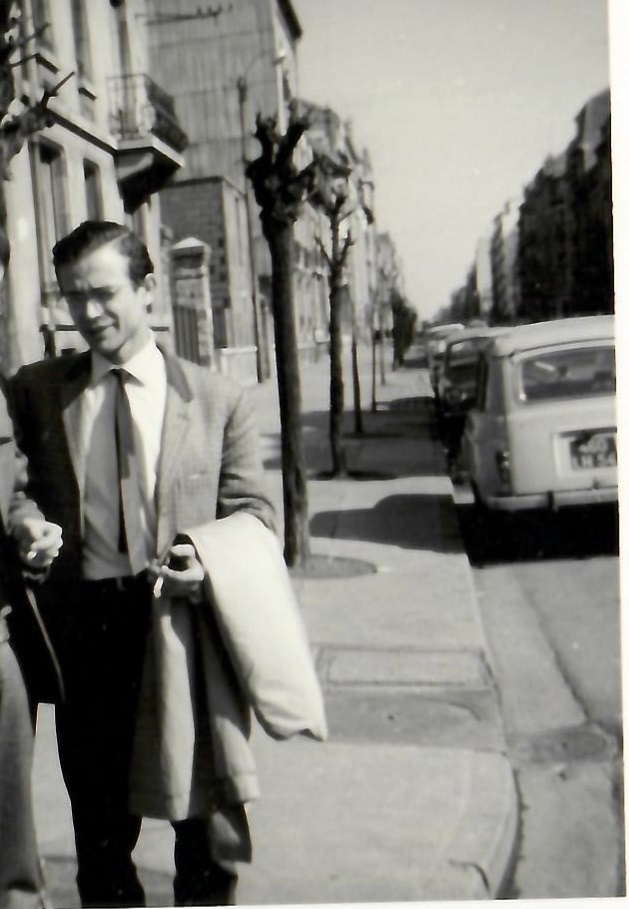 David Dalle
Thursday March 9th, 2023 with David Dalle
Farewell to my father, René Dalle
Today I am saying farewell to my father, René Dalle. My dad was born in Nancy, France, on August 8th, 1944. He did not have the easiest of childhoods. His parents divorced when my dad was only four, then my dad lost his mother suddenly when he was 14. My dad was separated from his older sister Michou to live with his father. His father was a professional musician who played bandoneon and accordion and was the leader of a Bal-Musette band. His father instructed his children in music and my dad learned all the scales and chords and was asked to choose an instrument. Being a huge fan of the Belgian-Romani guitarist Django Reinhardt, who was extremely popular in France after the war, he chose the guitar. His father refused, as, by the late 50's, the popularity of the guitar and American-influenced pop music was eclipsing the old Musette bands like his. My dad's father did not support him in continuing his education. So my dad left his father's home at the age of 21. He put himself through school, sometimes living on one meal a day, until he met my mother shortly thereafter. She was an 18 year old American college junior who had travelled to France to specialize in the French language. She could not resist the charms of this handsome, blue-eyed Frenchman! On their first date, my dad told her he would marry her. She laughed at this crazy Frenchman, but, three years later, they were married! After their marriage in New York City (my mother's hometown), they settled in France for a couple of years before my dad received a placement in Quebec City. My sister arrived soon after, followed by me, and five years later they moved to Ottawa where my brother and two more sisters arrived. My dad never gave up his dream of playing guitar and ended up buying a quality classical guitar in the 80's. He spent years taking lessons and practicing, and I recall, as a child, laughing at his really long thumbnails! I did not really get to enjoy music with my dad until I was an adult, though he almost always listened to my radio program (and I remember him listening to CKCU in the car when I was a kid, often to very odd music!). In the past decade I was able to attend more concerts with him, and, in the past year, I started musical afternoons with him. I would invite him over and we would spend a Sunday afternoon listening to lp's while enjoying wine (always French!). My dad had a wide and thorough love of music, and we are going to listen to a program of music to say farewell to my dad. We are starting off with Astor Piazzolla and his 1959 "Adios Nonino", which he composed quickly after learning of the sudden death of his father, nicknamed "Nonino". My dad's father always played Piazzolla and my dad always retained a love of Piazzolla's music. We will also hear some classical, Flamenco, and African guitar, and Django Reinhardt of course, all music he loved. We will also hear some choices of mine which perfectly capture my thoughts and grief, especially Ferrucio Busoni's "Fantasia after J.S. Bach" which will end this set. Busoni composed this work in 1909, after he lost his father, to express his grief and his gratitude to his father for introducing him to the music of Bach. So please sit back and enjoy my musical farewell to my father, who, despite his challenging childhood, grew up to be a devoted and loving husband of fifty-four years, and wonderful and supportive father of his five children who adored him.
Adios Nonino
Astor Piazzolla - The Central Park Concert - Chesky
Paraguayan Augustin Barrios was a classical guitar virtuoso and prolific composer for the guitar. This gorgeous piece was composed in 1944. Barrios died on August 7th 1944, a day before the birth of my father on August 8th 1944.
Una Limosnita por Amor de Dios
Agustin Barrios Mangoré/Philip Dent Calendria - Progression - Palladium Records

Quand qu'on n'a que l'amour
Jacques Brel - Quand qu'on n'a que l'amour - Philips
I've Found a New Baby
Django Reinhardt & Stephane Grappelli - Struttin' Out - Decca
Undecided
Django Reinhardt & Stephane Grappelli - Struttin' Out - Decca
Improvisation No. 2
Django Reinhardt - Struttin' Out - Decca
Kankan Diarabi
African Virtuoses - The Classic Guinean Guitar Group - Syllart
Nakana
Salif Keita & Kante Manfila - The Lost Album - White Swan
Understandably, my dad would not attend any concerts during the pandemic, so he didn't come with me to see Derek Gripper last July. However, my older sister, who did attend with me, bought him the lp and she listened to it with him. As someone who played the guitar and was familiar with the kora, he could not believe this was a guitar playing kora music.
Jarabi
Derek Gripper - One Night On Earth: Music from the Strings of Mali - Matsuli
One More Day
Martin Simpson & Wu Man - Music for the Motherless Child - Water Lily Acoustics
I saw the legendary guitarist Pepe Romero twice with my father, the first time in 2017 at the NAC playing Rodrigo's famous Concierto de Aranjuez, and the second time, in 2019, at the Ottawa Chamberfest with his brother Celin and nephews Celino and Lito in the Romeros Quartet. Wonderful concerts which my dad loved.
Por los campos de Espana: En tierras de Jerez
Joaquin Rodrigo/Pepe Romero - Noches de Espana - Philips
Bulerias
Pepe Romero - Flamenco - Philips
I saw the great Argentinian Nuevo Tango pianist and composer Pablo Ziegler at the Jazzfest with my dad. Pablo Ziegler was also born in 1944 and he was Piazzolla's regular pianist from 1978 until his retirement in 1989 (he was the pianist for the 1987 Central Park Concert we started with). We saw this exact trio with Quique Sinesi on guitar and Walter Castro on bandoneon.
Pajaro Angel
Pablo Ziegler, Quique Sinesi, Walter Castro - Buenos Aires Report - Zoho Music
You will always leave so many things unsaid and undone. This exquisite and melancholy song by Ballaké Sissoko and the French group Feu! Chatteron is one of my favourites, and it contains many obscure French metaphors and allusions. I had asked my mother (a professional translator) if she could translate it, and she said it was too poetic with many obscure French metaphors and allusions, and that I should go over it with my dad. I never got around to doing that. He loved the Kora.
Un vetement pour la lune (with Feu! Chatterton)
Ballake Sissoko - Djourou - No Format
Personally, I think this is the greatest love song of all time, and one so true for my parents, a love story that lasted from the clear dawn through 57 years and 'til the end of time.
La chanson des vieux amants
Jacques Brel - Jacques Brel 67 - Barclay
Busoni's "Fantasia after J.S. Bach" is one of my favourite pieces for piano (a very crowded field!). However, I have found very few pianists seem to truly understand this work. John Ogdon is the exception. His 1986 album with this piece and Busoni's "Fantasia Contrappuntistica" is probably in my top five piano recordings. While enjoying a very successful concert and recording career to great acclaim, Ogdon had a severe mental breakdown in 1973, either with schizophrenia or bipolar disorder. He spent nearly a decade in a mental hospital. After he was released he was a changed man. His piano technique was not as perfect. However, I believe his greatest recordings were the few he made during this time. He played like a mystic who had been touched by the other side. I almost treat this recording as a holy relic, and I have never played this recording on my show before. It is a fitting end for this farewell to my father.
Fantasia after J.S. Bach
Ferrucio Busoni/John Ogdon - Piano Works - Altarus Records
What do I follow this nearly 90 minute musical farewell to my dad with??? Well, we will hear perfect beauty for the soul with Lubomyr Melnyk. This Canadian-Ukrainian pianist-composer has achieved great acclaim in Europe during the past decade, he sells out large halls like the Barbican Centre in London, and other great venues in Italy, Spain, Poland, Scandinavia. However, his Canadian home still remains stubbornly deaf to his incredible genius. He almost never performs in Canada, he is performing ONE show in Winnipeg on March 26th. I am very, very tempted to fly out for this show. It has been exactly twenty years since I've seen him last in Canada...
https://umfm.com/events/lubomyr-melnyk-live-2
The Six Day Moment
Lubomyr Melnyk - Corollaries - Erased Tapes

Some flamenco guitar to accompany my dad to the hereafter, hopefully to see his mother again, it has been a very, very long time for him. We listened to this lp during my last Sunday listening session with him.
Compas Flamenco
Carlos Montoya - Flamenco Fire - ABC-Paramount