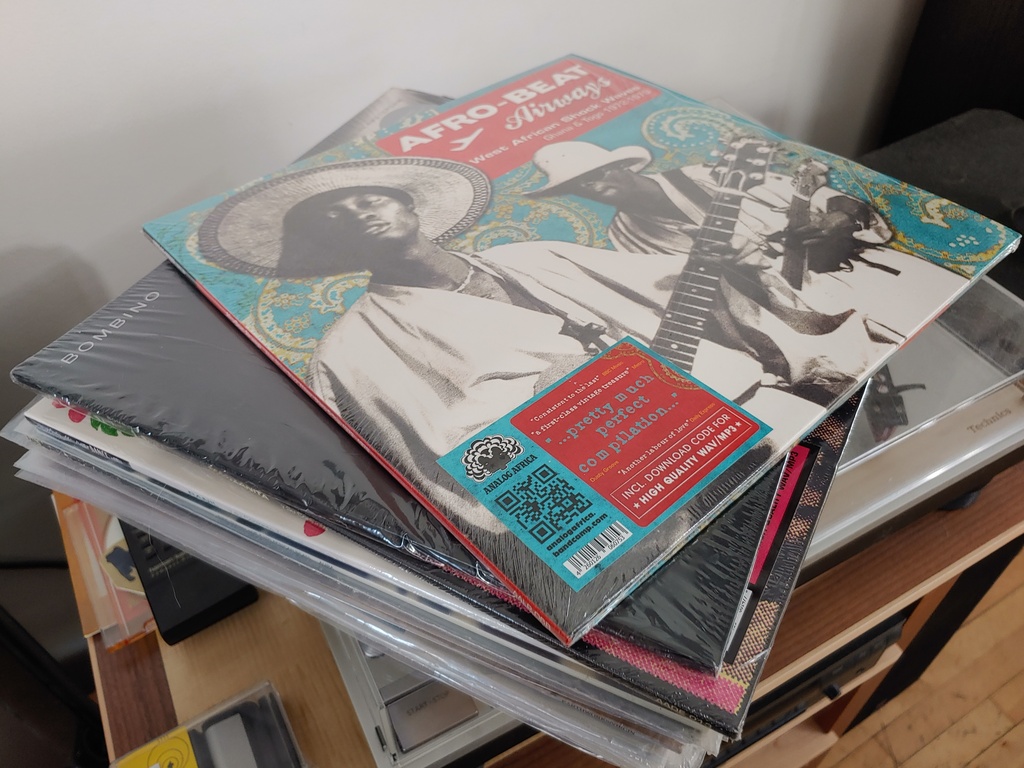 David Dalle
Thursday May 12th, 2022 with David Dalle
BACK LIVE IN STUDIO!!! After 109 Pandemic Programs recorded at home, I am back in studio live! This is your dad's radio! This is your grandma's radio! A big stack of vinyl with music for your ears!
After 109 Pandemic Programs pre-recorded for you from my home, I am finally back in the studio live today! I will be doing radio that no one has been able to do these past two years. Old-school like your dad's radio and your grandma's radio! I will be coming in with a big stack of vinyl and no set playlist, spinning discs and seeing where the mood takes us! Old and new vinyl, almost all of which has not been heard on my show before!
Today's show has no set playlist, as I will improvise the all-vinyl sets as the mood takes me. However, I do have a starting point, this gorgeous 1982 recording by the Japanese pianist Aki Takase and her trio reissued as part of this amazing compilation from Barely Breaking Even's J Jazz series. Released in 2021 it is one of many releases I picked up on vinyl I have had no way to share with you until I was back in the studio.
Song For Hope
Aki Takse Trio - J Jazz Volume 3: Deep Modern Jazz From Japan - BBE Music
Makoma feat. Wiyaala
Onipa - We No Be Machine - Strut
Daward
Nyboma & Les Kamale Dynamiques du Zaire - Pepe - Maikano
Tshebele
Tshala Muana - Amina/Tshebele - African Records Centre Stores
Call Me Blackman
Blackman Akeeb Kareem - Tomorrow - Hotcasa Records
Okpe See
Pagadeja - Afro-Beat Airways - West African Shock Waves Ghana & Togo 1972-1979 - Analog Africa
Aderech Arada, Befikir/Menged Lay Wodike
Ethio Stars featuring Mulatu Astatke - Addis 1988 - Piranha
La... La
Abu Obaida Hassan & His Tambour - The Shaigiya Sound of Sudan - Ostinato Records
Watching You
Shankar, Jan Garbarek, Zakir Hussain, Trikok Gurtu - Song For Everyone - ECM
Rag Bageshri
Ustad Bismillah Khan - Shehnai Nawaz - EMI India
Jabula Mfana
Amaswazi Emvelo - Thunder Before Dawn, The Indestructible Beat of Soweto Vol. 2 - Earthworks
Asiyapo
Winston Mankunku - Jika - Avan-Guard Music
Shesh'Ungazise
Soul Brothers - Jive Explosion - Earthworks
Isicelo
Soul Brothers - Jive Explosion - Earthworks
Baba-Ye
Mahlathini - The Lion of Soweto - Earthworks
Tijuana Gift Shop
Charles Mingus - New Tijuana Moods - RCA
Sunshine Boots
Johson Mkhalali - Thunder Before Dawn, The Indestructible Beat of Soweto Vol. 2 - Earthworks