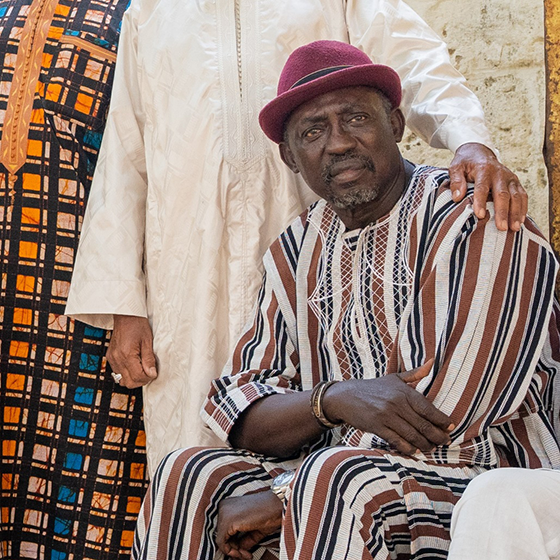 David Dalle
Thursday May 5th, 2022 with David Dalle
Farewell to Rudy Gomis, founding member and lead singer of Orchestre Baobab.
Another great Baobab has fallen. Rudy Gomis, one of Orchestra Baobab's founding members and lead singers, died this past week, aged 75. He was born in 1946 in the Casamance region of Senegal. In Dakar, he joined the famed Star band in the late 60's, where he met his fellow Casamance singer Balla Sidibé. Together in 1970, they were recruited for the newly opened Club Baobab's house band, joined there by saxophonist Issa Cissokho, singer Laye Mboup, guitarist Barthélémy Attisso and bassist Charlie Ndiaye. The wonderful singer Laye Mboup died tragically in a car accident in 1974, but Rudy Gomis, along with the other four musicians went on to long lasting careers with Orchestra Baobab until 1987 when the group disbanded. All reunited in 2001 when European reissues of their 70's and 80's releases on Stern's and World Circuit proved to be big hits. They went on to tour and release more recordings, the most recent in 2017. Rudy Gomis was the 2nd last surviving founding member of Baobab. He was predeceased by Issa Cissokho in 2019, Balla Sidibé in 2020 (listen to my tribute show for Balla Sidibé on-demand:
https://cod.ckcufm.com/programs/105/48598.html
), and Barthélémy Attiso in 2021. The band has also lost other longtime members who joined after, such as the singer Ndiouga Dieng who joined after Laye Mboup's death. Dieng himself died in 2016 and was the subject of their most recent album, the 2017 "Tribute to Ndiouga Dieng". The bassist Charlie Ndiaye is the last surviving founding member of Baobab still with the group. Baobab continues with Thierno Koité as leader. Baobab released this statement: "We are shocked and sad as we write these words about our late big brother Rudolphe Clément Gomis. He had long fought and resisted his illness while being dignified and humble without any sign of weakness, and he had never stopped helping and giving advice to the younger musicians and singers of our group. A baobab has just fallen, but we will soldier on so that the torch continues to burn." Today we will hear Rudy Gomis in songs from his long career with Orchestra Baobab. He sang in many languages, including Wolof, as well as Spanish, French, and Portuguese Creoles. I hope Baobab continues to thrive and continues to make this world a better place.
Starting with two of Rudy Gomis' most popular songs, recorded in 1982 and reissued in 2001 by World Circuit in the terrific "Pirate's Choice" double album.
Utrus Horas
Orchestra Baobab - Pirates choice - World Circuit
Coumba
Orchestra Baobab - Pirates choice - World Circuit
Two songs from their groundbreaking revival album from 2002 "Specialist In All Styles", the first is a composition by Barthélémy Attisso and features a great guitar solo as well as sax solo by Issa Cissokho. The second song is a tribute to visiting guest Ibrahim Ferrer featuring three singers from Baobab joining guest Ibrahim Ferrer. Rudy Gomis begins the song with a throwback to "Utrus Horas". Ibrahim Ferrer joins in before another guest vocalist appears, Youssou N'Dour, who introduces the next two Baobab singers, Ndiouga Dieng and Assane Mboup. Cuban music was, of course, a huge influence for Baobab as well as so much of the popular music of Africa in the 20th century, where it returned to its roots essentially, as Cuban music was born out of the Afro-Cuban West African descendants.
Gnawoe
Orchestra Baobab - Specialist In All Styles - World Circuit
Hommage à Tonton Ferrer
Orchestra Baobab - Specialist In All Styles - World Circuit
"Collette" from the 2007 release "Made In Dakar" features Rudy Gomis singing in Wolof with the great Baobab Wolof singer Ndiouga Dieng. It is the only song I have with only the two of them singing. Wonderful!
Collette
Orchestra Baobab - Made In Dakar - World Circuit
Sadly Baobab had a decade-long recording silence between "Made In Dakar" and the 2017 "Tribute to Ndiouga Dieng". This was the band's tribute to Ndioug Dieng who died in 2016. We hear Rudy Gomis and Balla Sidibé singing two old songs from the legendary Casamance singer Ousmane M'Baye, one of the first recording artists from the region, both songs are rooted deep in the culture of Casamance and important for Gomis and Sidibé. These are the last two songs sung together by these two giants, friends and colleagues for 50 years.
Natalia
Orchestra Baobab - Tribute to Ndiouga Dieng - World Circuit
Caravana
Orchestra Baobab - Tribute to Ndiouga Dieng - World Circuit
We end this tribute to Rudy Gomis with an earlier song, from 1981, the funky guitar and horn-driven Sibou Odia.
Sibou Odia
Orchestra Baobab - Bamba - Stern's
I caught a bit of the state funeral for Guy Lafleur earlier this week, and although I am indifferent to hockey, I was impressed that they used real music played by real musicians, with parts of Mozart's and Faure's requiems performed. Of course this put these pieces in mind, so we will hear Gabriel Fauré's Requiem, which was completed in its final form in 1900. His Requiem was very unlike that of Mozart, Berlioz or Verdi, where the fear of judgement and the wrath of God are dramatically invoked. Fauré's Requiem is much more focused on eternal peace and rest and as such he omits the Dies Irae. We bookend the Requiem with two Fauré Barcarolles and two songs from the Casamance singer Ousmane M'Baye from his 1975 recording for Smithsonian Folkways.
N'Deye
Ousmane M'Baye - Songs of Senegal - Smithsonian Folkways
Barcarolle no. 7 in d minor Op. 90
Gabriel Fauré/Pierre-Alain Volondot - Barcarolles, Ballade - Naxos
Requiem Op. 48
Gabriel Fauré/Jonathon Bond, Benjamin Luxon, Choir of St John's College, Academy of St Martin-in-the-Fields, George Guest - Requiem - Decca
Barcarolle no. 10 in a minor Op. 104/2
Gabriel Fauré/Pierre-Alain Volondot - Barcarolles, Ballade - Naxos
Madou
Ousmane M'Baye - Songs of Senegal - Smithsonian Folkways