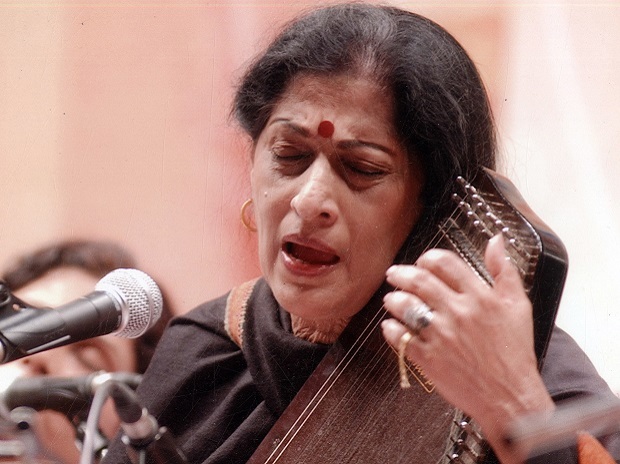 David Dalle
Thursday August 12th, 2021 with David Dalle
The Disciple's Guru: Kishori Amonkar in concert; brass music from the Balkans and India, Ukrainian-Newfoundland music.
Several weeks ago I watched the film "The Disciple", a drama about a young man's lifelong pursuit to become a classical Hindustani singer. (
https://www.imdb.com/title/tt11423784/
- streaming on Netflix - watch it!) A wonderful film about music, it stars two classical singers. There is also a third character in the film who looms over the story, yet is never seen and only heard. She is the late guru of the elder singer in the film. While researching the singers in the film, Aditya Modak, the young aspiring singer and Arun Dravid as his guru, I found that Arun Dravid's guru was the late singer Kishori Amonkar. It is clear that the late guru in the film is a fictional character based on Dravid's actual guru, Kishori Amonkar and her guru and mother, Mogubai Kurdikar also known as "Mai", which is the name of the late guru character in the film. Kishori Amonkar was an ascetic for whom music was a form of devotion. She developed her own individual style which, though based on the Jaipur Gharana of her mother, took on aspects of many other Gharanas. For this she was often criticized in her younger years. "I do not restrict myself to a Gharana because in my opinion music is universal. If I confine myself to a restricted area, then I would never be able to see the entire horizon." "Music is more than notations, or compositions, or styles. It is an ocean of philosophy, a mountain of knowledge, an eternal teacher whose student I will always remain." - Kishori Amonkar I found an out-of-print live recording of Kishori Amonkar performing in London in 2000. It took my breath away, magnificent! We will hear an hour-long performance of Raga Jeevanpuri.
We will hear the extraordinary Kishori Amonkar in the second half of the program. We start with a new single from the Kubasonics, Newfoundland's best Ukrainian band!
Kalyna
The Kubasonics - Kalyna single - Independent


Maritu Doro
Bulgarian All Star Orchestra - Dusha - The Soul of Bulgaria - Network
Kurbeti
Kurbeti - Music of Albania's Gypsies - FM Records
Belzer Medley
Lorin Sklamberg, Frank London, Uri Caine - Nigunim - Tzadik
Asfalt Tango
Fanfare Ciocarlia & Boban and Marko Markovic Orkestar - Balkan Brass Battle - Asfalt tango
Duniya Mein Tera Hai
Shyam Brass Band - Street Music Vol. 5 - TIPS
Saraswati
Autorickshaw - Four Higher - Tala-Wallah Records

Ber Chalya Mera Bhai
Bagga Khan - Bhajan - Amarrass Records

Jiya O Jiya Kuchh Bol Do
Jaipur Kawa Brass Band - Dance of the Cobra - World Music Network
Raag Jeevanpuri - Alap
Kishori Amonkar, Purushottam Wadawalker, Balkrishna Iyer, Milind Raikar, Vidya Bhagwati - Sampradaya - Navras Records
Raag Jeevanpuri - Vilambit Khayal in teentaal - Baje Jhananana
Kishori Amonkar, Purushottam Wadawalker, Balkrishna Iyer, Milind Raikar, Vidya Bhagwati - Sampradaya - Navras Records
Raag Jeevanpuri - Madhya-laya Khayal in teentaal - Chhum Chhananana Bichhuwa
Kishori Amonkar, Purushottam Wadawalker, Balkrishna Iyer, Milind Raikar, Vidya Bhagwati - Sampradaya - Navras Records