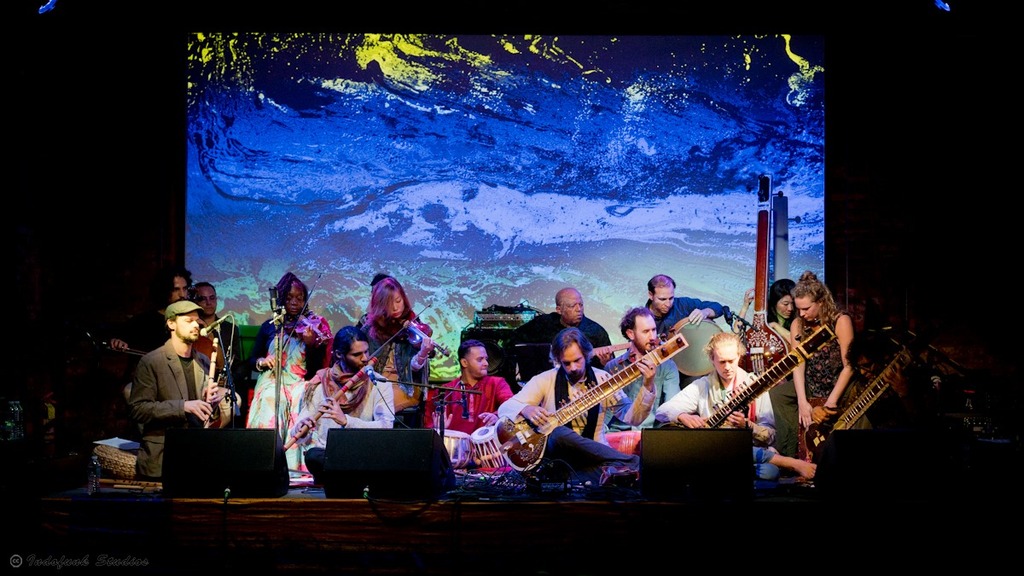 David Dalle
Thursday November 19th, 2020 with David Dalle
Brooklyn Raga Massive: "In D" the Brooklyn-based South Asian rooted musical collective's glorious new tribute to Terry Riley's "In C". This weekend's 24 hour global "Ragas Live Festival".
Brooklyn Raga Massive is a music collective based in Brooklyn, New York. Their performance is rooted in the idea of Raga in Indian classical music as "a set of melodic frameworks for improvisation and composition" which "is fluid, colorful, and highly improvisational, requiring deep listening and respect between musicians." BRM comprises over 50 musicians from many different backgrounds and it mixes those styles and instruments into Raga-inspired music. In 2017, BRM recorded and performed their version of Terry Riley's famous and seminal 1964 work "In C". Riley, who in the 1970's studied under Hindustani singer Pandit Pran Nath, heard BRM's version and started corresponding with them. He suggested they open up the structure of "In C" to allow for solos. BRM has developed this idea further, creating a new work based on three ragas "that incorporates Riley's concept of short musical cells that musicians can repeat and embellish at will." This new work "In D" uses cells composed by several members of the BRM collective and is a suite in three movements with each movement based on the ragas Bihag, Bairagi, Darbari respectively. Twenty-five BRM musicians recorded this work in one take in September of this year (in a socially distanced recording set up). The work alternates between extremely rich, dense textures of the larger ensemble and many solos from widely different instruments. This provides some truly wonderful, surprising moments such as during the 2nd movement, where, growing out of South Asian strings, comes a joyful Klezmer-inspired clarinet solo by Andy Statman. This is incredibly joyful music, and ultimately a celebration of life. A much needed burst of light in this difficult year. Brooklyn Raga Massive will be premiering "In D" this weekend during the 24 hour global "Ragas Live Festival". This festival, which is in its 9th year, started as a 24 hour live broadcast on New York City's WKCR 89.9 FM with Raga based music. In 2016, with the help of BRM, it became a 24 hour live concert event at the Rubin Museum of Art, and broadcast on FM. This year, due to the pandemic, the concert event cannot take place, but the organizers have used it as an opportunity to grow the festival globally, far beyond NYC's boundaries. This year, it will be a 24 hour livestreamed global event, with over 90 musicians from around the world performing one hour sets live from their homes. Many incredible musicians will be performing, including Toumani Diabate performing live from Cote D'Ivoire, Zakir Hussain with Mickey Hart, Toko Telo from Madagascar, Alam Khan from California, Shashank Subramanyam from Chennai, Swapan Chaudhuri from California and many more. The penultimate act will be Brooklyn Raga Massive performing "In D", and the finale is given to Terry Riley performing solo from Japan! The festival will run from 7pm Saturday Nov 21 to 7pm Sunday. It will be livestreamed for free (donations are welcome and I strongly encourage it). Ragas Live Festival:
https://www.ragaslive.org/
2020 full list of artists (with schedule):
https://www.ragaslive.org/2020-performers
Brooklyn Raga Massive's recording "In D" will become available through Bandcamp this Saturday.
https://brooklynragamassive.bandcamp.com/album/in-d
The full list of musicians recording "In D" Neel Murgai, Sitar, Conductor Abhik Mukherjee, Sitar Galen Passen, Sitar Samarth Nagarkar, Vocal Josh Geisler, Bansuri Jay Gandhi, Bansuri Trina Basu, Violin, String Section Leader Arun Ramamurthy, Carnatic Violin Charlie Burnham, Violin Gwen Banks, Violin Marika Hughes, Cello Jake Charkey, Cello Andy Statman, Mandolin, Clarinet Kane Mathis, Kora, Oud Aaron Shragge, Trumpet, Shakuhachi David Ellenbogen, Electric Guitar Gyan Riley, Electric Guitar Damon Banks, Electric Bass Sameer Gupta, Tabla Roshni Samlal , Tabla Ron McBee, Conga, Multi Percussion Tripp Dudley, Frame Drums, Multi Percussion Lauren Crump, Cajon, Timpani Vin Scialla, Vibes, Riq, Timpani Mari Tanaka, Tanpura, Sruti Box, Harp
Brooklyn Raga Massive has very generously given me permission to premiere "In D" on my show in advance of the festival! Many thanks to them and especially thank you for this music!
In D i. Raga Bihag
Brooklyn Raga Massive - In D - Brooklyn Raga Massive

In D ii. Raga Bairagi
Brooklyn Raga Massive - In D - Brooklyn Raga Massive

In D iii. Raga Darbari
Brooklyn Raga Massive - In D - Brooklyn Raga Massive

We shall continue with some of the musicians who will be performing this weekend at the global Ragas Live Festival!
Shashank performs at 5am Sunday morning (all times in EST).
Folk Song - Rag Misra Kafi
Shashank Subramanyam, Anwar Khan, Subedra Rao, Phalgun, Firoze Khan, Chandrajit, Ghewar Khan - Spirit of Krishna - FTI
The incomparable Zakir Hussain performs 10pm Saturday.
Tal Pancham Sawari in 15 Beats
Zakir Hussain - Essence of rhythm - Polygram India
Toko Telo perform 2pm Sunday. Toko Telo is a Malagasy trio featuring guitarist and singer D'Gary, singer Monika Njava and singer Joel Rabesolo. Joel Rabesolo joined the trio after amazing singer and accordionist Regis Gizavo died suddenly of a heart attack while touring with Toko Telo in 2017, shortly after recording their first album together Toy Raha Toy. On their second album Diavola, they sing a new version of "Mpembe" one of my favourite songs by Regis Gizavo.
Mpembe
Toko Telo - Diavola - Aino Records
Menineny
Toko Telo - Diavola - Aino Records
Manoro
Toko Telo - Diavola - Aino Records
Toumani Diabaté performs at 3pm Sunday.
Ismael Drame
Toumani Diabate - The Mande Variations - World Circuit/Nonesuch
Legendary Klezmer clarinetist, and member of Brooklyn Raga Massive, Andy Statman performs 9pm Saturday (as well as with Brooklyn Raga Massive).
Meron Nign/In the Sukke
Itzhak Perlman with The Andy Statman Klezmer Orchestra - Live in the Fiddler's House - EMI
Andy's Ride
Itzhak Perlman with The Andy Statman Klezmer Orchestra - Live in the Fiddler's House - EMI
NYC based Carnatic violinist Arun Ramamurthy performs 4pm Sunday (as well as with Brooklyn Raga Massive).
Simple Joys
Arun Ramamurthy Trio with Marc Cary - Jazz Carnatica - Arun Ramamurthy