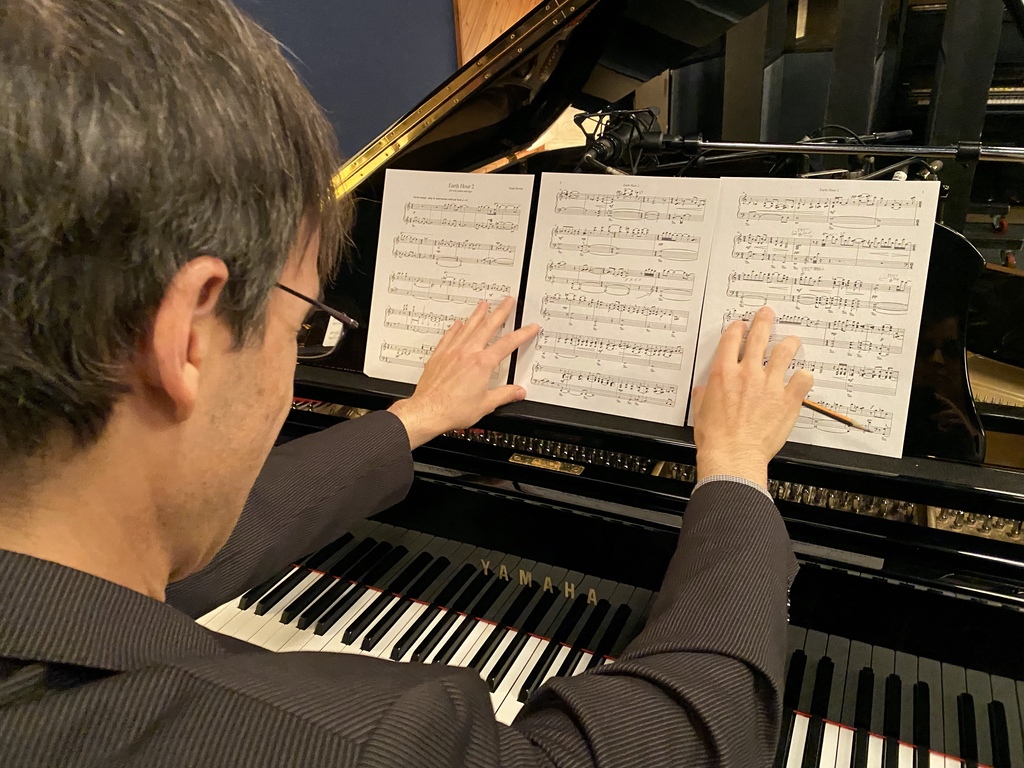 David Dalle
Thursday November 12th, 2020 with David Dalle
Frank Horvat's Earth Hour 2. The latest from Analog Africa: La Locura De Machuca.
Today we will hear Ottawa composer Frank Horvat's masterpiece, "Earth Hour 2" from his 2020 album "A Little Dark Music 2" for solo piano. This work is the sequel to the first album released a decade ago and it demonstrates his growth as a composer. "Earth Hour 2" is a masterpiece, far exceeding its progenitor. Both works share a similar design and intent. Both are intended to be performed in the dark as a commentary and reaction to the climate crisis. Both last exactly one hour with precise timings played with a metronome. Despite this seemingly rigid structure, the new piece sounds extraordinarily free, almost like improvisation at times. Deeply moving and beautiful; this is my favourite work by Frank Horvat. The other two shorter piano pieces from this album, which we have heard recently, are also exceptional.
Due to the limitations of our remote programming, we will hear "Earth Hour 2" in the 2nd half of the show, we will begin with music from the tremendous new album by Duo Perse-Inca. We will also hear some tracks from the new Analog Africa compilation "La Locura De Machucha". This compilation contains a selection of weird and wonderful music from the Columbian music label Discos Machuca which existed for only 5 years from 1975 to 1980. It had a strange and sudden birth, created by a successful tax lawyer Rafael Machuca who after being amazed by music he heard at a night club in the city of Barranquilla, decided then and there to start a music label, despite not having any prior experience in the music business. He focused heavily on experimental and psychedelic music with a very strong African influence. This is not your typical Columbian folklore!
Echoes de Montagnes
Duo Perse-Inca - Echoes des Montagnes - Analekta


Elegante Canyenguito
Pablo Ziegler Trio - Jazz Tango - Zoho
Tamba
El Grupo Folclorico - La Locura De Machuca - Analog Africa

Los Viajeros Siderales
El Campanero - La Locura De Machuca - Analog Africa

There will be a lot of piano music on my show in November and December. This gorgeous improvisation is from Luisa Goncalves' brand new album "Unno", her first solo album.
Like Us
Luisa Goncalves - Unno - Clean Feed Records

Te Clavo La... Mano
La Banda Africana - La Locura De Machuca - Analog Africa

El Platano
Myrian Makenwa - La Locura De Machuca - Analog Africa

Issusahid Elwaname
Mdou Moctar - Afelan - Sahel Sounds
Long Life Africa
Samba Negra - La Locura De Machuca - Analog Africa

Wabali
Conjunto Barbacoa - La Locura De Machuca - Analog Africa

Caracol
Grupo Bola Roja - La Locura De Machuca - Analog Africa

And now on to the promised "Earth Hour 2"
Earth Hour 2
Frank Horvat - A Little Dark Music 2 - I Am Who I Am