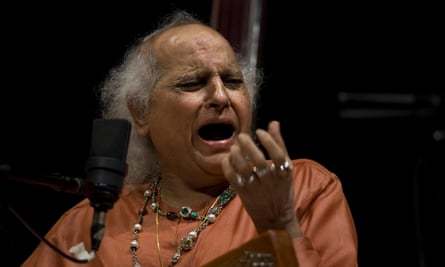 David Dalle
Thursday August 27th, 2020 with David Dalle
Farewell to Pandit Jasraj, one of the greatest voices of his generation.
Today we say farewell to one of the greatest singers of his generation, Pandit Jasraj, who died August 17th aged a venerable 90 years old. He was born into the Mewati gharana of his family and grew up in Hyperabad. His father and his older brother were singers and, at first, Jasraj trained to be a tabla player to accompany his brother. When he was 14, after being told scornfully by a great singer that he would never understand the finer points of music if he just "beat on leather", he gave up tabla and switched to singing, practicing 14 hours every day. Though he was rooted in his family's Mewati gharana, as a young singer he would borrow elements from other gharanas despite this being frowned upon by his contemporaries. This has since become standard practice in Indian classical music. He would go on to have one of the most successful careers in Indian classical music, being loved and acclaimed both at home and internationally. He helped establish Bhajans and Thumris as serious classical music and researched and performed the ancient style of sacred singing in Hindu Temples called Haveli Sangeet. He was very devotional in his music, and sang with great soul and great joy. An incredible singer and teacher, his last live performances were this year before the pandemic, and he was still singing from his home in New Jersey through Zoom and other media until shortly before his death.
We start today with a beautiful live performance of a gentle, contemplative evening raga, Marwa. Recorded in his hometown of Hyderabad in 1998.
Raag Marwa
Pandit Jasraj with Arvind Thatte, Subhash Kamat, Sanjeev Abhyankar - Evening Ragas vol. 3 - BMG Crescendo
We hear Pandit Jasraj in a live performance of Haveli Sangeet from 1994.
Haveli Sangeet in Raag Hori Sarang
Pandit Jasraj with Shyam Kane, Kala Ramnathan, Vanita Kubal - Live at Jhankar, Delaware - Biswas
Ending this set with three cuts from another incredible live recording, UK artist, composer, tabla player, and percussionist Sarathy Korwar. He leads 10 other musician, six of whom are playing Indian instruments, the other five are playing western instruments, in an amazing Indian-Jazz fusion concert. Honouring 60's and 70's jazz musicians who looked at Indian music such as Alice Coltrane, Pharoah Sanders, and Joe Henderson, but with music led from the Indian side.
Malkauns (Part I)
Sarathy Korwar and Upaj Collective - My East Is Your West - Gearbox Records
Malkauns (Part II)
Sarathy Korwar and Upaj Collective - My East Is Your West - Gearbox Records
Hajj
Sarathy Korwar and Upaj Collective - My East Is Your West - Gearbox Records