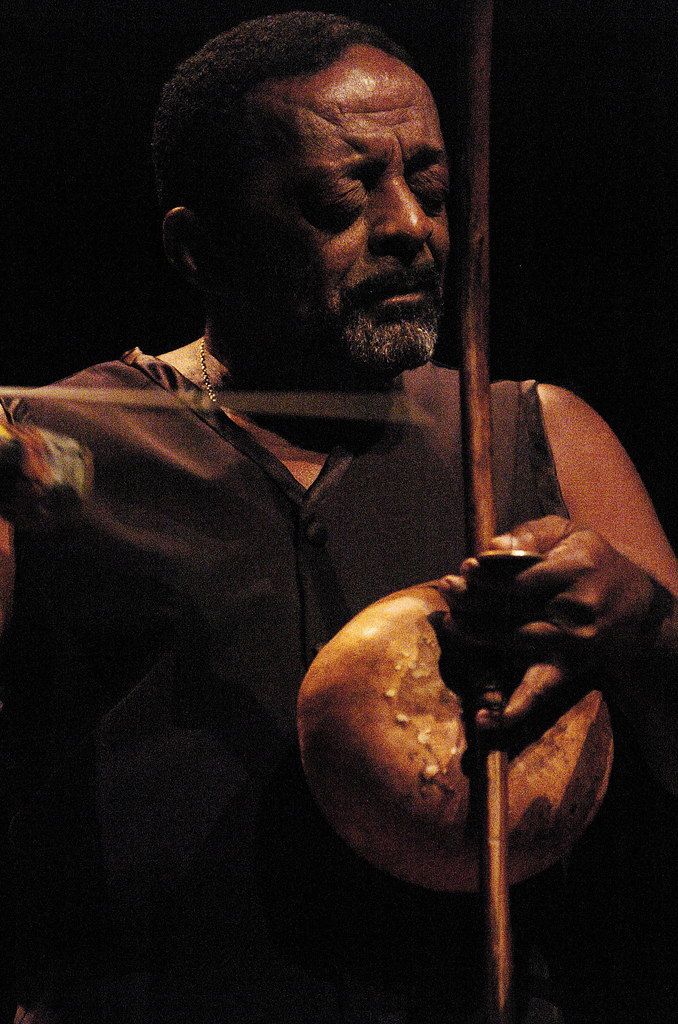 David Dalle
Thursday June 25th, 2020 with David Dalle
A program from the vaults, June 26 2014: Part II looking at Nana Vasconcelos; new music from Toumani Diabate, Noura Mint Seymali
A show pulled from the vault, from June 26th 2014, for the first 6 months of 2014 I was playing a lot of Brazilian music since the World Cup that year was taking place in Brazil. I did a 2 part look at the brilliant and completely unique musician Nana Vasconcelos. Today we hear more music from the great Brazilian musician and composer Nana Vasconcelos: his most recent album 4 Elementos; music inspired by the four elements, particularly fire and water. It is a very imaginative sound journey with Brazil as its home. We will hear new recordings demonstrating the family heritage of Griots in West Africa, the first from Toumani Diabate's, his latest album, a wonderful duet with his son Sidiki, covering a wide range of Kora techniques, tuning and Mande repertoire from Mali and the Gambia. Second, new album from Mauritanian Dimi Mint Seymali, daughter of the great Dimi Mint Abba who passed away in 2011. She continues the griot tradition of her family and famous mother.
Legua Tirana
Nana Vasconcelos - 4 Elementos - Farout
Terraqueos - Vida - Bush Dance
Nana Vasconcelos - 4 Elementos - Farout
Nizinga
Nana Vasconcelos - 4 Elementos - Farout
Clementina
Nana Vasconcelos - 4 Elementos - Farout
Astronafrica
Nana Vasconcelos - 4 Elementos - Farout
Coco Lunar
Nana Vasconcelos - 4 Elementos - Farout
Choragua
Nana Vasconcelos - 4 Elementos - Farout
Berimbando
Nana Vasconcelos - 4 Elementos - Farout
Passos
Nana Vasconcelos - 4 Elementos - Farout
Fogo
Nana Vasconcelos - 4 Elementos - Farout
A.C.I.2000 Diaby
Toumani Diabate & Sidiki Diabate - Toumani & Sidiki - World Circuit
Lampedusa
Toumani Diabate & Sidiki Diabate - Toumani & Sidiki - World Circuit
Claudia & Salma
Toumani Diabate & Sidiki Diabate - Toumani & Sidiki - World Circuit
Fadeen To
Bako Dagnon - Sidiba - Discograph
Kagola Djadjiri - Nagassa Fofana
Mah Damba - La voix du Mandingue - Buda
Emin Emineina Chouweyne
Noura Mint Seymali - Tzenni - Glitterbeat Records
Hebebeb (Zrag)
Noura Mint Seymali - Tzenni - Glitterbeat Records
Tikifite
Noura Mint Seymali - Tzenni - Glitterbeat Records
Char'aa
Noura Mint Seymali - Tzenni - Glitterbeat Records
El Barm
Noura Mint Seymali - Tzenni - Glitterbeat Records
Sidiba
Bako Dagnon - Sidiba - Discograph