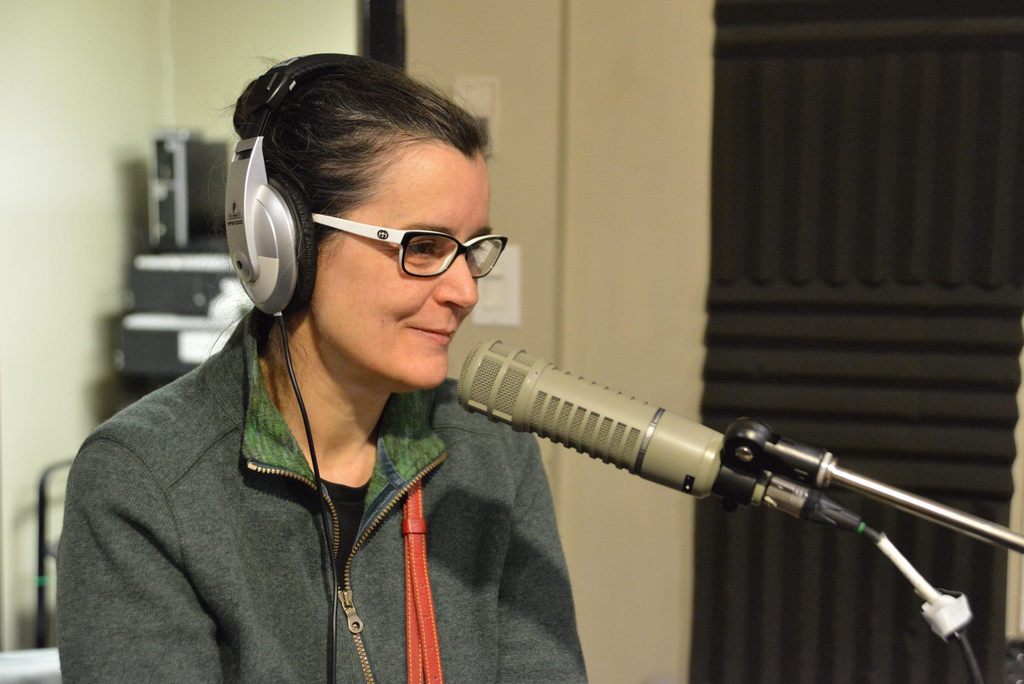 David Dalle
Thursday June 11th, 2020 with David Dalle
Farewell to Janis Lockwood
Completely heartbroken, my dear friend and CKCU colleague Janis Lockwood has passed away. Janis was an incredible person with a long history at CKCU and the Ottawa music community, working with the Ottawa Folk Festival, working as CKCU's funding drive coordinator, working behind the scenes to keep CKCU alive during some of its most vulnerable times, and of course her music program and the countless interviews and support she gave primarily to local musicians. However today, I will focus on my personal experience with Janis. She was my constant radio companion for over two decades with her program following mine. We also attended many concerts and music festivals together. Whereas I would often fly into the studio with only a few minutes before I was on-air, Janis would normally come in well over an hour or more before her program would begin as she was very diligent in her planning for her show. If she wasn't there 45 minutes before her show I would start asking around to see if she wasn't coming in that week. I would often joke that she would beat me into the studio on Thursdays. Truly, I was always happy because it gave us lots of time to talk and listen to music. It was always one of my greatest pleasures doing my show when I played something that made her stop pulling records, come into the studio and sit down and listen. I also encountered so much great music on her show, and it was not uncommon for something I heard on her program one week would be heard on my show the next. When she stopped doing her show last fall, it left a big hole in my week, going into CKCU has not been the same since and it will never be the same. I miss her very very dearly. In this show, we will hear music we both loved, music that was often heard on both her show and mine, music that we saw in concert together, and music she introduced me to. I hope she's listening.
We begin with Mingus. I admit to being a latecomer to jazz, and it was the jazz on Janis' show which got me into it. I adore Mingus now and this piece that Janis played was the first one I heard. It was also one of many examples of music I heard on Janis' show on my way home from CKCU, which I then played on my own show the next week.
Ysabel's Table Dance
Charles Mingus - Tijuana Moods - Pickwick Records
Janis and I saw the fabulous Fanfare Ciocarlia at the Ottawa Jazz Festival in 2016, one of many concerts we attended together.
Doina pentru un frant inima
Fanfare Ciocarlia - Onwards To Mars - Asphalt tango
Cucuritza
Fanfare Ciocarlia - Onwards To Mars - Asphalt tango
Agoya
Souljazz Orchestra - Inner Fire - Strut

Ali Farka Toure
Toumani Diabate - The Mande Variations - World Circuit/Nonesuch
Kaira
Ali Farka Toure & Toumani Diabate - In The Heart of the Moon - World Circuit/Nonesuch
The electrifying guitarist from Niger, Mdou Moctar's concert in Ottawa last July was the last concert I saw with Janis, along with her talented musician husband Fred Guignion.
Tumastin
Mdou Moctar - Ilana: The Creator - Sahel Sounds
The extremely prolific Ottawa-based musician and composer Ian Tamblyn was a very good friend of Janis and he popped in many times over the years to talk about his latest recording with Janis (One of many, many mostly local artists who appeared on her show). I had the pleasure of chatting with him on these occasions.
The Ancient Ones
Ian Tamblyn - Let It Go - North Track Records

Janis would often really surprise and delight me with a completely unexpected mix that worked wonderfully. Like this one from March 2019 with Tanya Tagaq and Bjork, followed by a Randy Weston Solo, then one of Chopin's most poignant nocturnes.
Ancestors
Tanya Tagaq with Bjork - Sinaa - Jericho Beach Music

Berkshire Blues
Randy Weston - Berkshire Blues - Black Lion
Nocturne in c minor Op. 48 no. 1
Frederic Chopin/Emil Gilels - Legendary Russian Pianists Vol. 16 - Brilliant Classics
The second half of the show will really pull hard on the heartstrings, starting with the late Canadian violinist Oliver Schroer and his last recording "hymns and hers", an album he started after being diagnosed with untreatable cancer which claimed his life a year later. Another great artist Janis introduced me to.
the world i left behind me
Oliver Schroer - hymns and hers - Borealis Records

a thousand thank-yous medley
Oliver Schroer - hymns and hers - Borealis Records

Get Out While You Can
Tammy Rogers & Don Heffington - In The Red - Dead Reckoning
Peace Piece
Bill Evans/Igor Levit - Life - Sony Classical
Janis and I shared a great love for the music of Arvo Part. We hear his gorgeous "Spiegel im spiegel (Mirror in the mirror)" and his simple yet direct choral hymn "Give Peace, Lord". We saw the Tallis Scholars perform Arvo Part in Ottawa in December 2015.
Spiegel im spiegel
Arvo Part/Daniel Hope, Simon Mulligan - Shostakovich, Penderecki, Part, Schnittke - Nimbus Records
Da Pacem Domine
Arvo Part/Estonian Philharmonic Chamber Choir, Tallinn Chamber Orchestra, Tonu Kaljuste - In Principio - ECM
When I played this impossibly beautiful song "Im Abendrot (At Sunset)" sung magnificently by Elisabeth Schwarzkopf, the greatest of the Four Last Songs written in 1948 by the then 84 year old Richard Strauss, Janis stopped pulling records and came silently into the studio, sat down, closed her eyes, and listened intently. A great joy in doing my program was moving Janis like this with the music I chose.
Four Last Songs IV: Im Abendrot
Richard Strauss/Elisabeth Schwarzkopf, Radio-Symphonie-Orchester, Berlin, George Szell - Four Last Songs - EMI
Nothing more need be said...
she's with the angels now
Oliver Schroer - hymns and hers - Borealis Records

Janis' program still has almost 5 years available on-demand, take time to listen:
https://cod.ckcufm.com/programs/106/index.html?filter=all