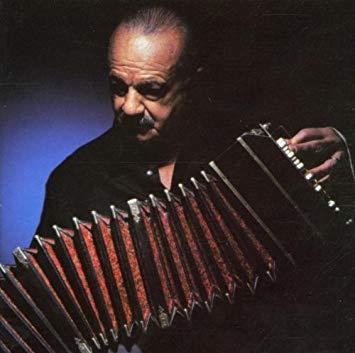 David Dalle
Thursday June 6th, 2019 with David Dalle
The 6th of 12 exceptional concert recordings for 2019: One of the final recordings from the great Astor Piazzolla. The new album from Kamancello. Music for D-Day.
For 2019, I have chosen 12 exceptional concert recordings to program with one each month. I have set a couple of simple rules: the recordings will be played in their entirety and represent a single concert. These 12 recordings feature some of my favourite artists, and in many of the cases, also represent the very best from these artists. For June we will hear an incredible concert the great composer, innovator, and performer of Nuevo Tango Astor Piazzolla recorded 30 years June 26th in Amsterdam. This was the last concert he performed with his final ensemble, his Sextet with himself on bandoneon, Daniel Binelli on 2nd bandoneon, Horacio Malvicino on guitar, Gerardo Gandini on piano, Jose Bragato on cello, Hector Console on double bass. It shows Piazzolla at the height of his artistry, performance and composition, sadly his career was cut short the following year by a devastating stroke which left him in a coma until his death in 1992. This album was my introduction to the music of Astor Piazzolla, and I have heard countless recordings of his music by Piazzolla and many others, but this still remains one of the pinnacles of Nuevo Tango. We will also hear some of the new album from Kamancello released last Friday with a concert at the NAC 4th Stage. It was a wonderful concert and the newly renovated 4th Stage is both an extraordinarily comfortable and intimate venue for music.
Hora Cero
Astor Piazzolla & his Sextet - Luna - EMI
Tanguedia
Astor Piazzolla & his Sextet - Luna - EMI
Milonga del Angel
Astor Piazzolla & his Sextet - Luna - EMI
Camorra 3
Astor Piazzolla & his Sextet - Luna - EMI
Preludio Y Fuga
Astor Piazzolla & his Sextet - Luna - EMI
Sex-Tet
Astor Piazzolla & his Sextet - Luna - EMI
Luna
Astor Piazzolla & his Sextet - Luna - EMI
Marche funébre pour la dernière scéne d'Hamlet
Hector Berlioz/Montreal Symphony Orchestra, Charles Dutoit - Symphonie Fantastique, Lelio, Tristia - Decca

Threnody
Kamancello - Kamancello II: Voyage - Independent


Etude in a Op. 25 no. 11
Frederic Chopin/Maurizio Pollini - Etudes - Deutsche Grammophon
No Longer Gage
Scheen Jazzorkester & Thomas Johannsson - As We See It... - Clean Feed

Oulad Khalifa Maneen Shesh
Maalem Mohktar Gania & Bill Laswell - Tagnawwit - Holy Black Gnawa Trance - M.O.D. Technologies