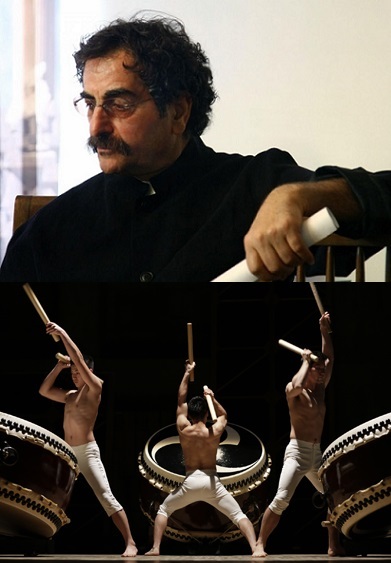 David Dalle
Thursday March 21st, 2019 with David Dalle
Music for Nowruz, Holi; Kodo; music from Mozambique, Arvo Part and more
We will begin today's show with my favourite Persian singer Shahram Nazeri singing music for Nowruz as well as some Kurdish folksongs recorded live in Cologne in 1990 with a the Alizadeh ensemble led by Hossein Alizadeh. We will also hear some music from Kodo, who are performing in Ottawa Monday night in an almost sold-out show. They are spectacular live, so if you have not yet had the chance, try and grab one of the few remaining tickets!
https://nac-cna.ca/en/event/19638
Nowruz & Kurdish Folksongs
Shahram Nazeri & Ensemble Alizadeh - Iran/Kurdistan - World Network
New music from Uttarakhand in northern India where the regional celebration of the Hindu spring festival Holi, known as Kumauni Holi, always has music as the focal point.
Fagun Mase Kli Nav Titu Aige
Mohan Singh, Manra, Rekha Ghasmana, Shanti Devi, Madan Singh Gangola, Gopal Mathpal, Ramesh Babu Joshi - Rangelo Fagun - Hirda Music

Kaile Baadi Cheer
Mohan Singh, Manra, Rekha Ghasmana, Shanti Devi, Madan Singh Gangola, Gopal Mathpal, Ramesh Babu Joshi - Rangelo Fagun - Hirda Music

Lion
Kodo - Irodori - Sony
Kazauta
Kodo - Irodori - Sony
Tsuki-No-Sei
Kodo - Irodori - Sony
Mtsitso wa wuraru
Shambini wa Makasa - Southern Mozambique - SWP
Lawanani Michangasika Timbila Tamakono
Komukomu wa Simbi - Southern Mozambique - SWP
Kerestina Wena Waluma
Nacio Makanda - Forgotten Guitars from Mozambique - SWP
Rosita
Mabulu - Soul Marrabenta - Riverboat Records/World Music Network
Chantima Maria
Dilon Djindji - Dilon - Riverboat Records/World Music Network
Nhimba Ya 'Dota
Orchestra Marrabenta Star de Mocambique - Independance - Piranha
The documentary on the great Estonian composer Arvo Part "Even If I Lose Everything" is being shown by the Canadian Film Institute this Sunday afternoon at 4pm.
https://www.cfi-icf.ca/new-events/2019/3/20/woman-at-war-iceland-bnff-lyphs-bwn6d-6n3t5-587df-xmsh8-cbep3
La Sindone
Arvo Part/Estonian National Symphony Orchestra, Tonu Kaljuste - In Principio - ECM
Spiegel Im Spiegel
Arvo Part/Dietmar Schwalke, Alexander Malter - Alina - ECM