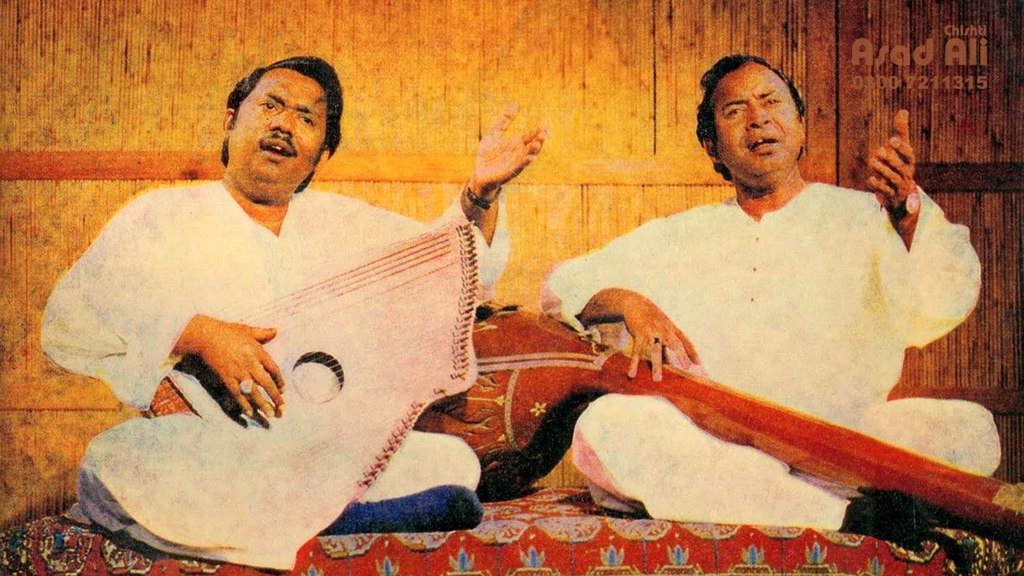 David Dalle
Thursday March 28th, 2019 with David Dalle
The Pakistani master singers, brothers Nazakat & Salamat Ali Khan recorded live in Cologne in 1970. Kronos Quartet, Kamancello, Divanhana and more.
Today we start with two of my favourite Hindustani singers, the brothers Nazakat & Salamat Ali Khan. They are part of their family's Sham Chaurasia gharana which dates back to the 16th century. They gave their first public performance in 1942 when the younger Salamat was only 8 years old, and they continued their partnership until they sadly stopped performing together in 1974. Nazakat died in 1984 and Salamat died in 2001. We will hear a superb live recording from Cologne in 1970. They gave the first ever Indian classical concert at the West German Radio and Television Network in June that year, and it inaugurated an unbroken series of several Indian classical concerts every year to this day. They perform a magnificent rendition of the noble and melancholic Raag Darbari Kanarra. They are accompanied by Ghulam Mohammed Khan on the sarangi and Shaukat Hussain Khan on tabla. The grandeur and beauty of this performance is awe inspiring! We will also hear sinuous strings from Kronos Quartet, Kamancello and more.
Rag Darbari Kanarra
Ustad Nazakat Ali Khan, Ustad Salamat Ali Khan, Ghulam Mohammed Khan, Shaukat Hussain Khan - Raga Darbari Kanarra - Network
Raga Mishra Bhairavi: Alap
Ram Narayan arr. Kronos & Ljova/Kronos Quartet - Floodplain - Nonesuch
Elephantine
Sam Shalabi & Stefan Christoff - Flying Street - Howl

Christian Letter feat. Mirjana Neskovic
Goran Bregovic & The Wedding and Funeral Orchestra - Three Letters From Sarajevo - Wrasse

The Sarajevan group Divanhana is coming to Canada for the first time next week with stops in Ottawa, Toronto, and Vancouver. Their music is jazz influenced modern take on traditional sevdalinka music from Bosnia. They are performing in Ottawa next Friday at the Bronson Centre.
https://www.facebook.com/events/1347356515407319/
Ah sto cemo ljubav kriti
Divanhana - Nasoj Naidi - Divanhana
Aj mene majka jednu ima
Divanhana - Live in Mostar - Divanhana
Muslim Letter feat. Zied Zouari
Goran Bregovic & The Wedding and Funeral Orchestra - Three Letters From Sarajevo - Wrasse

SOS feat. Rachid Taha
Goran Bregovic & The Wedding and Funeral Orchestra - Three Letters From Sarajevo - Wrasse

Solitude
Kamancello - Kamancello - Independent

The Wind of the Danube
Bulgarian All Star Orchestra - Dusha - The Soul of Bulgaria - Network
Untitled
Taraf de Haidouks - The continuing adventures of Taraf de Haidouks - Crammed